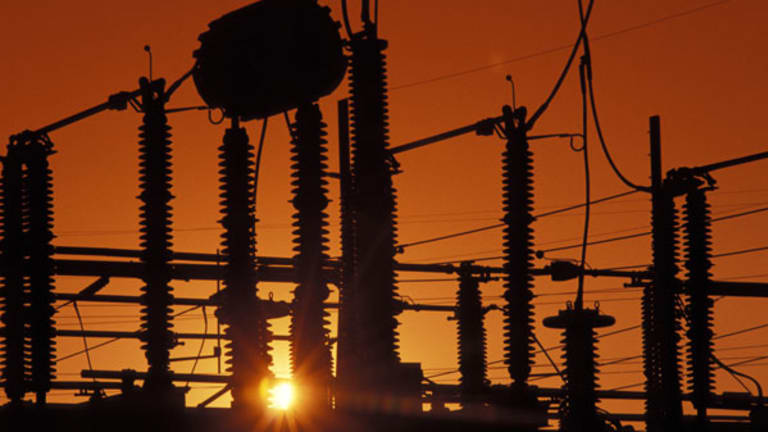 First Solar Fiasco: For Investors Only 1 Question Matters
The CEO ousting and recent volatility in First Solar shares masks the only question that investors should be asking: What's First Solar's earnings power in 2013?

NEW YORK (TheStreet) -- First Solar (FSLR) - Get Report is down 25% one day -- the largest one-day drop in its history -- and up by as much as 15% the next, but for any investor who hopes to understand the future of the solar sector, neither Tuesday's First Solar share collapse or Wednesday's rebound makes one bit of difference in the end.
First Solar shares may yet go lower than they are after Wednesday's rally, and even lower still than after Tuesday's historic collapse. And there is only question that matters for investors, that is, investors who think in more than flash-trading intervals, because for day traders and the HFT terminals, the volatility and mercenary, millisecond profit opportunities will continue: What is the earnings power of First Solar in 2013?
That's it. It's really that simple.
That's not to say there aren't a million questions to ask -- for which the company won't provide any clear answers -- based on the fiasco of the past 24 hours during which the company ousted its CEO in a rare intraday press release, said it would announce third-quarter results on Nov. 3, and then reported the results -- without details -- on Wednesday morning. On this one, First Solar looks like it didn't have a clue how to run a corporation to reduce market volatility, even though it said the past 24 hours show it's getting its house in order.
The financial guidance from First Solar was significantly below Wall Street expectations -- though to be fair, any Street analyst who was significantly higher with their model than First Solar's new guidance had his head in the sand.
After disposing of its CEO Rob Gillette, First Solar announced that it earned $2.25 a share in the third quarter, below the Wall Street consensus of $2.64. The solar company reduced its full-year guidance to $6.50 to $7.50 a share, down from $9 to $9.50.
Neither the third-quarter results or the revised full-year guidance matter. If you believe the bulls that the relief rally in First Solar shares on Wednesday is a sign that things aren't as bad as feared, you're buying a song and dance.
Here's the truth: Solar is "utterly uninvestable" at the moment, in the words of analyst Paul Leming of Ticonderoga Securities.
So here are some of the questions that we can skip trying to answer before getting to the only question that matters about First Solar's future earnings power:
First Solar's new (and former) CEO Michael Ahearn said "a change in leadership" was needed, and now the narrative in the press has focused on a CEO who expanded too aggressively and had to be jettisoned for that catastrophic decision. Where was the board of the company, its former Chief Financial Officer Jens Meyerhoff and its former President Bruce Sohn, during this decision-making process?
Were they powerless to voice an opinion if they disagreed with Gillette, and if they disagreed so strongly with the capacity expansion, why did they wait so long to oust him? Why should we trust the First Solar board to make any of the right decisions? You can be sure there will be a direct repudiation of Gillette on the earnings conference call because really, that helps the company spin the problem as a wayward CEO and not an industry in crisis and a company with a vulnerable business model.
Nasty management in-fighting and a board that ousts a CEO because the CEO made all the wrong decisions -- which the board went along with for years -- is the sign of a dysfunctional corporation, regardless of any large share of the blame that Gillette deserves, and he was, after all, CEO -- where the buck stops.
Are there still accounting issues at First Solar, and Gillette was fired for refusing to sign off on financial statements -- as was rumored Tuesday, including here, and seen as responsible for part of the 25% drop -- or was it the reverse, that Gillette wanted to guide more aggressively and the board drew a line in the sand?
Who knows? It's not likely that First Solar Chairman Ahearn -- who has amassed a personal fortune of $500 million in part by dumping his First Solar shares -- would sign off on financials as interim CEO and put his fortune at risk. But we'll never know what really happened other than that a nasty period of infighting at First Solar is over and it's time to put it to bed and move on.
Were both Sohn and Meyerhoff fired by Gillette, and if so, is one of them going to come back and take the job that they always, at least according to some solar observers, deserved in the first place as CEO of the solar company?
There have been unconfirmed reports that Meyerhoff made disparaging comments about Gillette and that Gillette had Sohn and Meyerhoff fired
Ticonderoga's Leming said details of Sohn's departure in the First Solar 10-Q imply Sohn was terminated: the word "severance" is used in describing a compensation clause. So after the new guard asserted itself versus the old guard at First Solar, will one of the old guard now be coming back? If they don't, is it one more insider tell that the ship is indeed sinking and neither Meyerhoff nor Sohn, who is now running a smaller technology company, Fluidic Energy, want the job that many felt was rightly theirs to begin with?
Ahearn said in announcing the financial results on Wednesday that the company would be "reducing capital expenditures and evaluating opportunities to reallocate overhead expenses to fund increased investments in market development, sales, and R&D." I understand the first half of the sentence, but I find the second half of the sentence pretty hard to understand.
So did Ticonderoga's Leming -- "Management BS. Tossing out all the right buzz words."
In fact, First Solar has serious decisions to make about its manufacturing plants and planned expansion, but it's not at all clear what the company is planning from this vague statement.
Furthermore, why should any investor buy the First Solar management spin on Wednesday -- that the CEO ousting is a sign that the ship is being righted -- when it's coming from a former CEO who didn't want the job and has sold all his shares in the company?
One might also ask, given the dire situation in the solar sector, "Does anyone want the job that Gillette lost and that Ahearn didn't want but now has been forced to take again while a CEO search is done?"
Ticonderoga's Leming said that Ahearn is one of the smartest CEOs he has ever come across and that he'd be willing to believe Ahearn could "walk on water, part the Red Sea, etc.," but what neither Ahearn nor any First Solar official can do is make massive solar industry overcapacity go away, make module prices go back up, or make polysilicon prices go back up too, allowing First Solar to maintain a cost advantage over Chinese rivals offering crystalline silicon panels.
And that leads to the only question that should matter for investors: Is First Solar a $3 earnings stock in 2013, or a $10 earnings stock in 2013? And if it's a $3 earnings stock, you put a six to eight 8 times multiple on it, and that means the "new and improved" First Solar is a $24 to $30 stock.
It's got the high-priced power purchase agreements now -- though it's unclear if all of those will be effectively sold without federal loan guarantees -- but beyond those legacy PPAs for large-scale solar projects, the future is cloudy.
"This industry won't slip beneath the waves and disappear, but it's 2 to 1 oversupplied and module prices are at a level where no one can make money, and First Solar is not the low-cost producer anymore with silicon where it is, and Ahearn can't do a thing about that. He can slash capital spending, he can cut expenses and batten down the hatches, and make sure they survive, and that's two to three years of recovery," Leming said. The analyst added, "It should be clear to anyone with a calculator, brain and pencil this company is at best breaking even in production of modules."
Aaron Chew, analyst at Maxim Group, said it's fair to ask whether First Solar can even be in the module business in the future, or whether it has to be a project development company exclusively. And that leads directly into the question of whether it earns $3 annually or $10.
Chew said that at this point no long-term investor should care about 2011 and should effectively write off 2012. Many solar analysts, even bulls, don't expect a recovery until mid-year 2012 for the sector. So when investors interested in the space see comments like the ones given by Yingli Green Energy to the press on Monday, saying a rebound is taking place in key markets, the best thing to do is tune out the management spin and look past it. Investors need to look through the next couple of years, and what matters is the level at which crystalline silicon pricing settles and what that implies for systems pricing, in the case of First Solar.
"I assume First Solar never sells modules again and converts entirely to an EPC
engineering, procurement and construction business. So what pricing and margins does that imply? They've guided to $7
mid-point of the guidance range in 2011, but that includes high priced PPA contracts and a healthier module market from the first half of the year," Chew said.
Of the rally in First Solar shares on Wednesday, Maxim's Chew added, "I still think the longs puke this stock over the next week, and it could trade down by the end of the year." Currently, Chew has a hold rating on the stock with no price target. By the early afternoon on Wednesday, the 15% rise in First Solar shares had more than been cut in half.
In a sense, First Solar put two worst-case scenarios to rest with its new 2011 guidance, even if it didn't answer any questions: It didn't guide down to $5, and it didn't keep its guidance at a level where aggressive accounting questions would linger.
So maybe the accounting issues don't linger, but here's the issue that does: Is solar just another memory chip business with huge unit growth and no margins or intellectual property to speak of.
"Growth until Kingdom Come doesn't mean it's
the solar sector an investable story," Chew said.
-- Written by Eric Rosenbaum from New York.
>To contact the writer of this article, click here:
Eric Rosenbaum
.
>To follow the writer on Twitter, go to
.
Follow
TheStreet
on
and become a fan on
To submit a news tip, send an email to:
.