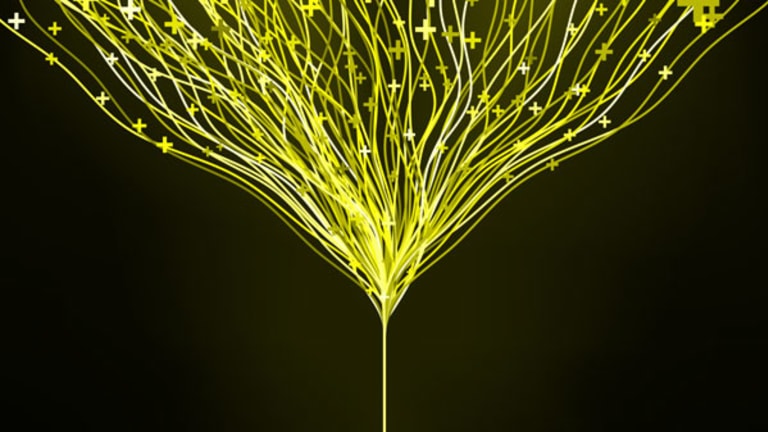 First Solar Earnings: Bad Year for Back-End Loading
First Solar remains confident about the 2011 full year view, but investors are less convinced and shares tumble.
NEW YORK (
) --
First Solar
(FSLR) - Get First Solar, Inc. Report
shares declined by 6% at the open on Wednesday, after having taken a beating in the after-hours session on Tuesday.
The First Solar printed numbers in the first quarter
the average analyst expectation.Yet there were plenty of data points within the First Solar report, and in the company's commentary, that suggested conditions in solar are
before they get better.
For Wall Street analysts, the fundamental issues weighing on First Solar in the wake of its earnings are the weak second-quarter outlook from the bellwether solar company and hesitation to bet on the company's ability to make up the difference in the second half of 2011, with the entire solar sector facing increased pricing pressure and capacity builds.
First Solar reiterated its full-year guidance, while saying the second quarter would be flat in sales. First Solar also said a loan guarantee from the U.S. government for a key large-scale project, Agua Caliente, might not come until late in the second quarter or third quarter.
As a result of First Solar moving the Agua Caliente project out of the second quarter revenue, Collins Stewart reduced its revenue forecast by $250 million ($839 million to $587 million) and took down its earnings estimate for the second quarter by 56% ($2.10 to $0.93).
Collins Stewart analyst Dan Ries suggested that the First Solar share tumble came down to this issue: "This shift, and the factors behind it, led to the weak after-hours performance," the analyst wrote in taking First Solar down to a hold from a buy.
Jeff Osborne, analyst at Stifel, concurred, writing, "The increasingly backend-loaded 2011 guidance points to increased risks as visibility in Europe remains limited, and large system related factors (like seen with Agua Caliente in Q2) may move the needle materially."
Wall Street and solar investors have always known that large-scale revenue projects are lumpy, but the conditions in the solar market currently and the weak outlook from many companies in the sector are cause for even more concern when companies are backing up their earnings to the second-half of the year. Norway's REC Solar, one of the largest wafer makers in the world, added to the cautious outlook from solar companies on Wednesday, saying that margin pressure on modules and wafers will remain in the second quarter, and "weak market conditions may lead to inventory build up and REC may need to reduce capacity utilization."
The big risk in the back-end loaded year from First Solar is that by lowering its guidance for second quarter revenue but keeping the full-year revenue guidance intact, the company is putting itself in a box, according to Wunderlich Securities analyst Theodore O'Neill. "We know that it is in discussions with at least one distributor about lowering prices, and we can assume there are others. In order to account for lower revenue in 2Q but keeping full-year EPS the same, it has to sell the same product in the future at better prices than the market is now willing to pay. It also means it has to achieve something like $5 in earnings in 4Q11," the analyst wrote.
First Solar made the case for its geographic diversification at a time when European subsidy policy changes imply that the role Europe has played as the demand sink for solar is ending. It pointed to opportunities in India -- where it believes a 100 megawatt opportunity exists in 2011 -- as well as to opportunities in Australia and China. However, the issue is that these emerging markets are long-term bets and aren't likely to make up the difference in 2011, and some of the markets remain wildcards in terms of the support level for solar, according to some analysts.
First Solar noted in its earnings presentation that while India is a big opportunity, it remains a problematic market in terms of project financing. In its earnings presentation, First Solar pointed to reports out of China that the emerging market giant might double its solar installation target for 2015 as a reason to be bullish on the emerging markets -- but China has, if anything, delayed time and time again in its domestic solar ambitions. In the case of First Solar projects specifically, its first experience in China, the 2 gigawatt Ordos project in Mongolia, has experienced its share of problems and delays.
First Solar also pointed to its new effort to target the rooftop market as European countries remove support for the large-scale projects where First Solar's less efficient thin film panels have been a dominant player. First Solar said even as it has grown its large-scale business, rooftop remains 30% of sales. Yet analysts remain concerned about both the emerging market profile and First Solar's ability to make headway in a rooftop market that has never been its sweet spot, especially with pricing in decline among the crystalline silicon module manufacturers with the more efficient and rooftop-friendly panels.
Wunderlich analyst O'Neill noted that First Solar says it can overcome subsidy cuts and caps in Europe by selling solar panels in developing countries and putting solar panels on rooftops: "Indeed it can sell product elsewhere, but the emerging markets are tiny compared to the EU. And as for rooftops, FSLR's modules are less efficient than traditional silicon modules and rooftops have finite space. The rooftop market isn't large, either, and it's a less-than-ideal application for their product."
The Wall Street view was mixed, with some analysts of the opinion that First Solar will execute on these ambitions. "While there are several headwinds and uncertainty surrounding the macro markets, we continue to believe that FSLR is in the best position to offset potential weakness in any one region.... FSLR is aggressively expanding into new markets including India, China and Australia. This, coupled with a 2.4 GW North American pipeline, provides increased insurance that the company will be able to place all of its modules even if Italian incentives turn negative.
"Additionally, FSLR is now moving down in size and entering the small commercial market of 10KW-30KW and competing directly with the traditional solar module manufacturers. Importantly, FSLR maintains at least a 30%-40% direct cost advantage over most competitors and should be able to drive market share gains by undercutting competitors on price while still maintaining high module margins," wrote Kaufman Brothers analyst Jeff Bencik.
Mark Bachman, Auriga Securities analyst also took a more optimistic view of the strategy shift from First Solar, writing, "While most eyes are on the European and U.S. markets, management expressed increased optimism about penetrating India and is now forecast a pipeline greater than 100MW for 2011. In addition, with the introduction of the 85MW Series3 modules, management is now targeting rooftop applications of 10KW-30KW; this end market has not been specifically addressed as modules were historically slated for large ground-mount installations. Further penetration in China looks to be a real possibility as management noted working on several utility scale projects with leading Chinese electricity producers."
In the end, though, a back-end loaded year during a year of uncertainty about demand and pricing is undeniably going to weigh on First Solar shares. Simply put by Needham & Co. analyst Edwin Mok, "we see added risks to the more back-end loaded full-year guidance."
-- Written by Eric Rosenbaum in New York
RELATED STORIES:
>>8 Reasons Why First Solar is Getting Whacked
>>How Tin Film Plans to Beat Chinese Solar
>>First Solar Beats, Reaffirms Guidance
-- Written by Eric Rosenbaum from New York.
>To contact the writer of this article, click here:
Eric Rosenbaum
.