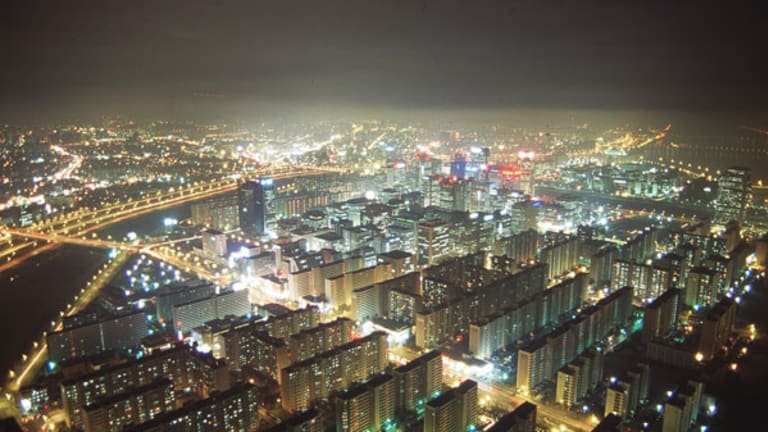 First Solar Capitulates, Sort Of
First Solar provides an outlook on 2012 that is so cautious its shares hit an all-time low. But is this just one setup for a beat and raise?
(First Solar story updated for commentary from Ticonderoga Securities, Maxim Group)
NEW YORK (
) --
First Solar
(FSLR) - Get First Solar, Inc. Report
made it clear in its 2012 guidance call on Wednesday morning that the crisis in the solar industry is existential. That shouldn't have been news to anyone who follows the solar sector, and the 20% drop in First Solar shares to its lowest share price since its early days shouldn't be a surprise either -- in fact, with First Solar down to under $35 on Wednesday it was in range of a
"target" that we recently set for the stock.
But what did First Solar really tell us Wednesday, when it guided to 2012 earnings so low that they even surprised noted First Solar bear Gordon Johnson?
There are important questions for investors trying to read between the lines of the First Solar commentary: Did the company just capitulate to reality, that it will never again be able to sell solar panels on the open market profitably? Will it become a project developer only, with a multiple of an industrial stock the best that it can ever again expect to command from the market?
Yes, and no. First Solar also set the earnings bar so low next year that it has set itself up for a huge beat as well. This could -- in classic First Solar fashion -- send shares back up after this bottoming-out, which probably is the "expectation reset" from which it won't fall much lower in the short-term.
First Solar isn't going to be operating in the rooftop market, the subsidized European market that made every company a fat cat over the past few years, likely ever again.
Subsidized markets are more or less over, with overcapacity so extreme in solar that any company reliant on subsidized solar is going the way of the dinosaur (if and when the Chinese government decides to call them on their cheap bank debt).
None of this should be news to anyone, either, but this call was First Solar's official capitulation to this reality. It's the difference between a classic First Solar investor presentation Powerpoint slide that
we once mocked because it showed a more or less straight line up from subsidized markets to "transitional" markets and finally sustainable markets, to today admitting that the "transitional market" phase is just a "phase of desperation" for everyone.
First Solar will have to focus on its project pipeline business and return on capital to investors, and not the go-go momentum past of solar, in which one fat quarter from Italy could prop up gross margins for the industry. Nothing new there, either, and of course, that's a self-serving argument too, which can make First Solar look better positioned than the Chinese solar industry. The First Solar project business has always been about being "better insulated" than the Chinese.
"I think this was definitely a clear-the-deck call, and I don't expect additional clear-the-deck calls, and they focused on the structural changes that will create a long-term sustainable business," said Paul Clegg, analyst at Mizuho Securities. "The only way to survive in solar is sustainable markets and pulling back from high-efficiency rooftop. But everyone also thought (interim CEO Mike) Ahearn would do something negative, and by negative I mean cautious. He has every incentive to set the bar low," said Clegg.
Ahearn, who recently stepped back into the role as interim CEO of First Solar, had a history when he was the company's first CEO of setting expectations very low and then smashing earnings estimates.
The First Solar guide was in fact so much lower than expectations that it suggests a major project could be pushed out to 2013 or beyond and that sets up the most fundamental question about First Solar: what is the value of the project business? If that's not the case, though, and the earnings not expected suddenly materialize, First Solar is once again setting itself up to impress the market.
And there's the rub for investors. First Solar could rally during 2012 if it is able to pull in earnings from major projects that it excluded from its current guidance, but that's not "sustainable earnings." It's earnings from a type of high-priced PPA (power purchase agreement with a utility) that even First Solar acknowledged is also going the way of the dinosaur.
"Next year will continue to be really tough for solar and for First Solar any positive data point around the cost structure or pipeline, if they can outperform on either, there is room for the stock to move because they set the bar low," Clegg said.
Even if there is one more short-term trade up in First Solar if its current guidance does turn out to be overly cautious, it only masks though the larger question of what First Solar shares are really worth if its business is limited to building solar projects for utilities. And the fluctuations in reporting earnings from high-priced PPA projects can prop up earnings throughout the next few years, but doesn't help investors get to a normalized earnings model for the company.
And there are some questions First Solar wouldn't answer that are pretty big ones too, namely:
Are earnings coming in so low because it is again have revenue recognition issues with its projects?
Remember, First Solar was able earlier this year to beat earnings estimates by pulling in revenue from its Agua Caliente project while other companies were bleeding in solar. Yet the way it recognizes revenue from projects has always been a bone of contention with the SEC. Some investors may shoot first and ask questions later with an earnings guide like today where it seems as if the revenue from one entire project could be a big part of the negative guidance surprise. And since its earnings are only to be propped up over the next few years by these high-priced PPA contracts, that's an important issue.
First Solar recently got a lot of good press when Warren Buffett's energy subsidiary MidAmerican Energy agreed to buy it's Topaz project, which lost a U.S. loan guarantee. But the only important data point in the still not-closed sale of Topaz to MidAmerican is at what price Buffett's energy company bought the First Solar project.
It's never been about -- as MidAmerican fatuously said in its press release -- the fact that solar financing is possible and sustainable without federal loans. It's been about at what price a buyer is willing to pay without a federal loan on the debt side of the equation, which MidAmerican didn't tell us. Buffett is not famous for overpaying for acquisitions,to say the least, and so some investors may assume that Topaz was sold for less than expected and that's in the earnings guidance disappointment too.
There's one more important issue too that can't be resolved based on First Solar's outlook. The company has plans to sell 720 megawatts of modules into the merchant market for solar modules, where it more or less has conceded it can't compete. First Solar has no leverage in the open market, and in fact may only be able to sell to its own projects if it wants any profit margin. Therefore, just meeting the goal of 720MW in open market sales is risky, and if there is any project market hiccup which would require First Solar to slate more modules for the open market, the problem only intensifies. First Solar's current production capacity is 3 times its project business, according Paul Leming, Ticonderoga Securities analyst. To show how much things have changed, a year ago First Solar touted its ability -- in analyst call after analyst call -- to be "flexible" in moving modules from the captive project market to the merchant market based on market conditions. Now one can argue that "flexibility" has become a problem.
These points are pure speculation, but they get to the one question that matters and where the homework still needs to be done on First Solar's future. It's whether the $35 mark to which First Solar slipped on Wednesday is its new long-term reality.
It could be. In fact, it could be a generous rendering of the long-term future.
Paul Leming, analyst at Ticonderoga Securities, took a dim view of First Solar's future. "This was not a 'setting the bar low' event. This was an honest reflection of how
bad the solar business is going to be for several years due to structural oversupply. Crystalline silicon panels will be cheap for a very long, long time," Leming said. "2013 earnings for First Solar could be $2, and put a 12x multiple on that and you are at $25. These types of downturns take years, not quarters, to sort out," the analyst added.
If an investor is shorting First Solar, here though, the investor may have to be shorting based on the premise that the stock goes to zero. And in a sector that's been prone to fast money trading, there's a difference between longs getting interested in First Solar
especially with acquisition potential at these levels, and the long-term reality of an oversupplied industry that an investor is trying to value.
"Today may be capitulation from First Solar, and there could be a few more days of weakness, but this sets the stage for a near-term bottom," said Aaron Chew, analyst at Maxim Group. In fact, the analyst added, "All the bad news is out there. This stock is more likely to be higher in a few months. I'm actually more positive today on First Solar than I've been in a long time. A few years from now, this stock could go to the $20s, but over a two-year time horizon in an fast-moving industry like solar, all bets are off anyway," Chew said.
Added Leming in an email, "The volatility in this space has been amazing - and I'd never bet against
the bulls telling people that Shangri-La is now right around the corner. So, yes, I absolutely believe FSLR could be at $50 in two months -- or it could be bought out. The thought that goes through my mind is that many of these stocks have declined 90% from their peak -- FSLR $310 to $32; SunPower $140 to....whoops $7 (95%); WFR $95 to $4 (another 95%'er). There has been a one-way trade for three or four years in this group. Within that long-term secular trade, there have been too many short-term trades to count. That is going to continue."
Chew said that in the final analysis -- at least today's -- he's calling a bottom, not a bounce.
In the end, with another bottom or bounce to come, it could be a trade of diminishing returns on both sides for investors.
Interested in more on First Solar? See TheStreet Ratings' report card for
this stock
.
-- Written by Eric Rosenbaum from New York.
>To contact the writer of this article, click here:
Eric Rosenbaum
.
>To follow the writer on Twitter, go to
.
Follow
TheStreet
on
and become a fan on