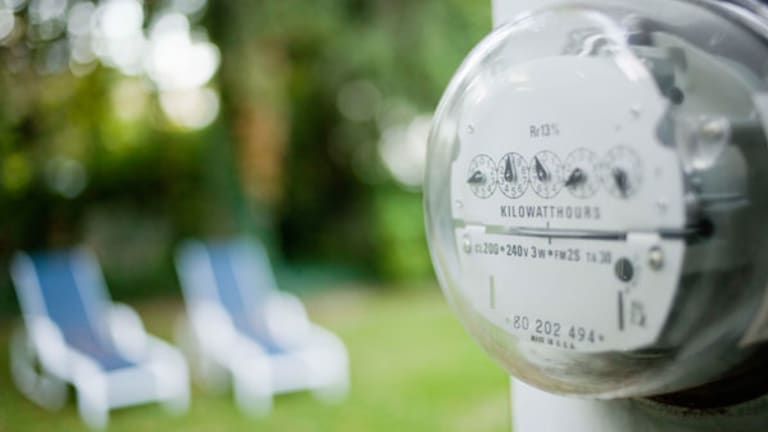 First Solar Beats, Reaffirms Guidance
First Solar reports a top and bottom line beat after the close on Tuesday and reaffirms full year guidance.
(First Solar earnings story updated for CNBC commentary from Jim Chanos)
NEW YORK (
) -- Solar investors may have hoped that when
First Solar
(FSLR) - Get First Solar, Inc. Report
reported results that beat on the top and bottom line after the close on Tuesday. First Solar earnings of $1.33 per share were ahead of the average analyst consensus of $1.17 per share, while revenue of $567 million was also above the consensus call for revenue of $544 million.
First Solar reaffirmed its full year guidance, first given with its fourth quarter results, of sales between $3.7 billion and $3.8 billion in 2011, and earnings between $9.25 and $9.75.
First Solar slightly lowered its operating income guidance, from a range of $910 million to $980 million, to $900 million to $970 million, and also reduced its operating cash flow guidance from $1 billion to $1.1 billion, to $800 million to $1 billion.
First Solar results declined sequentially, with net income and gross margin lower, which the company attributed to allocation of modules to its systems projects in order to meet the project contractual delivery schedules, seven fewer production days, and a full quarter impact of the pricing change implemented in December of 2010. Quarterly net sales decreased slightly from $568 million in the first quarter of 2010, primarily due to lower average selling prices, First Solar said.
"Quarter over quarter, the net income decrease was primarily driven by lower net sales and gross margin. Year over year, the net income decrease was primarily driven by reduced average selling prices and higher expenses, partially offset by increased module production and lower module cost per watt," the company stated in the earnings release.
First Solar's CEO also reiterated a tone of guidance provided in February. "Despite European market uncertainties, First Solar has good visibility into our demand for 2011," said Rob Gillette, CEO of First Solar.
First Solar shares declined by as much as 5% after its earnings. First Solar shares have sold off even after beat and raise quarters in 2010.
Late in the day on Tuesday,
Reuters
reported it had seen a draft of the Italian solar policy and it was incrementally negative for solar companies, and would not include a grace period for existing projects, though it was only a draft and the Italian government is still debating the policy changes.
First Solar consolidated gross margin decreased by 3% to 45.8% as a result of lower ASPs and more business shifting to the lower margin project pipeline - 8.4% of sales in the first quarter, versus 5% previously.
The sales of $567 million were the lowest since the first quarter of 2010, when First Solar reported sales of $568 million.
First Solar's cost per watt was flat quarter over quarter, at 75 cents/watt.
First Solar was conservative as usual in its commentary about the changing nature of the business in Europe with policy reviews ongoing in Germany, Italy and France. The company said in its earnings presentation that the industry had "excess inventories" and rising lending rates, and the second half of 2011 will feature "tighter economies" in Europe.
As expected, First Solar focused the outlook on its ability to take advantage of new markets where large-scale solar opportunities exist, including India and China, which it noted may double its solar, goal from 5 gigawatts to 10GW by 2015. First Solar did note that the Indian market remains constrained by project financing immaturity but there have been a host of reports about the Indian market issues since last year when a new FIT scheme was introduced.
First Solar said on its earnings conference call - as it has said previously - that even though the European markets are uncertain and policy changing, "We believe we are uniquely positioned to drive sell through of 2011 production."
Yet First Solar also noted that the flexibility to move modules from the open market to its captive project pipeline -- it has increased the low-end of its large-scale project guidance from 400 megawatts to 450 megawatts-- has declined and will continue to decline in 2011.
Jim Chanos, who recently appeared on
CNBC
to talk about
First Solar, was appearing on
CNBC
as First Solar reported on Tuesday afternoon and was asked by Maria Bartiromo to reiterate his views on the solar company.
Baritromo referred to the First Solar earnings as "weaker" than expected in posing the question to Chanos, which was at odds with the top- and bottom-line beat. Granted, sequentially, results were down, but the first quarter is usually the weakest for solar companies with the severe weather in Europe, and First Solar had said with its last results that it had moved to lower pricing earlier than expected. In addition, First Solar net sales were only $1 million lower than the first quarter of 2010, which is typically a weak quarter for solar and this European winter in particular was severe.
Chanos again referred to key executive departures and insider selling, as well as the policy changes in subsidized markets like Italy, and said he had some issues with First Solar accounting, as well -- though he was not more specific.
-- Written by Eric Rosenbaum from New York.
RELATED STORIES:
>>5 SunPower-Total Deal Trading Themes
>>How Tin Film Plans to Beat Chinese Solar
>>Total Takes Majority Stake in SunPower
>To contact the writer of this article, click here:
Eric Rosenbaum
.