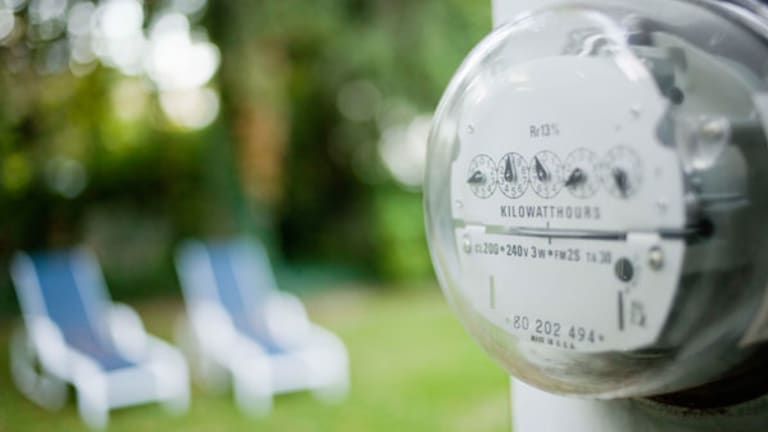 Publish date:
First Solar Addresses the Past, Future Still a Mess
First Solar announces a big restructuring, but uncertainty about the solar sector's future will remain.
First Solar announces a big restructuring, but uncertainty about the solar sector's future will remain.
NEW YORK (
) -- The restructuring plan laid out by
First Solar
(FSLR) - Get Report
on Tuesday addresses the market reality that CEO Michael Ahearn encountered last December when he retook control of the solar company. What it can't do is provide answers to the critical questions about First Solar's strategy to succeed in coming years.
In
making the decision to lay off 2,000 First Solar workers -- 30% of the company's headcount -- and close down both its German operations and less efficient Malaysian manufacturing lines, First Solar merely provided one more reminder of where the solar industry left off at the end of 2011: In a situation defined by excessive capacity worldwide at a time of waning European subsidy markets.
"They are responding to 2011, not addressing what could still happen," said Maxim Group analyst Aaron Chew.
The pricing free-fall has picked up again in solar, and the two most important European markets -- Italy and Germany -- have signaled in solar subsidy scheme revisions that the biggest markets for solar will not exist for much longer. "Today's action can't address that," Chew said. So the First Solar restructuring plan cleans up the mess, but isn't the all-clear signal that a rally in shares might lead some to suggest is happening.
The best way to view this First Solar rally is one more bounce up from the $20 mark, which serves as the new support level for the stock. Last week, First Solar experienced
a similar rally but it didn't last.
Analysts wrestling with what to do with First Solar shares now contend that there is really only one metric that counts: Cost per watt. If First Solar is to succeed in coming years, and in unsubsidized markets, the company will have to bring its cost per watt down to 60 cents or below. Maxim's Chew says a cost per watt of 55 cents will be required for First Solar to fend off the competition from Chinese solar companies that will exist, whether in the subsidized markets that First Solar is leaving behind, or the non-subsidized markets of the future.
Steven Simko of Morningstar said First Solar has to get down to at least 60 to 65 cents a watt in its cost model to succeed, and as an analyst, he continues to wrestle with First Solar as an investment. Simko questions whether the best-case cost model for First Solar would necessarily make it the best cost structure in solar again?
"I am trying to get my head around the sustainability of $0.70-0.80 cash cost structure of the Chinese," Simko said. "This seems where the best companies will be by the end of the year, but can it continue? Getting to this cost structure has involved all margin disappearing across the entire supply chain from poly to panel."
First Solar has to price at a significant discount to the Chinese crystalline silicon panel makers because its thin film panel technology is less efficient in generating energy. The Chinese crystalline silicon players chipped away at First Solar's cost advantage over the past few years and, by the end of 2011, First Solar decided to end a rebate program it had been using to keep customers for its solar panels in the open market -- as opposed to captive project business. The Chinese cost model and price declines made open market module sales a losing proposition for First Solar.
Simko expects that, after a period of manufacturing capacity rationalization from the Chinese solar industry, its cost declines should slow. That may help First Solar as it reduces costs, but he also has to wonder whether First Solar can line up a pipeline of non-subsidized market projects to build over the next year or two. "This is what I am wrestling with right now," the Morningstar analyst said.
The outlook for the unsubsidized market push remains "unclear" in the opinion of Stifel analyst Jeff Osborne.
First Solar announced as part of its restructuring that it plans to be at a 70-72-cent per watt cost model in 2012 as a result of the restructuring, below its prior expectations of 74 cents per watt. However, that represents the "low-hanging fruit" in the company's drive to develop a successful cost model. Taking out the less cost-efficient German lines isn't the same as driving manufacturing throughput cost efficiencies that will allow the company to reach its goal of a 60-to-64-cent cost model in 2013.
Maxim's Chew added that First Solar can't address the larger industry issue of too much supply, either, by shutting down some of its lines. U.S. solar company
SunPower
(SPWR) - Get Report
announced on Monday that it was shuttering some manufacturing lines, too, but Chew says building a bullish premise for solar stocks based on these manufacturing plant closures would be a mistake.
It's far short of what would be needed to show that the supply/demand balance in solar is healthy, and ultimately, all of the Chinese companies will be competing in the unsubsidized markets that First Solar has predicated its future success on. Then there's the fact that for every manufacturing line being shut down by a First Solar or SunPower there's likely to be a Chinese solar manufacturer who you have never even heard of but who is ready to add a few gigawatts of solar panels to the glut: look up Talesun.
In fact, Chew says it's difficult to even call this a strategy that can differentiate the company since any investor has to assume the Chinese solar industry will be moving to all of these markets -- from the Middle East to South Africa, Australia and Chile -- also.
"Every time Kodak announced a restructuring it wasn't something to get excited about," Chew said.
Yet it is easy to understand why First Solar is rallying. Portfolio managers that have bailed out of the stock all the way down to $20 are looking to build a constructive case for the solar company's shares and the sector. Morningstar's Simko said the days of First Solar stock being $120 or more are gone, but $50 could happen again.
This isn't the rally that gets First Solar to a $50 best-case scenario, and even a successful First Solar could still trade in the low $30-range based on an as yet impossible to peg future profitability ratio.
The continued sector uncertainty means that First Solar probably remains a toxic stock, along with the rest of solar, in Simko's view. After its 11% gain at midday on Tuesday First Solar shares broke above the $23 mark. If this First Solar rally fades like the last, the more important questions posed by the analysts will remain somewhere between the "all-clear" signal that is still far off, and the 2011 disaster scenario that maybe, finally, First Solar has put behind it.
-- Written by Eric Rosenbaum from New York.
>To contact the writer of this article, click here:
Eric Rosenbaum
.
>To follow the writer on Twitter, go to
.
Follow
TheStreet
on
and become a fan on