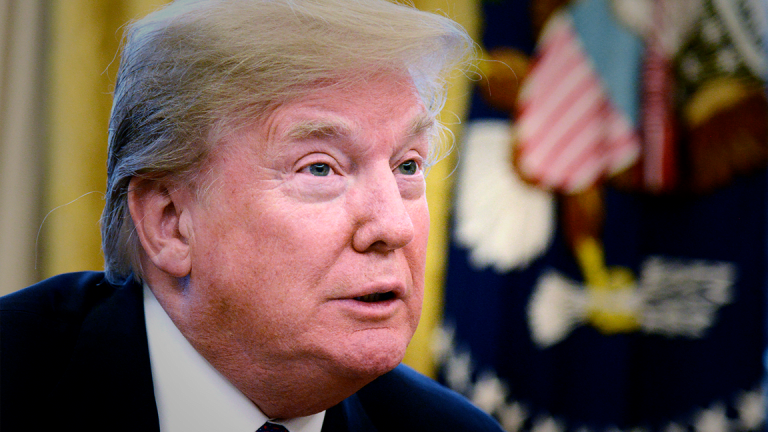 It's Trump's Stock Market Now as Indexes Turn Negative for 2018
Trump has the same winning percentage in the markets so far that President Obama had during his eight years, but the president keeps stepping on his own policies.
It's President Trump's stock market now.
Major indexes all tumbled Monday, the first of Donald Trump's fifth full quarter as President of the United States. Last quarter was the first under his presidency in which the biggest U.S. equity markets all declined, giving him a record of three positive quarters and one negative. In baseball terms, that's a .750 winning percentage.
Coincidentally, using the Dow Jones Industrial Average, that's the same record Barack Obama compiled in the 32 quarters of his presidency: 24 quarters positive, eight negative. Trump's obsession with unwinding things Obama did is fairly well documented, from eliminating the program for undocumented children to repealing and replacing the healthcare laws to opening up the EPA and the Interior Department to corporate interests. Today, for example, the EPA scrapped Obama-era fuel efficiency rules, making it easier for automakers to pollute the atmosphere.
But until recently, Trump would say that his policies of low taxes and lax regulation are responsible for the terrific stock market performance in 2017.
That changed in February, when the Dow had a couple 1,000-point losses on concern that a change in Fed leadership signaled an end to the era of cheap financing. Today, things are looking worse after a month in which the president compounded inflation fears with threats of new tariffs on steel and aluminum and the real beginning of what looks like a trade war with China.
Today the S&P 500 and Nasdaq fell into correction territory after China's Ministry of Finance announced new tariffs of up to 25% on U.S. products such as pork, fruit, nuts and wine. The duties affect as many as 128 products worth about $3 billion in U.S. exports.
It was a tough session, as seen below.
But of course, that's not all the president has been up to erode value for U.S. equity holders. Shares of Action Alerts Plus holding Amazon.com Inc. (AMZN) - Get Amazon.com Inc. Report , the third-most valuable company in the world, fell 5.2% on Monday after Trump renewed his attacks on the the e-commerce giant.
"While we are on the subject, it is reported that the U.S. Post Office will lose $1.50 on average for each package it delivers for Amazon. That amounts to Billions of Dollars," Trump tweeted over the weekend. He added, quoting the New York Times, that if the post office "increased its parcel rates, Amazon's shipping costs would rise by $2.6 Billion."
"This Post Office scam must stop. Amazon must pay real costs (and taxes) now!" Trump tweeted.
The president's expressed concern about the rates and taxes Amazon pays may have something to do with the fact that Amazon's CEO, Jeff Bezos, is also the owner of the Washington Post, which publishes articles every day that are critical of the president. Amazon, however, doesn't own the Post. That's why Trump's tweet over the weekend that the Post should register as a lobbyist didn't ring as especially sincere. During this exchange, Amazon shares have plunged 11% since last week, when Axios reported that the president was "obsessed" with regulating the company. That wiped about $75 billion from Amazon's market capitalization.
For a president who used to like to ask people at his rallies how well their 401(k) retirement accounts are doing, he does have a tendency to go after particular stocks from time to time. He criticized Ford Motor Co. (F) - Get Ford Motor Company Report for moving manufacturing to Mexico and Boeing (BA) - Get The Boeing Company Report for charging too much for Air Force One. During the campaign he bashed Action Alerts Plus holding Apple (AAPL) - Get Apple Inc. Report for not letting the FBI break into the iPhone of a terrorism suspect.
One company Trump hasn't taken a Twitter stick to is Action Alerts Plus holding Facebook (FB) - Get Meta Platforms Inc. Report , which is managing to help drive the markets down without any help from the Oval Office. CEO Mark Zuckerberg and his team are going with a business plan that requires its customers to submit willingly to a Big Brother surveillance state so as to boost data sales. It might not be the best plan, but they're sticking to it.
To contact the reporter: john.pickering@thestreet.com. Twitter @johnpickering16