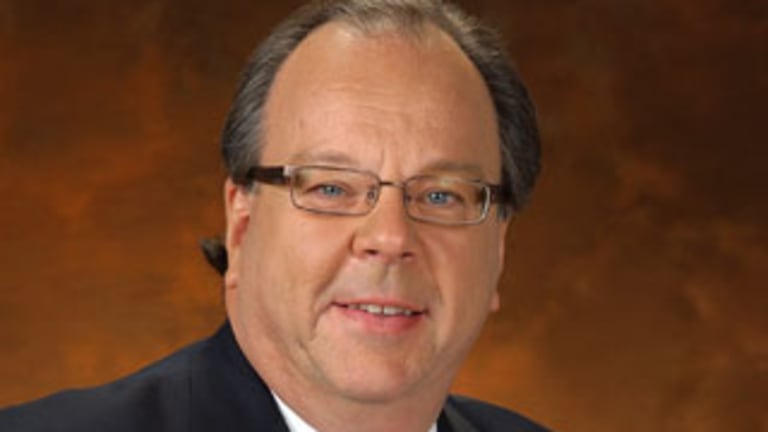 First Niagara Misses but Reports Strong Growth
First Niagara missed analysts' estimates with third-quarter EPS of 19 cents.
First Niagara missed analysts' estimates with third-quarter EPS of 19 cents.
GAAP EPS of 19 cents misses analysts' esimates.
Operating EPS of 25 cents, excluding acquisition expenses.
Reports strong loan and deposit growth.
NEW YORK (
) -- First Niagara Financial Group
(FNFG)
on Thursday reported third-quarter net income of $57 million, or 19 cents a share, missing the 26-cent estimate among analysts polled by Thomson Reuters.
The third-quarter results compared to earnings of $13.6 million, or 5 cents a share, in the second quarter, when First Niagara recorded $57.7 million in acquisition, integration and restructuring expenses, and $45.6 million, or 22 cents a share, in the third quarter of 2010.
First Niagara said that excluding non-operating items, its third-quarter net operating income was $73.6 million, or 25 cents a share, increasing from $71.2 million, or 25 cents a share, the previous quarter, and $46.9 million, or 23 cents a share, a year earler.
First Niagara Financial Group CEO John R. Koelmel
First Niagara agreed in July to purchase 195 branches in Upstate New York and Connecticut from HSBC
(HBC)
for roughly $1 billion, in a deal that is expected to be completed in early 2012.
When the deal was announced on July 31, First Niagara CEO John Koelmel said that after an anti-trust review by the Department of Justice, the company had determined it would need to close or sell roughly 100 of the acquired HSBC branches.
The company expects to raise between $750 million and $800 million in common equity before closing on the HSBC deal.
The company reported strong loan growth, average loans of "$16.2 billion in the third quarter of 2011, increasing by $311 million, or an annualized 8%, over normalized linked quarter balances," with commercial loans growing at a 14% annualized pace, for an average third-quarter balance of $9.6 billion.
First Niagara's third-quarter provision for loan losses was $14.5 million, declining from $17.3 million in the second quarter, but rising from $11 million in the third quarter of 2010. The company grew its loan loss reserves by $5.7 million to $112.7 million as of Sept. 30, bucking the earnings-padding reserve release trend for most regional banks.
Despite the increase to reserves, loan quality was very strong, with a nonperforming assets ratio of 0.29% as of September 30.
Third-quarter net interest income was $235.4 million, increasing from $230.4 million the previous quarter and $161.3 million a year earlier, with the year-over-year increase reflecting the second-quarter acquisition of NewAlliance.
The third-quarter net interest margin -- the difference between a bank's average yield on loans and investments and its average cost of funds -- was a tax-adjusted 3.48%, declining from 3.65% the previous quarter and 3.61% a year earlier, reflecting "the impact of higher mortgage asset premium amortization, cost of
the company's money market deposit acquisition strategy and modest commercial loan yield compression." First Niagara also said that "given the historically low interest rate environment, margin pressure will continue for the foreseeable future."
Total deposits were $19.6 billion as of Sept. 30, increasing from $18.9 billion the previous quarter and $13.4 billion a year earlier, again reflecting the NewAlliance acquisition. During the third quarter, money market deposits grew 9% to $7.5 billion, and coveted noninterest-bearing deposits increased 13% to $3.1 billion.
Noninterest income totaled $68.7 million in the third quarter, increasing from $60.9 million in the second quarter, "driven by growth in banking services, mortgage, as well as lending and leasing fees. Greater refinance and purchase volumes and higher margins drove the increase in mortgage banking fees."
First Niagara's shares were down 29% year-to-date, through Wednesday's close at $9.61. Based on a quarterly payout of 16 cents, the shares have a dividend yield of 6.66%.
Out of 10 analysts covering First Niagara, seven rate the shares a buy while the remaining analysts all have neutral ratings.
The median 12-month price target among analysts polled by Thomson Reuters is $13.00, implying 35% upside for the shares.
RELATED STORIES:
BB&T Beats as Credit Improves, Releases Reserves >
KeyCorp Beats by a Penny but Earnings Decline >
Fifth Third Beats as Loan Loss Provisions Decline >
Huntington Meets Estimates on Strong Loan Growth >
Citigroup Pays $285 Million in Morgtage Bond Settlement >
Morgan Stanley Beats on Accounting Gain (Update 3) >
U.S. Bancorp Beats with Record Earnings >
PNC Profit Boosted by Commercial Loans >
--
Written by Philip van Doorn in Jupiter, Fla.
To contact the writer, click here:
.
To follow the writer on Twitter, go to
http://twitter.com/PhilipvanDoorn
.
Philip W. van Doorn is a member of TheStreet's banking and finance team, commenting on industry and regulatory trends. He previously served as the senior analyst for TheStreet.com Ratings, responsible for assigning financial strength ratings to banks and savings and loan institutions. Mr. van Doorn previously served as a loan operations officer at Riverside National Bank in Fort Pierce, Fla., and as a credit analyst at the Federal Home Loan Bank of New York, where he monitored banks in New York, New Jersey and Puerto Rico. Mr. van Doorn has additional experience in the mutual fund and computer software industries. He holds a bachelor of science in business administration from Long Island University.