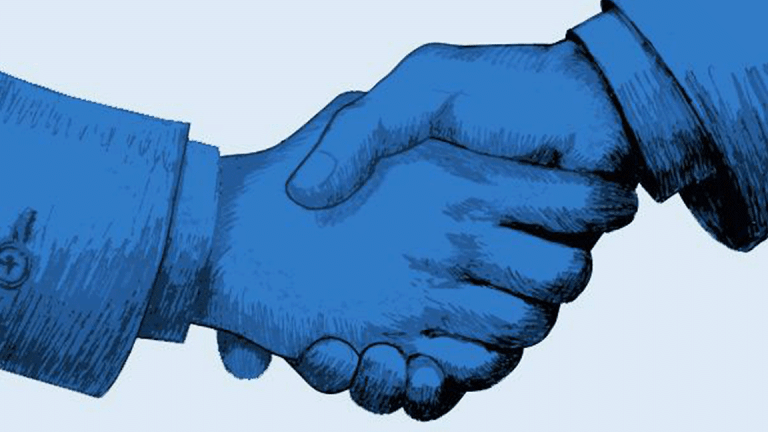 First Horizon and IberiaBank Shares Climb on Planned Combination
First Horizon and IberiaBank were both rising Monday after the two banks said they had agreed to combine.
Shares of First Horizon (FHN) - Get Report and IberiaBank (IBKC) - Get Report were both rising Monday after the two regional banks said they had agreed to combine.
First Horizon was up 3% to $16.81, while IberiaBank was up 2.3% to $76.49.
The combined company will have $75 billion in assets, $57 billion in deposits and $55 billion in loans.
It will operate under the First Horizon name and be based in Memphis. Iberiabank is headquartered in Lafayette, Louisiana. Its regional banking headquarters will be located in New Orleans.
Under the terms, which was approved by the boards of both companies, First Horizon shareholders will own 56% and IberiaBank holders 44% of the combined company.
IBKC holders will also receive a 43% increase in their dividend after the deal closes.
Iberiabank shareholders will receive 4.584 shares of First Horizon for each Iberiabank share they own.
The transaction is projected to add about 16% earnings per share to First Horizon and 22% to Iberiabank by year-end 2021. The companies expect to close the deal in second-quarter 2020. 
Bryan Jordan, chairman and CEO of FHN, becomes CEO at the new company. Daryl Byrd -- currently president and CEO of IberiaBank -- will become executive chairman.
The new company's scale, financial-services experience, and "diverse business mix in the South" position it well to build value for holders, Jordan said in a statement. 
Morgan Stanley is financial adviser and Sullivan & Cromwell is legal counsel for First Horizon. Keefe, Bruyette & Woods and Goldman Sachs are financial advisers and Simpson Thatcher & Bartlett is legal counsel for IberiaBank.