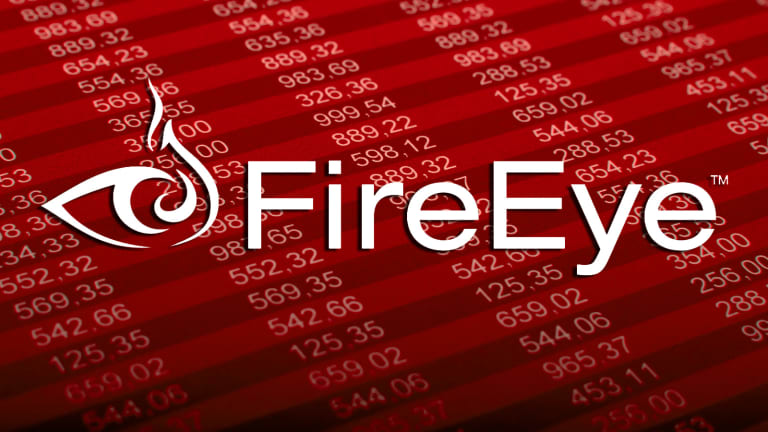 Publish date:
FireEye's New Mojo: Behind the Analyst Upgrade
Cybersecurity demand will continue booming in 2017 and beyond, regardless of the colossal disarray in Washington. Here's why midcap FireEye is a well-timed play.
Cybersecurity demand will continue booming in 2017 and beyond, regardless of the colossal disarray in Washington. Here's why midcap FireEye is a well-timed play.
The Trumpcare train wreck is horrifying investors, making it even more imperative to tune out the spectacle and focus instead on lasting long-term trends.
The worsening scandals over Russia's hacking of America's electoral process, as well as proliferating cybertheft in the corporate realm, are teeing up cybersecurity as one of the hottest investment themes you can find.
Below, we spotlight FireEye (FEYE) - Get Report , a cybersecurity play that's poised for a big breakout on the upside. First, let's cast a quick look at the health care donnybrook in Congress and how it's weighing on stocks.
On Thursday, the broader market closed lower on news that lawmakers would delay voting on the American Health Care Act, or AHCA, otherwise known as Trumpcare. The S&P 500 index was the worst performer among the major indices, falling 2.49 points (-0.11%) to 2,345.96.
Trumpcare is despised by politicians on the left, on the right and in the middle. It's also polling extremely poorly with the public. The latest reports indicate that a vote in the House will come Friday; a delay until Monday would probably doom the hodgepodge of half-measures because it would give angry constituents the weekend to complain to their representatives.
The market's decline in recent days stems in large part from anxiety that the wrangling over health care will delay action on Wall Street's top legislative priority of tax cuts. As the new and untested president increasingly proves maladroit in his dealings with Congress, traders are starting to worry that Trump won't be able to deliver on most of his pro-business promises.
Cybersecurity, however, is a promising investment theme that's immune to these ephemeral winds. Case in point is FireEye, which displayed great strength on Thursday amid a falling broader market. FireEye closed the day with a gain of 6.09% in the wake of a premarket upgrade of the stock to buy from sell by Goldman Sachs.
FireEye provides cybersecurity solutions for public and private sector organizations. The company's well-known brands include FireEye Security Orchestrator, FireEye Helix, FireEye-as a Service managed service and FireEye iSight Intelligence.
With a market cap of $2.16 billion and based in the heart of Silicon Valley, FireEye is a midcap player in a year when smaller companies (especially those in the tech sector) are expected to outperform their larger brethren. Aside from its innovative and increasingly popular products, the company offers another enticement: scuttlebutt is growing that cash-rich tech titans such as Cisco Systems (CSCO) - Get Report or IBM (IBM) - Get Report could buy the company.
The likelihood of a FireEye acquisition would increase if Trump fulfilled his vow to change the tax code in a way that makes it advantageous for tech companies to repatriate their enormous cash hoards from overseas. Tech companies would put that cash to good use by gobbling up smaller, entrepreneurial companies.
The average analyst expectation is that FireEye will rack up year-over-year earnings growth of 44.7% in the current quarter, 57.6% in the next quarter, 51.5% in the current year, 87.5% next year and 17.5% over the next five years on an annualized basis.
Could this pile of dirt pay you $8.47 per second?
Not long ago, I noticed a big construction site near my office. I researched the company doing the digging and what I discovered shocked me: A company that practically owns the Internet was building a new property... right in my own backyard! You've probably never heard of this company, but the world's best-known CEOs are very familiar with it. Facebook, AT&T, JPMorgan Chase and others pay them more than $180 million a month for the right to keep their websites online. This company is practically taking over the world. They've just gained a foothold in my neighborhood... and may be coming for yours next. Click here to start profiting.
John Persinos is an analyst with Investing Daily. At the time of publication, he owned stock in Cisco Systems.