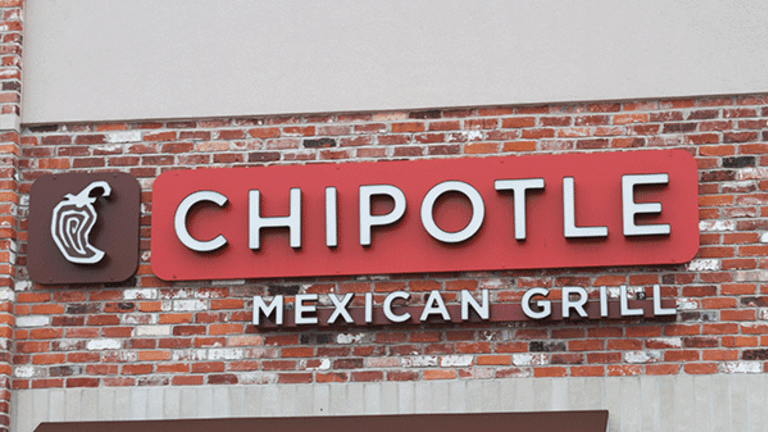 'Fire Chipotle CEO Steve Ells,' One Analyst Demands In Wake of New Health Scare
Here we go again.
Apparently, consumers are still at risk of contracting a food-borne illness from eating burritos at Chipotle Mexican Grill (CMG) - Get Report .
Because of this, Chipotle chairman and CEO Steve Ells should lose his job, Howard Penney, managing director at Hedgeye Risk Management, told TheStreet.
"Fire Steve Ells," Penney said. "The only way to get past this is to get a management team that knows how to run a restaurant."
On Tuesday, July 18, Chipotle closed a restaurant in Sterling, VA., after eight reports were made to iwaspoisoned.com indicating that at least 13 customers fell sick after eating there from July 14 through July 15 - just days after the burrito chain introduced queso sauce to its menu. Business Insider first reported the latest scare.
This comes after, in 2015, there was an outbreak of E. coli at Chipotle restaurants in 14 states.
"[Chipotle] hasn't recovered from the last [outbreak] so this is going to make it even harder to recover," Penney said.
Chipotle spokesman Chris Arnold confirmed the issue in a statement emailed to TheStreet.
"We are working with health authorities to understand what the cause may be and to resolve the situation as quickly as possible," Arnold said. "The reported symptoms are consistent with norovirus. Norovirus does not come from our food supply, and it is safe to eat at Chipotle. We plan to reopen the restaurant today."
The restaurant was closed on Monday to "conduct a complete sanitization," Arnold said.
Watch: Jim Cramer Said It Takes 18 Months for the Public to Forgive. Did Chipotle's Clock Just Reset?
The norovirus, nicknamed the "winter vomiting bug" because it typically spreads during winter months, is highly contagious and carries symptoms like vomiting, diarrhea and stomach cramps - consistent with food poisoning.
Penney said Chipotle has a classic case of "hubris," because the company has been focused on growth rather than fixing its business. Because of this, he predicted that the stock will eventually drop down to $250 a share.
Shares of Chipotle fell 4.3% to $375 by Tuesday's close.
Last month, Chipotle warned investors that its profits could be pressured in the second quarter after it boosted spending on marketing and promotions while trying to bounce back from its health scare two years ago. The company expects to release results for the second-quarter period on July 25.
More of What's Trending on TheStreet: