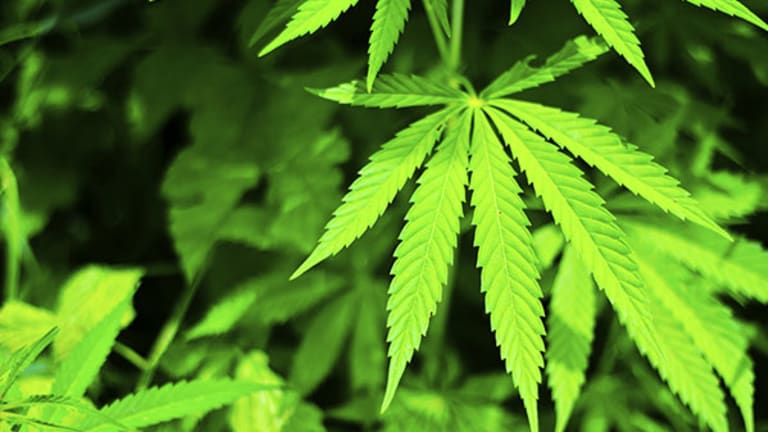 Publish date:
FINRA Blows Smoke in Pot Warnings
FINRA cautions investors about pot stock scams, but fails to name names
FINRA cautions investors about pot stock scams, but fails to name names
(This version corrects the fourth paragraph as follows: There is no agency known as the "Nevada Bank Activities Commission," and therefore the company mentioned, Hemp Inc. (HEMP), is not under investigation by that entity or any law enforcement agency to the best of our knowledge. The Street regrets the error.)
NEW YORK (TheStreet) -- The growing acceptance of marijuana is giving birth to an explosion of businesses associated with legalization. Twenty states already allow medicinal marijuana and two, Colorado and Washington, have legalized the recreational use of marijuana. This green rush has generated a stash of questionable investment opportunities from companies that use cannabis in their products to companies that help the plants grow.
In August, the Financial Industry Regulatory Authority, or FINRA, issued an alert warning investors of marijuana stock scams. Unfortunately, the warning notice reads like a list of blind items in a gossip column. FINRA never reveals the names of these problem stocks, but instead engages in a guessing game with thinly veiled descriptions of the companies that investors are supposed to somehow figure out on their own. FINRA warns of unscrupulous brokers pumping these stocks and notes that most of the stocks are traded in FINRA's own OTC platform, not the NYSE or NASDAQ.
FINRA did not respond to repeated requests to provide names and other details on its warning. However an examination of public documents reveals the following:
In the case of a "CEO of a thinly traded, yet heavily touted company that purports to be in the medical marijuana business" who "spent nine years in prison for operating one of the largest drug smuggling operations in U.S. history," documents show a match to the profile of Bruce Perlowin, the CEO of HEMP. He spent nine years in prison for selling pot, according to his company's Web site. He was known as the King of Pot and for running one of the largest drug smuggling organizations and money laundering operations on the West Coast, according to the site. Hemp is associated with Medical Marijuana (MJNA). The companies have exchanged shares.
Next FINRA writes "The former CEO of a similar company was recently indicted for his role in a multi-million dollar mortgage-based Ponzi scheme." This would appear to be Medical Marijuana's CEO Michael Llamas. He was the CEO of MJNA until he left the company three days after he was indicted and announced a leave of absence to attend to personal business, according to filings. He was indicted in September of 2012 for a multi-state mortgage fraud scam. Even though Llamas is no longer CEO of MJNA, he owns a company called CannaBank, which owns 50% of MJNA. The SEC is investigating MJNA, according to its last filing. The SEC will not discuss investigations, however MJNA reported the Depository Trust Company (DTC) lifted its "chill" on the stock in August. A chill is a stock restriction in which the DTC restricts a brokerages ability to transfer shares until the issues that concern DTC are cleared up.
Then there's this blind item from FINRA, "One company, for example, promoted its move into the medical cannabis space by issuing more than 30 press releases during the first half of 2013." That description matches Neutra Corp. (NTRR), a natural remedy company that says it plans on getting into the marijuana business. It has shown losses to date of $943,458, according to its most recent public filing. The company issues a press release about every five days and is valued at $4.7 million. Not bad for a company that states it has no formal business plan, no customers and no revenue.
The one marijuana stock that is attempting to enter into the big time is Medbox (MDBX), which recently filed an S-1with the Securities Exchange Commission to go public in July and then amended it in November. Medbox sells boxes intended to help dispensaries sell marijuana by providing vending machines that patients can then use with a card system for payment, thus circumventing the cash transactions that most pot deals are subject to. It has a market value of $231 million on the OTC platform.
According to the Southern Investigative Reporting Foundation, CEO Vincent Mehdizadeh has been arrested or pleaded no contest for breaking and entering, solicitation, trespassing and credit card fraud. However, the S-1 filing lists only two incidents which included selling a car without the title and settling a consumer affairs case for $450,000. The Los Angeles DA went after him for providing legal services even though he has no law license. He chose to settle and to pay restitution to the victims in order to avoid prison.
Mehdizadeh does not have to disclose his full past in the S-1 filing. The SEC says it only has to be disclosed if it's material to the company. A person's past behavior does not indicate poor performance as a CEO. However, Medbox does have to disclose cash investments in its filing. A press release dated March 8 reported the company received a $6 million cash infusion with $1 million paid and another $5 million on the way. However, the money is nowhere to be found in the filing. Medbox issued a statement that said it addressed the SEC's questions in the amended S-1 filing and expected the registration to be effective in six weeks.
In an email to TheStreet Friday afternoon, the company offered the following statement.
Medbox addressed this in its original S1 filing in July stating:

"Note 10 Subsequent Events: On January 16, 2013, a shareholder entered into a stock subscription agreement with the Company for the purchase of 71,429 shares of common stock at $70 per share. The Company issued the shares and the subscription was not paid for. Subsequently a settlement was reached within the quarter, with the stockholder which provided for the stock subscription agreement to be cancelled in exchange for the return of the issued stock and the stockholder purchasing from the Company at face value various outstanding accounts receivable owed to the company. The returned shares have been reflected as cancelled as of the date issued in computing the number of weighted average number of shares outstanding and outstanding stock issued as of March 31, 2013."
In other connections, Medbox used Q Accountancy for its filing, even though the SEC has sued the founder Timothy Quintanilla for issuing misleading audits. The Southern Investigative Reporting Foundation wrote that Medbox changed its accounting to Alexander Anguiano, but the filing still lists Q Accounting. Perhaps the change has been made, but that it hasn't been reflected yet. Medbox's counsel is Phillip Koehnke, linked to Scottsdale Capital Advisors , a firm that has assisted in pump and dump schemes according to the SEC. Koehnke is also counsel to AVT, which sells its boxes to Medbox.
These two companies are much intertwined. AVT -- Automated Vending TechnologiesAVT -- is owned by Shannon Illingworth, who sold his company Mindful Eye, which used to be a shopping mall kiosk business that sold downloadable movies, to Mehdizadeh. Mindful Eye then became Medbox.
One Houston-based analyst Alan Brochstein writes extensively about the group and said the only two stocks he likes are Growlife PHOT and Terra Tech TRTC. "These two are decent," said Brochstein.
Growlife and Terra Tech both sell hydroponic equipment for growing plants indoors. Growlife is also getting into the kiosk business to allow for credit card payments that fall within each state's guidelines. Watch out Medbox.
FINRA is responsible for investor protection and part of its mission is that investors receive complete disclosure about the investment product before purchase. However, FINRA fails in this mission with regards to this scam alert. Its cryptic message and its choice to speak in code protects no one but itself.
-- Written by Debra Borchardt in New York.
Disclosure: TheStreet's editorial policy prohibits staff editors, reporters and analysts from holding positions in any individual stocks.