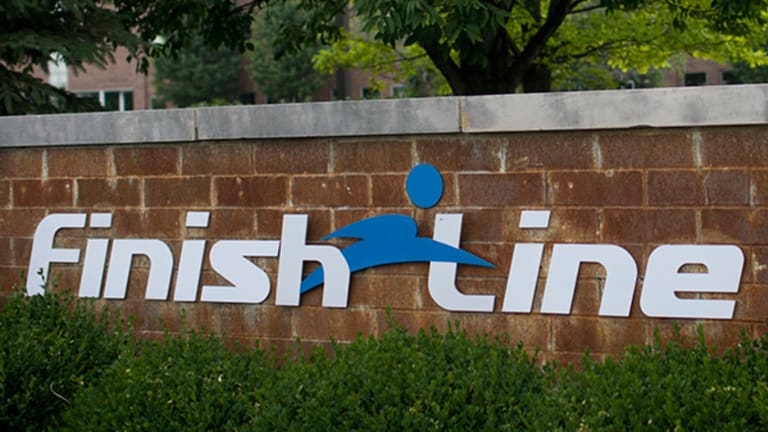 Finish Line's Apparel Trouble Is Not an Easy Fix, Analysts Say
Finish Line declined for the second straight day after reporting a net loss that was wider than analysts were expecting.
Finish Line  (FINL)  was downgraded by analysts at Canaccord Genuity, Wedbush and Piper Jaffray as the stock fell 14% over the past two sessions, after the sneaker and apparel retailer reported that weak accessory and apparel sales caused the company to miss Wall Street's third quarter forecast.
Wedbush downgraded the stock to "neutral" from "outperform" while lowering its price target to $20 from $25. Canaccord downgraded the stock to "hold" from "buy" while lowering its price target to $22 from $25. Piper Jaffray lowered its price target to $17 from $19. Today the stock fell $1.11, or 5.3%, to $19.89.
"At issue is the drag on slow-selling apparel that will necessitate higher levels of promotions to clear out the slow turning product," analyst Camilo Lyon wrote in Canaccord's note. "We believe a HOLD rating is more appropriate until we see evidence of improving apparel trends."
Wedbush was also skeptical about Finish Line's immediate future. "Management spoke of a realignment of the apparel business closer to the footwear segment, but we think that process will take time and is subject to execution risk," analyst Christopher Svezia wrote. 
Finish Line reported a third quarter net loss of $0.24 per share on revenue of $371.1 million. Analysts on average were expecting the company to report a net loss of $0.18 per share on revenue of $411 million.
To be sure, at least one analyst is still touting the company, which he said would have done well in the third quarter, except it's in the business of selling apparel.
"If it wasn't for weakness in apparel, Finish Line probably would have posted a beat in the previous quarter," Mizuho Securities analyst Alex Pham told TheStreet Thursday.
Pham maintained his "buy" rating on the stock due his confidence in the company and the sector, but lowered his 12-month price target to $23 from $29.
Accessories and apparel, which Finish Line calls "soft goods," fell 50% year over year, according to the company. Soft goods accounted for 9% of Finish Line's revenue in the third quarter, down from 15% a year ago.
Finish Line also said it plans to make an announcement about its JackRabbit specialty running stores in the current quarter. It previously said it was considering options including a sale of the struggling chain.
For the full year, the company lowered its earnings guidance to between $1.24 and $1.30 per share from its previous expectations between $1.50 and $1.56 per share.