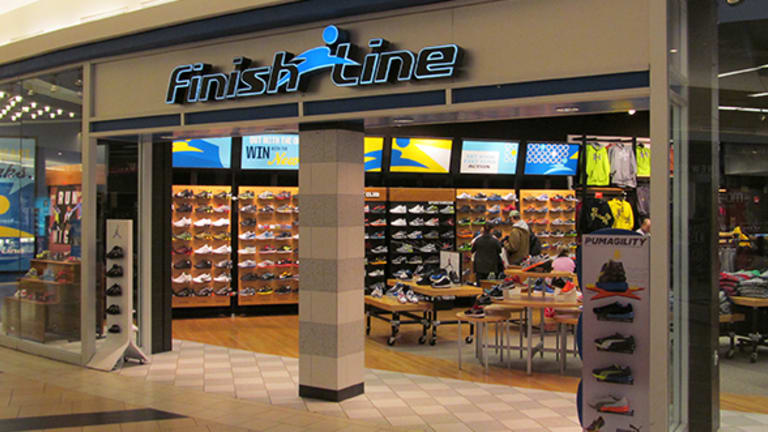 Finish Line Pins Earnings Miss on Struggling Apparel, Accessories Segment
Finish Line (FINL) reported a third quarter top- and bottom-line decline while lowering its current quarter guidance.
Editors Note: Story has been updated to reflect full year earnings guidance, not fourth quarter guidance as was originally reported. 
Shares of Finish Line (FINL)  dropped 10.9% to $20.50 on more than nine times its normal trading volume in early afternoon trading Wednesday, after apparel and accessories sales weighed heavily on its bottom line in the third quarter, leading the company to miss Wall Street's top- and bottom-line estimates.
Apparel sales were down 50% year over year while accessories were down in the mid-teens, the company said today during its third quarter earnings call. The company reported a third quarter net loss of $0.24 per share on revenue of $371.1 million. Analysts on average were expecting the company to report a net loss of $0.18 per share on revenue of $411 million. 
"Apparel strategy moving forward has to be more narrow with stronger go-to-market stories that compliment our footwear stories," CEO Sam Sato said during the earnings call. "Apparel is an important part of the business, but it has to be item based and hook up story telling to footwear."
Finish Line reported that weak traffic in October and November led to the company reporting a 0.7% increase in comparable store sales vs. its own internal guidance of a high single digit increase in third quarter comps.
Footwear continued to perform well as the company's main revenue driver. Running shoe comps rose in the low single digits, while basketball shoe comps were in the high single digits. Casual shoes were up double digits. 
Basketball comps were driven by the Retro Jordan and Jordan brands as well as what the company described as strong sales from Under Armour's (UA) - Get Report Steph Curry 2.5 and 3 basketball shoes. 
Nike (NKE) - Get Report , one of Finish Line's main vendors, released its quarterly results yesterday, reporting top- and bottom-line results of $0.50 per share and $8.2 billion respectively. Those totals beat analysts' estimates for the period. More than 70% of Finish Line's merchandise was purchased from Nike, according to an earlier 10-K filing this year.
Rival shoe retailer and Trifecta Stocks holding Foot Locker (FL) - Get Report , which reported a third quarter beat four weeks ago, suffered from Finish Line's weak quarter in trading today, falling 0.25% to $75.42 in afternoon trading. However, that company's apparel segment had a healthy period, according to Trifecta Stocks analyst Chris Versace. 
Finish Line also provided guidance for its struggling JackRabbit specialty running store chain -- which the company has previously said it was exploring strategic options for, including a possible sale -- saying that it expects to make an announcement about the chain in the current quarter. 
For the full year, the company lowered its earnings guidance to between $1.24 and $1.30 per share from its previous expectations between $1.50 and $1.56 per share.