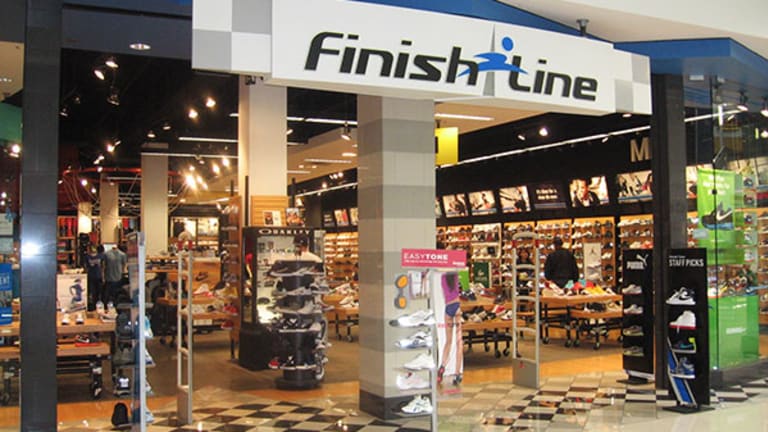 Finish Line Adopts Poison Pill as Stock Plummets, Sales Outlook Dims
Comp sales don't look good.
The Finish Line Inc. (FINL) adopted a poison pill "Rights Plan" late Monday to prevent a possible takeover just after the retailer slashed guidance and said it would earn its smallest profit since 2009 this year.
Stock tumbled 30% premarket Tuesday following the negative second quarter earnings announced Monday after the closing bell. Comp sales will likely fall between 3% and 5% this year, Finish Line said. Adjusted earnings were cut to between 50 and 60 cents per share from between $1.12 and $1.23 per share.
The "Rights Plan," announced in a company statement, prevents any individual stockholder from owning more than 12.5% of shares outstanding. The plan comes a week after British sporting gear retailer Sports Direct Int'l (SDIPF) disclosed its 7.9% stake in Finish Line common stock, plus economic interest but no voting power in another 20.13% of shares.
Finish Line didn't identify any specific shareholders of concern, but said the plan was enacted to "protect the best interest" of shareholders "given the current market conditions and recent share accumulations." BlackRock Fund Advisors was the largest Finish Line shareholder with more than 11% of shares outstanding at the end of the second quarter.
More of What's Trending on TheStreet: