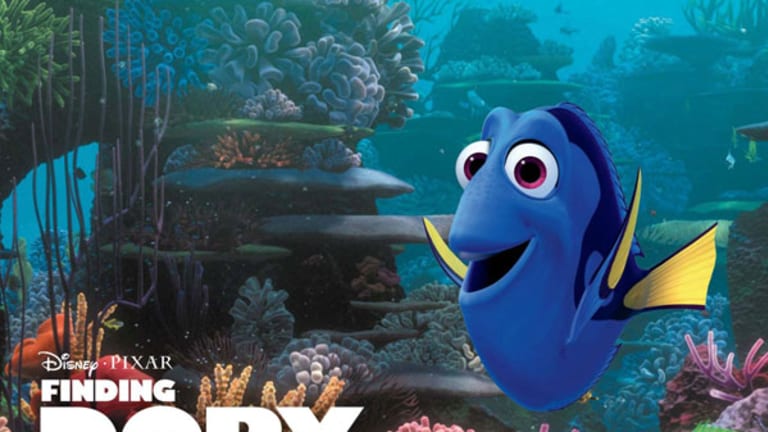 'Finding Dory' Will Make a Box Office Splash This Weekend
'Dory' may break the opening weekend record for an animated movie, while 'Central Intelligence' will laugh up a strong opening of its own.
'Dory' may break the opening weekend record for an animated movie, while 'Central Intelligence' will laugh up a strong opening of its own.
This looks to be a big weekend at the box office, as what is arguably the most widely anticipated movie of the summer swims into theaters. That's right: this weekend, Disney/Pixar's $200 million "Finding Dory," the "Finding Nemo" sequel, is sure to open with a bang and remain popular in the weeks to come. Elsewhere at the box office, Warner Bros. will serve up some counter-programming with the action comedy "Central Intelligence." With both of these movies expected to do well, box office revenues are sure to be up from last weekend, although that momentum still won't be enough to save a soggy second quarter at the movies.
"Finding Dory" will be released into over 3,900 theaters across the U.S. and Canada this weekend, and all box office analysts are expecting big things for the sequel. Rightfully so: "Finding Nemo" is widely regarded as a modern classic, and it was a large box office hit when it was released in 2003, making $340 million at the domestic box office and $868 million worldwide. The movie's popularity has only increased since then, as it was an absolute monster in the home media market and had a profitable 3D re-release in 2012. This sequel's advertising has promised more of the same beautiful underwater animation and emotional potency that made the first film a smash, while focusing on the most beloved character from the original "Nemo," the forgetful blue tang fish Dory. Early reviews for the movie are strong, as it currently holds a 95% rating on RottenTomatoes. Strong reviews have been a surefire way to draw out older audiences to Pixar features in the past, and this movie should be no exception.
The question is, just how high will "Finding Dory" go? Tracking suggests that the movie will open in the vicinity of $115 million, but the movie has the potential to go even higher than that, given the recent positive reviews and uncompetitive marketplace. The highest Pixar opening of all time belongs to Toy Story 3 with $110 million, a number "Dory" will probably float by with ease. The highest animated opening of all time belongs to "Shrek the Third," with $121.6 million. That record is over nine years old now, and the time may be ripe for it to be broken. Indeed, the fact that "Dory" is Fandango's top animated pre-seller of all time is a strong indication that there will be a new record set for animated openings this weekend. There seems to be a perfect storm brewing for "Dory": a lack of a bona fide family box office hit since "The Jungle Book" in April, strong reviews, a release date that has proved successful for Pixar movies in the past and an enormous amount of goodwill from the first movie will all contribute to a huge opening for "Dory." Expect the animated sequel to make between $135 and $140 million this weekend, setting it up to be the biggest movie of the summer.
The numbers for "Central Intelligence" may look comparatively modest next to "Dory" this weekend, but the flick from Warner Bros. is primed for a successful opening in its own right. The action comedy, made for a reasonable $50 million, pairs Dwayne Johnson and Kevin Hart, both hugely popular stars with proven box office records. In fact, this movie was nearly guaranteed to do well since the moment it was greenlit: Johnson is one of the biggest stars in the action genre, with hits such as "San Andreas" and "Furious 7" under his belt, and Hart is one of the largest comedy stars in the business right now, with movies like "Get Hard" and "Think Like a Man" proving his box office clout. Pairing the two of them in an action comedy seems like a no-brainer recipe for a big hit.
Additionally, the marketing has been strong for the comedy. The trailer demonstrates a healthy mix of action and comedy, and the film's tagline is one of the strongest in recent memory: "Saving the world takes a little Hart and a big Johnson". The only thing that could hurt the movie this weekend is its similarity to "Ride Along," a recent Hart franchise. Both "Central Intelligence" and the "Ride Along" movies feature Hart as a square who is swept into action by a more experienced counterpart. In a summer where unoriginal fare has fallen flat at the box office, Warner Bros. will surely be hoping that general audiences view "Central Intelligence" as an original movie, and not just a retread of the "Ride Along" movies, with Ice Cube swapped out for The Rock.
Ultimately, however, the similarity of "Central Intelligence" to "Ride Along" is unlikely to have too much of an effect at the box office this weekend. Johnson and Hart's brands are too strong, and audiences are likely ready for a fun comedy after "Neighbors 2" underwhelmed in May. Expect "Central Intelligence" to earn around $38 to $40 million at the box office this weekend.
The Top 5 should be filled out by last weekend's openers. "The Conjuring 2" will probably have a second-weekend drop in line with that of the first movie, around 50%. That would give the horror sequel a strong $20 million weekend, raising its total to about $78 million through its first ten days. "Now You See Me 2" may face a steeper second-weekend decline than its predecessor, due to less enthusiastic word-of-mouth and more intense competition. Expect the Lionsgate/Summit movie to drop about 45%, giving it a $12.5 million second weekend and a $45 million total. And finally, "Warcraft" will round out the top 5, although it will probably experience a rough weekend-to-weekend drop. Expect the big-budget Universal movie to decline 60% or so to a $9.5 million second weekend. That would give the fantasy movie a total of about $43 million through its first ten days -- or still less than its opening day in China.
A weekend recap will be posted on Monday with studio estimates.