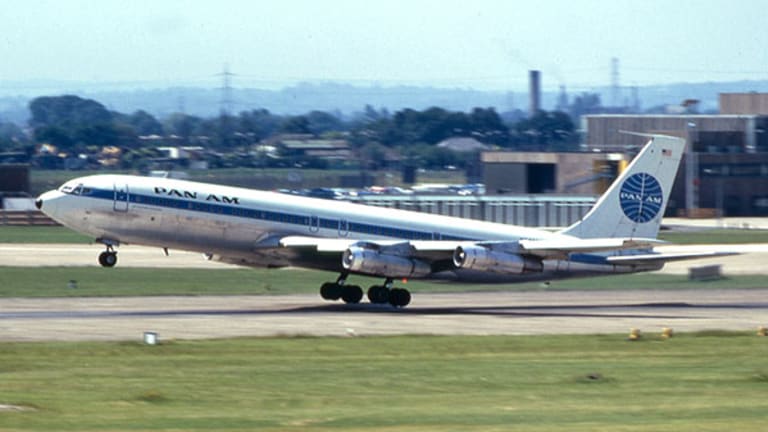 Fifty Years Ago, Idlewild Airport Became JFK
A month after a young president was killed, New York honored him by changing the name of the country's leading international gateway airport.
NEW YORK (TheStreet) -- Fifty years ago on Tuesday, one of the most commonly used words in New York suddenly began to disappear.
The word was "Idlewild," and it was the name of New York's international airport. On Dec. 24, 1963, the airport's name was changed to John F. Kennedy International Airport, commemorating a young president who had been assassinated just a month earlier.
At an airport ceremony on Dec. 24, 1963, the 800 guests included JKennedy's brother Ted and sister Jean Kennedy Smith. Then-New York Mayor Robert Wagner, in his unique style, said the purpose of the gathering was to honor a man who was "a brilliant practioner of intercommunication, a young sage of understanding and a tireless searcher for peace."
The airport renaming provided a rare honor that enables the former president's name to be recalled hundreds of thousands of times each day in conversations throughout the world.
In the ensuing years, air travel, particularly international air travel, surged, even as the world's greatest international airline, JFK-focused Pan American World Airways, disappeared. In 2013, its terminal finally disappeared too as Delta (DAL) - Get Delta Air Lines, Inc. Report, which had become the primary international carrier at JFK, moved to new quarters.
In the next few days, JFK's annual passenger total is poised to reach 50 million for the first time. In 2012, the airport handled 49,292,733 passengers, making it the 13th busiest airport in the world and the sixth busiest in the U.S. JFK is also the No. 1 U.S. international gateway. Nearly half of its passengers are international passengers.
Three U.S. carriers have contributed to JFK's growth, partially by opening beautiful new terminals.
Delta opened its new, $1.4 billion John F. Kennedy terminal in May, Delta in 1991 acquired major pieces of Pan Am including its Boston-New York-Washington shuttle, its 34 international routes from JFK and Terminal 3, decrepit even then. Delta stayed in Terminal 3 for 22 years before moving to Terminal 4.
American (AAL) - Get American Airlines Group, Inc. Report opened its terminal, which cost $1.3 billion, in August 2007. And JetBlue (JBLU) - Get JetBlue Airways Corporation Report opened an $800 million terminal in 2008.
JetBlue has probably been the biggest factor in JFK's resurgence as a major airport. The JetBlue story begins with visionary David Neeleman's perception that the airport should not have been given up for dead after Pan Am's demise. Neeleman designed a unique airline, one that offers premium service but not premium pricing. As aviation consultant Mike Boyd memorably said, "JetBlue does not have passengers. It has groupies."
Neeleman spoke at a September luncheon, sponsored by the JFK International Airport Chamber of Commerce, that celebrated the airport's 50th year.
Airport construction began in 1942 on the Idlewild Golf Course. Initial plans called for only 1,000 acres to relieve the overcrowded LaGuardia Airport, according to research done by the chamber, but by completion the airport had grown to five times that size. Idlewild opened in 1948.
Rudy Auslander, executive director of the JFK chamber, said the airport "was the first organization to be named in honor of Kennedy."
"Today, airlines from every continent except for Antarctica serve JFK (which) has always been a gateway to the world," Auslander said in an interview. When JetBlue began "it became New York's hometown carrier," and provided JFK with the domestic hub it had long lacked, he said.
Aviation consultant Bob Mann said the name Idlewild can still be found in some spots at the airport. Mann once worked for Tower Air, another defunct former airport occupant.
"Go to some of older parts of the airport -- the names New York Port Authority and Idlewild Airport are on the cast iron covers over the subterranean electrical service infrastructure," Mann said. "The Pan Am maintenance hangars and the Pan Am catering facility are still there too, now essentially abandoned."
Written by Ted Reed in Charlotte, N.C.

To contact this writer, click here.