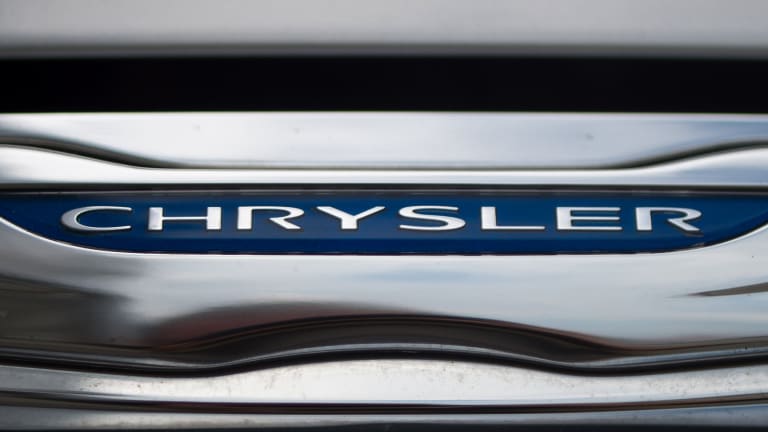 Fiat Chrysler Leads as Auto Sales Continue 6-Year Run in June
U.S. auto sales, a key economic indicator, continue their six-year-run in June, with first-half sales up 5%.
U.S. auto sales, a key economic indicator, continue their six-year-run in June, with first-half sales up 5%.
NEW YORK ( TheStreet) --U.S. auto sales, a crucial economic indicator, continued their six-year run in June.

With auto sales for June scheduled to be announced Wednesday, experts projected a gain between 5% and 6%, enabling the month's sales to reach their highest level in nearly a decade.
Edmunds.com and Kelley Blue Book estimated that about 1.5 million light vehicles will be sold in June, equaling the best June sales since 2006 and leading to a seasonally adjusted annual sales rate (SAAR) of 17.3 million, the highest June SAAR since 2005.
Edmunds projected a 5% increase over the same month a year earlier, while Kelley Blue Book estimated 6%. First-half 2015 sales would total 8.53 million, up 4.7% from last year and the highest first half since 2005.
Also, J.D. Power projected June retail sales of 1.2 million vehicles, the best retail month since June 2005, when retail sales totaled 1.35 million.
J.D. Power affiliate LMC Automotive forecast 2015 light-vehicle sales of 17.1 million.
By any measure, auto sales are an indicator of an economy that continues to grow. U.S. light-vehicle sales have increased every year since they hit a 27-year-low of 10.3 million in 2009. The last time sales reached 17 million was in 2001. From 2002 through 2007, sales ranged between 16.1 million and 17 million before the precipitous 2001 decline.
"This is arguably the strongest and healthiest the auto industry has been in a very long time," said LMC analyst Jeff Schuster in a prepared statement. "A green light outlook across a basket of metrics-including economic support, gas prices, the stock market, higher and stable transaction prices and significant product activity-is behind our forecast of a 17.1 million unit pace in the second half of 2015."
"With another month of new-car sales growth in June 2015, the 16th in a row, the auto industry continues its incredibly strong momentum," said Kelley Blue Book analyst Alec Gutierrez, in a prepared statement. "However, heading into the summer months, sales should flatten out at a more sustainable pace."
Edmunds analyst Jessica Caldwell said, "The auto industry has maintained most of the strength it flexed during its record-breaking May. In many parts of the country we saw May's deal offers extend well into June, and Fourth of July promotions should start as early as next week."


Fiat Chrysler (FCA) - Get Reportand Nissan (NSANY) and are expected to be the biggest June gainers, with (FCA) - Get Report Group sales up 9% and Nissan sales up 14%, according to Edmunds.  Edmunds projected that GM (GM) - Get Report sales will lose 0.6%, Ford (F) - Get Report sales will gain 1%, Toyota (TM) - Get Report sales will gain 3% and Honda (HMC) - Get Report will gain 9%.
Kelley Blue Book estimated Fiat Chrysler will gain 11%, Nissan will gain 7%, GM will gain 6%, Ford will gain 5%, Toyota will gain 6% and Honda will gain 7%.
"Kelley Blue Book anticipates positive numbers from nearly all manufacturers in June 2015, but Fiat Chrysler automobiles could see the largest year-over-year gains," said Gutierrez. "The surge in popularity of utility and truck models this year has been beneficial for Fiat Chrysler's Jeep and RAM brands, helping push the manufacturer to its highest U.S. market share since 2007."
June 2015 had 26 selling days, while June 2014 had 27 selling days.
This article is commentary by an independent contributor. At the time of publication, the author held n positions in the stocks mentioned.