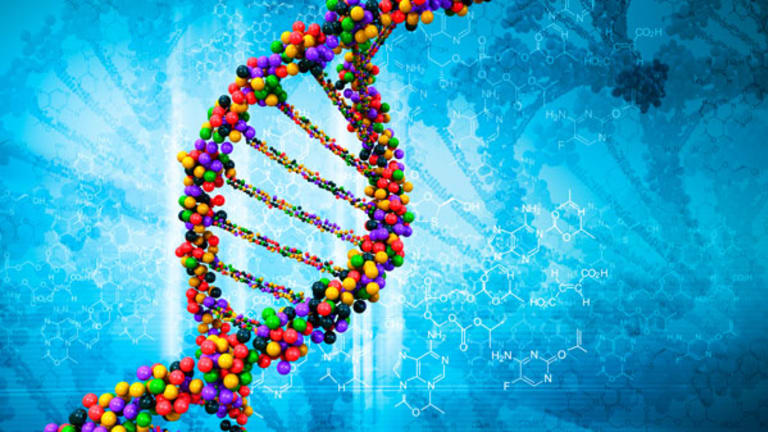 Feuerstein's Biotech-Stock Mailbag: Titan
Why Titan Pharma needs a development partner. And disparate outlooks for Gilead, Vanda and YM BioSciences.
Editor's note: In the coming weeks be on the lookout for a brand new product from Adam Feuerstein and
TheStreet.com
! Should you wish to hear more about this special invitation and how you can take advantage of some exciting pre-launch offers please email.
This column originally posted on
RealMoney.com
at 7:00 a.m. EDT. For more information about subscribing to
RealMoney
, please click here.
Thanks for returning to the weekly Biotech Mailbag. Our first question comes from Anh N., who asks:
"Could you comment on the future of Titan Pharmaceuticals (TTP) - Get Tortoise Pipeline & Energy Fund Inc. Report with respect to Probuphine. Looks like it is the last hope for Titan."
The last hope for Titan sounds about right, after the programs for spheramine (Parkinson's disease) and iloperidone (schizophrenia) went bust. Probuphine is a long-acting form of the painkiller buprenorphine, which is used in the U.S. primarily as a treatment for opiate addiction. (Buprenorphine, taken daily as a sublingual tablet, is surpassing methadone as the treatment of choice for heroin addicts, for instance.)
Probuphine takes buprenorphine and reformulates the drug into a rod that is placed just under the skin, releasing a controlled amount of the drug into the body for six months. By eliminating the need to take a pill every day, Titan believes that Probuphine will increase compliance and cut down problems with abuse or diversion.
Initial results from the first
of Probuphine in patients addicted to heroin or other opioids were released on July 28 and were positive.
For Probuphine, so far, so good. That doesn't mean there aren't issues. Titan has a lot more clinical work to do before it can seek regulatory approval for the drug. Another phase III study needs to get done, which will likely require Titan to test Probuphine head to head against sublingual buprenorphine. (Current data pit Probuphine against placebo.)
Given that Probuphine is an implant, safety will be a big concern for regulators. To address the issue, Titan will have to study and collect safety data on Probuphine use for an extended period of time, probably 12 months or more, before seeking approval.
Titan isn't likely to have all its Probuphine clinical studies completed until the latter part of 2010. That's a long time to wait for a drug that really doesn't have a huge commercial potential. (U.S. sale of sublingual buprenorphine were about $350 million, according to Titan, which means Probuphine would be competing for some smaller slice of that amount.)
In the more near term, the best way for Titan to bump up its stock price will come from signing a Probuphine development partner. That's a task management says it's working on. A deep-pocketed partner, if Titan can find one, will also be the way to move Probuphine into more lucrative indications, like chronic pain.
Moving on, an email from Bob M., who asks about
Gilead Sciences
(GILD) - Get Gilead Sciences, Inc. Report
:
"With the news this weekend, including the House passing a large bill for infectious diseases, including AIDS, and the new information that there are actually 40% more new cases of AIDS in the U.S. each year, I am wondering about how this may affect the near-term share price of Gilead Sciences. It's now around $54 a share, so how high can it be expected to go?"
Higher!
Yes, Gilead's HIV drug franchise already dominates the treatment market, but there is plenty more room to grow. As Bob pointed out, it now appears that the U.S. incidence rate of HIV is higher than previously expected. Treatment guidelines continue to evolve toward earlier treatment, with Gilead's Truvada the preferred HIV backbone due to superior safety and efficacy. (As a result, the market share gains Gilead takes from chief rival
GlaxoSmithKline
(GSK) - Get GlaxoSmithKline Plc Report
will accelerate.)
Gilead is starting to ramp up spending, primarily on research and development, which has some investors worried about falling operating margins. It's important to understand, however, that Gilead retains tremendous leverage and its spending ratios are still below industry average. I don't believe management is going to do anything to jeopardize that fact.
Given Gilead's size these days (market cap $51 billion), the next leg of growth won't come as easy, but it's fairly easy to make a case for the stock to move into the mid- to high-$60s, especially because many investors continue to under-estimate the earnings power of its HIV franchise.
Next up, an email from "Elan Elan." Gee, I wonder what his favorite stock might be? He writes:
"Initially I was impressed with your insight into biotechs. Now I don't think so. Please write things positive about the sector. Write wisely. It's easy to be negative, and that doesn't build your credibility. Shut down when you are not positive. Thank you!"
If I stuck to writing only positive things about biotech, I'd be a very occasional columnist and my editors would wonder what I was doing with all my time.
Seriously, I write negatively on biotech when I believe the facts and circumstances justify. I apply the same standards to all stocks, whether I'm bullish or bearish.
And more on
Elan
(ELN)
. I think this next reader, "Daniel," might be "Elan Elan's" angry brother. He writes:
"Adam, ' And it's Elan CEO Kelly Martin who fostered an arrogant, insular culture at Elan where friends were rewarded and anyone who dared question the company was frozen out. ' "Is that sour grapes I detect from the time you were excluded? And you infer that it was Kelly Martin that kept you out? And you infer simply by their looks that Elan's larger investors were angry with Kelly? You, my friend, are an unprofessional idiot and a sorry excuse for an unbiased writer. Your hatred has brought you so low that it has now destroyed your credibility."
That was my quote that Daniel references above, and I stand by it. He calls it sour grapes, I say it's calling it like I see it -- honestly and based on the facts. Elan kept bapineuzumab under an inordinate level of secrecy leading up to last week's Alzheimer's meeting. The company has never been willing to open itself to scrutiny or tackle tough questions, at least publicly.
This insular attitude, which borders on arrogance, came back to sting the company badly last week when it was totally unprepared for the interrogation it received from believers and skeptics, alike.
As CEO, all of these missteps are on Martin's head. They were also totally preventable, which is one of the big reasons why Elan's institutional investor base is so angry.
As for addressing your other accusations, I'll just let my work speak for itself.
Next up, Joseph P. writes:
"While you congratulate yourself on picking the demise of Vanda (VNDA) - Get Vanda Pharmaceuticals Inc. Report, where does it go from here?"
Vanda's future is rather bleak. Iloperidone is done. Vanda doesn't have the money to run the clinical trials necessary to get the schizophrenia drug back on track. The company's insomnia drug doesn't look appealing either, especially in what is a very competitive market.
Lastly, an email from Vince M., who writes:
"Congrats on the Elan call. You were right. Now, how about YM BioSciences( YMI) and nimotuzumab. I bought it based on your call last year, and now it is trading BELOW cash. It has enough cash to last five years. What's going on there? Any ideas, I cannot understand the selloff in the stock."
Vince's email hit my inbox before Monday night's
from the phase II nimotuzumab study in colon cancer patients.
Those results were disappointing. Objective response rate to nimo (a bit more than 3%) was low, especially when the data are compared to
ImClone Systems'
(IMCL)
Erbitux (response rates in the mid-20% range.)
Overall survival in patients treated with nimo does compare well to what's been observed with Erbitux and the incidence of severe rash in nimo patients is lower, but these results (survival more than rash) are a bit of mystery and don't make a lot of sense.
At this point, I don't see much of a future for nimo, at least in the eyes of investors who were particularly skeptical going into the phase II trial results.
When I
first wrote
about YM BioSciences last year (and then again in a
February column
), I noted that making any bets on nimo's future was extremely risky, even with the stock "cheap" around $1. Well, even cheap stocks can fall, which is what happened in this case.
I'm closing my book on YM. It was an interesting idea that turned out to be wrong. Time to move on.
Adam Feuerstein writes regularly for TheStreet.com. In keeping with TSC's editorial policy, he doesn't own or short individual stocks, although he owns stock in TheStreet.com. He also doesn't invest in hedge funds or other private investment partnerships. Feuerstein appreciates your feedback;
to send him an email.