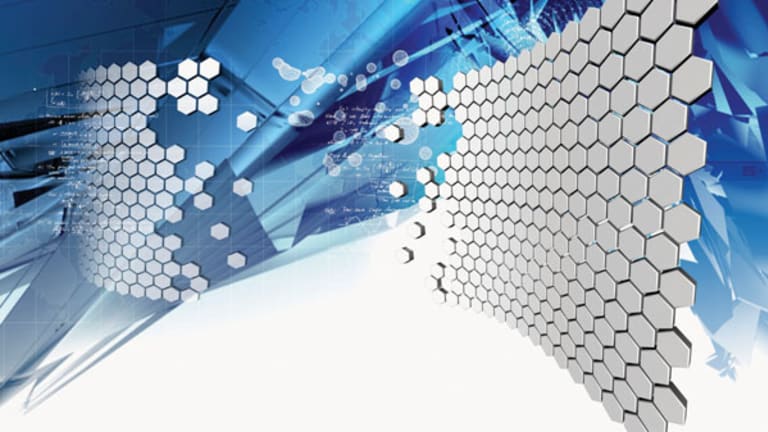 Feuerstein's Biotech-Stock Mailbag: Synta
Synta's chances with elesclomal, Vanda's chances with Fanapta, the Immunogen-Genentech connect, and more.
(Editor's note: Come see Adam Feuerstein at the Money Show in San Francisco. Adam will be speaking to attendees on Friday, Aug. 8, at 2:15 p.m. ("Biotech Investing for Individuals: How to Turn Geeky Science Into Fat Profits"); on a lunch panel on Saturday, Aug. 9, at 12:35 p.m. ("Tech and Biotech: Picks and Pans for 2008 and Beyond"); and on Sunday, Aug. 10, at 8 a.m. ("Biotech Investing for Individuals: How to Turn Geeky Science Into Fat Profits").
This column originally posted on
RealMoney.com
at 7:02 a.m. EDT. For more information about subscribing to
RealMoney
, please click here.
Let's rip open the Biotech Mailbag, starting with an email from Manish R., who asks:
"Can you please post your insight on Synta Pharmaceuticals' (SNTA) probability for success on its phase III trial for elesclomol? Considering that they did a double-blinded phase II trial with excellent results for first-line patients, I would think that the phase III results would be confirmatory. However, the stock price currently does not reflect this."
Elesclomol is perhaps the most promising melanoma drug currently in late-stage clinical trials, especially now that
Medarex's
(MEDX)
melanoma drug has run into trouble.
And bless my heart, Synta ran a randomized, controlled phase II study of elesclomal in melanoma patients, which produced positive -- and statistically significant -- results. The company used this data to design its ongoing phase III study.
I've long bemoaned the dearth of such quality phase II studies in cancer drug development, so Synta definitely gets a gold star in my book. And as Manish implies in his email above, the strong phase II data for elesclomal should boost the odds for positive results from the phase III study.
Yet, Synta's stock does seem stuck in neutral, essentially flat for the year at $6 and change, with a fairly sizable short interest to boot.
What gives? Well, let's not forget that we're talking about metastatic melanoma here. Nothing works in advanced melanoma, or I should say, no new drug has worked in a really long time. Melanoma has become such an elusive drug target that the "default" bet is to assume that elesclomal will ultimately fail.
Synta is also on an aggressive time line to get the phase III study enrolled by the end of the year, and that should lead to top-line results in the first quarter 2009. In this market, where, at best, small-cap biotech stocks are merely tolerated but not embraced, the elesclomal data are still a bit on the dark side of the investment horizon for many investors.
I went through the
positive and potential negatives
of the elesclomal phase II data last October, right after Synta signed its partnership agreement with
GlaxoSmithKline
(GSK) - Get GlaxoSmithKline Plc Report
. Subsequent data presentations continue to back up the drug's potential in melanoma, although some questions and concerns persist.
The biggest risk factor to the phase III study that I hear about in conversations with biotech buy-siders -- some of whom, full disclosure, are short the stock -- is the imbalance in the phase II study, which placed relatively sicker patients in the control arm compared with the elesclomal arm, thereby potentially skewing results in the drug's favor.
Now, Synta has done some follow-up analysis to show that this imbalance in the "M-grade" status of melanoma patients enrolled in their study didn't bias the results. The company's case is bolstered by a meta-analysis of melanoma trials published in the
Journal of Clinical Oncology
in February that concluded M-grade status was not a reliable predictor of progression-free survival, which is the primary endpoint of the elesclomal phase III study, per an agreement with the Food and Drug Administration.
M-grade status does help predict overall survival, according to the meta-analysis. This does raise at least a hypothetical risk to the Synta story, if the FDA changes its mind about the endpoints of the phase III study and wants to see elesclomal produce a survival data before approval. (This is one of the reasons that Medarex's melanoma drug ran into problems.)
There are obvious risks to any phase III cancer trial, and they are magnified when the cancer involved is melanoma. So, please, don't be shocked if elesclomal fails, and invest accordingly. But with the pessimism aside, the phase II data that brought Synta and the drug to its current place are very compelling.
If elescomal is ultimately successful, and I hope it is, more biotech companies will be encouraged, hopefully, to conduct randomized, controlled phase II studies in oncology. If that happens, the risk and uncertainty of investing in these types of drugs will be reduced.
My
brief
on the
ViroPharma
(VPHM)
acquisition of
Lev Pharmaceuticals
(LEVP)
prompted an email from Vic R., who wrote:
"Thank you for reporting this event. Of course I have a small position in ViroPharma and watched it take a tumble. I can't believe they paid that much for so little. Is that your take? I, naturally, haven't a clue. Maybe someday you will comment on it or my baby Immunogen (IMGN) - Get ImmunoGen, Inc. Report."
I'm not going to take a stab at ViroPharma because I don't know enough about the hereditary angiodema (HAE) market to offer an opinion on whether the company did the right thing in buying Lev Pharmaceuticals. (Or, if ViroPharma overpaid.)
My colleague Elizabeth Trotta did a fine job laying out the
in an article this week, so please check it out.
I will, however, say something about Immunogen: Nice steady climb in the stock price this week following
Genentech's
(DNA)
first-quarter conference call Monday.
After listening to the call, it was fairly clear that Genentech is still jazzed about Trastuzumab-DM1, the company's experimental breast cancer drug, which uses Immunogen's drug-delivery technology.
Investors need to wait until sometime later this year, when Genentech is expected to make a go/no-go decision on moving TDM-1 into a phase III study. Clearly, that's going to be a big catalyst for Immunogen shares.
It remains to be seen, also, how Genentech intends to position TDM-1 in relation to its exiting breast cancer drug Herceptin and another drug in its pipeline, pertuzumab.
Onward. Jim O. emails with a question about
Vanda Pharmaceuticals
(VNDA) - Get Vanda Pharmaceuticals Inc. Report
:
"Do you have an opinion on the FDA decision coming up on July 27 pertaining to Vanda Pharmaceuticals? The stock has taken a serious hit from one of its other drugs in the pipeline and I was wondering if you felt they would get the approval on the most recent request."
Vanda is expecting an FDA approval decision for its schizophrenia drug iloperidone, which if approved will be marketed under the brand name Fanapta. As Jim states correctly, the FDA is expected to issue a decision on or before July 27.
My guess is that the FDA will not approve Fanapta on the first pass, but will instead ask Vanda to conduct another clinical trial and submit more data to support approval. I base my skepticism on the existing clinical data, which to me, show Fanapta to be a me-too drug on efficacy and a mixed-to-worse side-effect profile.
Vanda trades at just over $3 a share, in part because of lackluster data from a phase III study of the company's insomnia drug. At this price, Vanda is also baking in an approval delay for Fanapta to a large extent.
Let's close the Mailbag for another week with this email from Kevin O., who writes:
"I appreciate your recent posting on YM BioSciences (YMI) . I think the selloff of Spectrum Pharmaceuticals (SPPI) - Get Spectrum Pharmaceuticals, Inc. Report has been way overblown, given its research pipeline and the very limited downward exposure of the one negative setback this year. What say you?"
Spectrum is down 44% for the year, with the biggest dip in April caused by
negative results
from an important phase II study of ozarelix, the company's drug to treat benign prostatic hyperplasia, also known as an enlarged prostate.
At about $1.54 a share, Spectrum is being valued at a bit more than current cash. Take out the cash (which is being spent, of course), and the company has a negative enterprise value.
Kevin's point is well taken; Spectrum is more than ozarelix, and there is a fairly
extensive pipeline
, plus a smallish cancer drug already approved. But I was interested in Spectrum for ozarelix since that was the company's big potential moneymaker. The phase II study killed that dream, so Spectrum no longer holds appeal. I suspect I'm not the only one holding that view.
And speaking of YM BioSciences, where the heck is that phase II colon cancer data for nimotuzumab? It's really late!
Adam Feuerstein writes regularly for TheStreet.com. In keeping with TSC's editorial policy, he doesn't own or short individual stocks, although he owns stock in TheStreet.com. He also doesn't invest in hedge funds or other private investment partnerships. Feuerstein appreciates your feedback;
to send him an email.