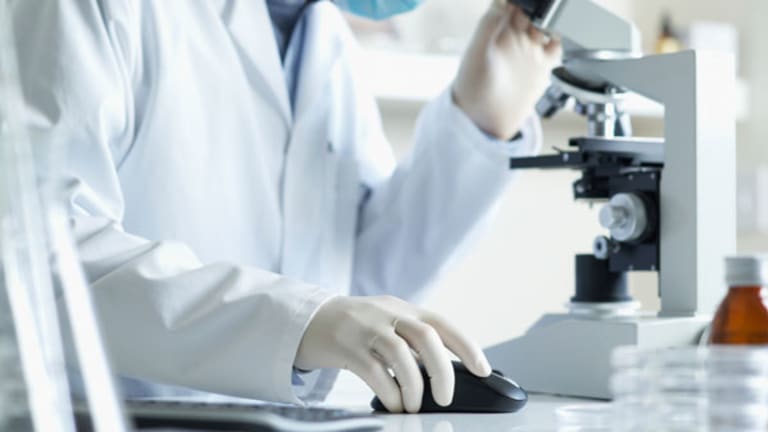 Feuerstein's Biotech-Stock Mailbag
The first post-ASCO mailbag includes questions on ImClone, Peregrine, GenVec, Ariad and more.
Originally posted on RealMoney.com at 6:59 a.m. EDT
Now that the annual meeting of American Society of Clinical Oncology is wrapped, it's time to open the first post-ASCO Biotech Mailbag.
The first email comes from Robert D., who wants to continue the
ImClone
(IMCL)
discussion that dominated my coverage of the cancer research confab. Robert writes:
"I just read your ImClone assessment, but here is a bit from an AP story: 'FLEX is Erbitux's ticket into the lucrative lung cancer market, said Cowen and Co. analyst Eric Schmidt. He said that with 40 percent to 50 percent of lung cancer patients ineligible for Avastin treatment ImClone and Bristol-Myers could see peak Erbitux sales in lung cancer of $700 million.' "Plain and simple, doesn't this mean Avastin just lost 40-50% market share in treating this type of lung cancer, and ImClone just gained 40-50% market share? Colon cancer aside -- why should Genentech( DNA) shares leap at this news? They just took a major hit."
No. If Erbitux is approved in lung cancer, it will most likely be used in patients who cannot tolerate Genentech's Avastin (mainly for safety reasons.) Read again the quote from that
AP
story, where it says that 40-50% of lung cancer patients are "ineligible" for Avastin treatment.
Now, with all due respect to Cowen analyst Schmidt, I haven't heard any oncologists talking about using Erbitux in that many patients -- yet.
Sticking on the topic of ImClone, Ketan T. asks:
"Can you help with what company is doing the KRAS gene tests and should expect more revenue from these tests?"
ImClone made available a list of diagnostic companies with tests that determine the
in colon cancer patients. There are three publicly traded companies listed --
Genzyme
( GENZ) (actually, its subsidiary
Genzyme Genetics
),
Exact Sciences
(EXAS) - Get Report
and
LabCorp
(LH) - Get Report
.
I think Exact Sciences and LabCorp are partners. Four private diagnostics companies are also listed:
Biotage
,
Response Genetics
,
Targeted Molecular Diagnostics
and
TrimGen
.
These companies use various approaches to collecting and analyzing the KRAS gene, and I don't know enough about each of them to say which test is best or better than the others. But you can use this info as a starting-off point for any additional homework on the subject.
Sticking with ASCO but moving on to another company, John S. asked the following:
"Please comment on Peregrine Pharmaceuticals (PPHM) , since they presented so-called 'promising' data on their lead drug candidate at ASCO this year. Is this a head fake in order that they reach the minimum bid according to Nasdaq rules?"
Peregrine has until July 21 to get its stock above the $1-a-share minimum bid required by Nasdaq to maintain a listing on the exchange.
It'll likely take more than an ASCO press release or two for Peregrine to achieve that goal. It's been one year since Peregrine traded above the $1 mark and investors today aren't exactly acting overly generous to small-cap biotech stocks. The fact that Peregrine already has an eye-popping 226 million shares outstanding and will definitely need to raise a lot more cash to move its drugs forward won't help matters either.
I didn't see the Peregrine poster on its lead drug bavituximab while in Chicago, so I can only comment on the company's press release about the phase II breast cancer study. There isn't much there to generate a great deal of excitement.
Bavituximab was combined with a few different chemotherapy regimens and given to 14 patients with a variety of advanced cancers. Of 12 patients evaluable for response, three patients reported partial tumor shrinkage, another three patients reported tumors that stabilized (neither shrank nor grew). There isn't any information on the duration of response, nor of course, is there a group of control patients for any real comparison.
Peregrine is conducting a phase II study of bavituximab plus the chemo agent Taxotere in patients with advanced breast cancer. Fifteen woman have been enrolled so far. Here's what Peregrine had to say about the results so far:
"Of the 11 evaluable patients to date, none have experienced any measureable tumor growth or disease progression, with five of the 11 evaluable patients achieving a partial tumor response. All enrolled patients are continuing to receive treatment and are being evaluated regularly for tumor response according to RECIST criteria."
Bigger picture: Peregrine is trying to develop bavituximab as a treatment for breast and lung cancer. Both indications are crowded, competitive and extremely tough. Peregrine has some large hurdles to jump over.
Moving on. Jerry B. writes:
"Congrats! I know you were the driving force behind ASCO's new
abstract release policy and it has worked magnificently! My hat's off to you."
Thanks. The new ASCO policy, in which abstracts were released online to the public on May 15, was definitely a much fairer process for everyone -- something I've been
pressing ASCO to do for many years
. ASCO is a conservative organization and it tends to move slowly, but it deserves kudos for making an important change.
John B. chimes in with a blast from the past,
GenVec
(GNVC)
. He writes:
"There's been so many Google Alerts for GenVec in my email that I can't keep up with all of them. I'm anxious to hear your take on the ASCO results regarding head and neck treatment with TNFerade."
The last time I tackled GenVec was
a year ago
, after ASCO 2007. I wasn't impressed with TNFerade's pancreatic cancer trial because an interim analysis presented at that meeting reported zero response in TNFerade-dosed patients.
Fast forward one year. GenVec shares have lost half their value, but at this year's ASCO meeting, new data were presented that showed response rates (tumor shrinkage) in head and neck cancer patients dosed with TNFerade. The study was small and the patients few, but still, the drug did appear to show some activity.
GenVec describes the new findings as "encouraging," and I'd agree with that. However, I wouldn't stretch to assume that TNFerade works or that the phase III pancreatic cancer trial (with survival as the primary endpoint) is going to be a success. The company is planning an interim analysis of this study in the fourth quarter.
Let's wrap up with an email from Craig, who writes:
"Stocks like Ariad Pharmaceuticals (ARIA) are down 50-60% this year. Ariad is a phase III candidate. Can one assume that the phase III trials are doing really poorly as measured by the stock performance (see Keryx, Favrille and Alfacell) or is it that just no one wants to own small-cap biotechs with garbage management teams like Ariad?"
I know that relations between Ariad CEO Harvey Berger and Wall Street are often strained, but "garbage" may be too harsh a descriptor for Ariad management.
Ariad probably seems unloved by investors today (a $2-plus stock and an enterprise value of just a bit more than $110 million) because the company is in phase III study limbo and there aren't many stock-moving catalysts to capture investor attention.
Deforolimus, Ariad's lead drug, belongs to the proven class of anti-cancer compounds known as MTOR inhibitors.
Wyeth's
( WYE) Torisel, approved in kidney cancer, is also an mTOR inhibitor. This raises the odds that the ongoing deforolimus phase III study in sarcoma patients will succeed. The problem is that definitive results are likely a ways off, in part because patient enrollment isn't expected to wrap up until the second half of 2009.
Sarcoma isn't a very big commercial opportunity, either, and Ariad has already partnered deforolimus with
Merck
(MRK) - Get Report
. Are you getting the picture here? In a market where biotech investors need a compelling reason to own a small-cap stock right now, Ariad offers few enticements in the short term. If you have a lot of patience, sit tight because I wouldn't group Ariad and deforolimus in the "blown up" category of stocks mentioned above.
As originally published, this story contained an error. Please see Corrections and Clarifications
.
Adam Feuerstein writes regularly for TheStreet.com. In keeping with TSC's editorial policy, he doesn't own or short individual stocks, although he owns stock in TheStreet.com. He also doesn't invest in hedge funds or other private investment partnerships. Feuerstein appreciates your feedback;
to send him an email.