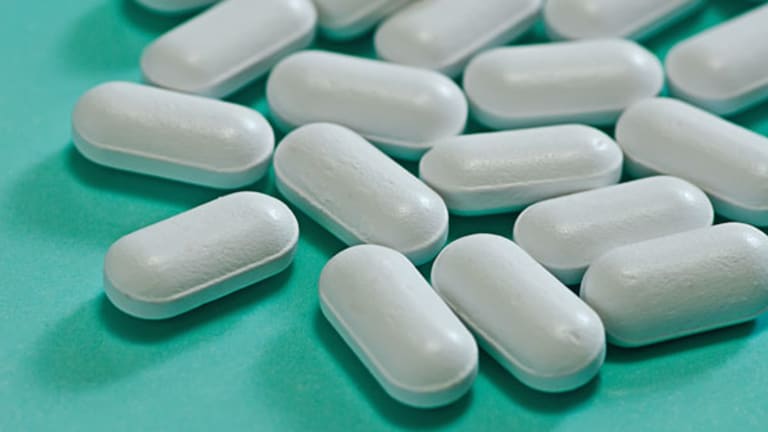 Feuerstein's Biotech-Stock Mailbag
Breaking down Introgen's latest data, MiddleBrook's courtship chances, what's right at Gilead, and more.
Originally posted on RealMoney.com at 7:10 a.m. EDT
The Biotech Mailbag is once again open for business after a two-week tour of Rome and Tuscany. And what an incredibly fabulous tour it was! Why am I not living in a small, Tuscan hill town, drinking copious amounts of really good red wine? My dream life ...
sigh
.
One scheduling note: The weeky Mailbag has moved permanently to Friday from Saturday.
Onward, to your emails.
Jackson S. gets us started:
"The failure of Favrille's( FVRL) non-Hodgkin's lymphoma vaccine trial this week, coupled with the previous blowup of Genitope (GTOP) and its similar NHL vaccine, seems like great news for Accentia Biopharmaceuticals (ABPI) because its NHL vaccine is the only one left standing. Should I be adding to my Accentia position now?"
Egads, man! Have you gone stark-raving mad? The blowups of Favrille and Genitope should be telling you to run away as quickly as possible from any company pitching a cancer vaccine directed at non-Hodgkin's lymphoma.
This stuff doesn't work, and there is no reason whatsoever to believe that Accentia, with its BiovaxID vaccine, has somehow cracked the mystery. And yes, I know the company last month announced that a data-monitoring board made some recommendations about unblinding the phase III trial and showing BiovaxID data to regulators, etc. etc., but c'mon, you know this story ends badly, don't you? Please tell me you do.
Alex S. asks for an update on the auction process for
MiddleBrook Pharmaceuticals
( MBRK):
"I was hoping you could give me some quick input with regards to MiddleBrook Pharmaceuticals. They have been for sale a long time and only recently hired Morgan Stanley to assist in an ongoing strategic review. I understand these things take time, but how much longer do you think this could take? They have enough cash on hand to fund operations through 2008 so their cash position should not be an issue."
My sources tell me that the bidding process for MiddleBrook is on track, with multiple bids submitted in the first round. A second and final round of bids is expected by mid to late June, so hopefully, a deal gets announced soon.
When I
about MiddleBrook putting itself up for sale back in January, I predicted the company could go for $6 to $8 a share. From what I hear, that's still in the ballpark.
MiddleBrook traded up to $4.83 Thursday, a penny off its 52-week high. If the sale process is successful, there is still upside from here.
The next email comes from Mike, who asks: "What do you think about
Gilead Sciences
(GILD) - Get Gilead Sciences, Inc. (GILD) Report
at this time? And is this a seasonally good time for biotech stocks in general?"
I'm a huge Gilead Sciences fan, have been for a long time. The company owns the HIV/AIDS drug market and even with dominant market share already, there is ample room for more revenue growth. Management is top-notch. Gilead's fledgling respiratory franchise -- Letairis for pulmonary arterial hypertension and the soon-to-be-approved astreonam lysine for cystic fibrosis -- is also something to be excited about.
Bottom line: I think Gilead should be a core, long-term holding in the portfolio of any serious biotech investor. That's especially true this year, when small- and mid-cap biotech stocks have been out of favor with risk-averse investors. I've said this before and it remains true -- big-cap biotech has been (and still is) one of the only safe havens in the sector right now.
Gilead is up 14% this year, only
Celgene
(CELG) - Get Celgene Corporation Report
, amongst the big-cap biotechs, has performed better.
At $53, Gilead trades at 27 times 2008 EPS estimates, 23 times 2009 estimates. That's not cheap, so the stock is definitely more attractive on any pullbacks. Still, from a long-term fundamental perspective, Gilead is a keeper.
As for the seasonality of biotech, the summer months tend to be slow ones for biotech. That's not necessarily great for the performance of your existing portfolio, but it often puts good biotech stocks on sale. If you like a particular stock but missed your opportunity to buy, the summer may offer a second chance.
Let's move on to something nice from Andy A., who writes:
"Just a note to tell you I do not always like the facts in your articles; but it is hard to hear the truth. I believe you are completely unbiased and adhere to the facts, which is rare in any form of journalism. I own Medarex( MEDX) and unfortunately you have been correct in your assessment of the stock. Thank you for your honesty, it is a welcomed reprieve from most analysts. Sometimes, quite frankly, the truth hurts."
Andy, those are kind words and they're most appreciated.
Not everyone is as sanguine about my handiwork. Take, for instance, this guy who calls himself "Stoney":
"I give you the benefit of the doubt when I talk to folks. But I just read through six pages of Mailbag nonsense absolutely nothing vital -- Titan (TTP) - Get Tortoise Pipeline & Energy Fund Inc Report and Dendreon (DNDN) again! A complete waste of time and I have sent you two emails already asking you to re-evaluate your negative stance on Cell Genesys( CEGE). For whatever reason you have failed to step up. Fine, don't even do it now. You will surely reach to form a conclusion backing your first one. " Cell Genesys has gone from $2.90 to $3.90 on your watch and today May 12 sold 7 million shares to a private investor at $4.22 a share -- $28 million or so wagered. Still, in your view there's no cancer platform there that will amount to anything. Strange."
I've taken a bearish stance on Cell Genesys because I don't believe in the efficacy of its experimental prostate cancer vaccine, GVAX Prostate. When the first phase III study reports out next year, I think the results will be negative. In previous columns, I've tried to explain my position.
I'm more than willing to change my mind if the facts warrant it, but nothing so far compels me to do so. That includes the partnership with
Takeda
and the more recent registered direct offering. (The latter, by the way, diluted existing shareholders again and boosts the company's already bloated, fully diluted outstanding share count past the 90 million mark.)
Between today and when we finally see the GVAX Prostate phase III data, Cell Genesys shares may be at $4, or $6, or $16. I have no way of predicting the near-term direction of the stock price. All I can do is give you my honest assessment of the fundamental, long-term outlook for the stock. In this case, it's negative, and I've said so.
Clearly, that offends some people, including Stoney. I'm not going to apologize for saying what I believe to be true. If I'm wrong, I'll say so and hold myself accountable. At this point, I think I'll be right.
Controversy? I love controversy, which is why I'm more than happy to respond to an email from Udo E. about
Introgen Therapeutics
(INGN) - Get Inogen, Inc. Report
:
"I hope today you will comment on the Advexin results. Let me remind of your comments in December: 'Advexin is junk. The drug doesn't work. The data are manipulated and false. Management misleads. Is that clear enough?' I hope to see today a clear comment from you!"
Between just getting back from vacation and trying to get ready for the big American Society of Clinical Oncology (ASCO) cancer meeting this weekend, I didn't have time to pen a full column on the most recent revelations from Introgen and its head and neck cancer drug Advexin. Perhaps later, when I get more time.
With that said, I appreciate Udo reminding me of what I've said previously about Advexin because after reading Wednesday's press release, I'd simply repeat the exact same thing, verbatim.
Check that, I'll add that Wednesday's press release clearly shows that the Advexin phase III study failed, and quite miserably, in fact. A couple of data points from the study, offered as proof:
This is what Introgen said yesterday in its press release about the intent-to-treat survival analysis: "there was no statistical difference in survival between Advexin and methotrexate in the ITT population which included both p53 favorable and unfavorable patients in both study arms (median survival 6.1 vs. 4.4 months; p = 0.236)."
When I read that, I assume that Advexin survival was 6.1 months compared with methotrexate survival of 4.4 months, a trend in favor of Advexin but not statistically significant, so still a failure.
Well, the actual data from this study were presented Thursday, and the real survival data from the intent-to-treat patient population is reversed. Advexin survival was 4.4 months and methotrexate survival was 6.1 months. That's right, methotrexate patients lived longer than Advexin patients!
Is someone from the
Securities and Exhange Commission
reading this column? If so, can you please launch an investigation into Introgen's misleading statements to investors? Please?
Second, even Introgen's phony subgroup/biomarker analysis came up lame: Advexin "favorable" patients had a median survival of 7.2 months compared to 4.3 months median survival for "Advexin favorable" patients administered methotrexate. There were no statistics offered on this analysis, so assume that it's not statistically significant. Another failure. (I won't even get into how Introgen wants to compare Advexin survival in some patients to Advexin survival in other patients -- a total joke.)
No, the only thing working here with Advexin and this clinical trial is the Introgen bamboozlement machine. That's running on all cylinders, turbo-charged.
Last, speaking of ASCO, I'm flying to Chicago today to cover the big meeting. If you're interested in the latest cancer-related biotech news, and I hope you are, look for blanket coverage from me all weekend on both our sites,
RealMoney.com
and
TheStreet.com
.
Adam Feuerstein writes regularly for TheStreet.com. In keeping with TSC's editorial policy, he doesn't own or short individual stocks, although he owns stock in TheStreet.com. He also doesn't invest in hedge funds or other private investment partnerships. Feuerstein appreciates your feedback;
to send him an email.