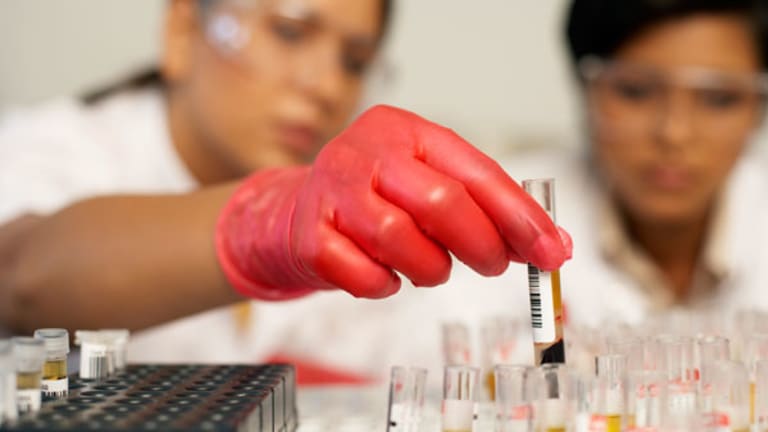 Feuerstein's Biotech-Stock Mailbag
Outlooks for SuperGen's Dacogen and Myriad Genetics' Flurizan; more Q&A on ImClone's Erbitux, and more.
Let's get right to it. This week's first email comes from Frank Z., who writes:
"What about
SuperGen
( SUPG)? The pipeline looks promising, stock perking up, positive outcome with their
Dacogen EORTC study and
Tuesday's analyst day sounded promising. You wrote about the stock a year ago how about a little Adam F. biotech rundown?"
The overhang on SuperGen today is the pending results from a European study of its drug Dacogen designed to assess survival in patients with myelodysplastic syndrome (MDS), a cancer-like disease of the bone marrow.
Both Dacogen and
Celgene's
(CELG) - Get Celgene Corporation Report
competing drug, Vidaza, are already approved in the U.S. as a treatment for MDS patients. Vidaza, however, has a study included in its Food and Drug Administration label showing it can significantly boost survival; Dacogen does not.
That's why this European survival study on Dacogen (the EORTC study, as Frank states) is important for SuperGen. We should get results this quarter or around midyear.
Japanese drugmaker
Eisai
, which actually sells Dacogen in the U.S. and pays royalties to SuperGen, has been expressing public confidence of late that the EORTC study will come back with a survival benefit favoring Dacogen.
That makes sense, since Dacogen and Vidaza are similar drugs; and previous studies have shown that when enough cycles of Dacogen are administered to an MDS patient (ideally around four cycles), patient survival is improved.
What I find interesting about SuperGen is that the stock, sitting there under $3, seems to already price in low expectations for this Dacogen trial. In many ways, the Dacogen-Vidaza marketing battle is like the one between Coke and Pepsi, each has its proponents and skeptics that are resistant to change, so market share gains are measured in small increments.
Even after Vidaza picked up its survival claim, the market share between the two drugs didn't move all that much, with both still getting somewhere close to 50% of patients. (Vidaza a bit more today.)
My point is that unless the EORTC study results are spectacular in either direction, U.S. market share is likely to stay fairly constant. A Dacogen survival benefit will help SuperGen's European partner,
Johnson & Johnson
(JNJ) - Get Johnson & Johnson Report
, seek approval, so that's a good thing.
So, Dacogen will continue to provide steady royalty income for SuperGen (good); there is about $90 million in the bank (good); and the company's pipeline consists of some interesting albeit early-stage cancer drugs (good, if they pan out, but at this point, who knows?).
Overall, SuperGen is not a bad story at all, and if this Dacogen study comes out positive, the stock will likely move higher.
Next up is Paul S., who asks, "What is your current opinion on
Myriad Genetics
(MYGN) - Get Myriad Genetics, Inc. Report
? Its phase III Alzheimer's trial of Flurizan should have ended March 31, and the ongoing phase II trials of its brain cancer therapy should be completed later this year. The stock seems stuck dead in the water, and the company has been silent recently."
Paul is correct, the results from the phase III Flurizan study in mild Alzheimer's patients are expected soon, likely the June-July time frame. The company has already said that the data will be presented at the International Conference on Alzheimer's Disease, which kicks off July 26 in Chicago.
I've
said this before
so I'm not necessarily breaking new ground here, but I think the odds are against Flurizan. The phase II study of Flurizan wasn't very impressive. At the end of March, a panel of Alzheimer's experts convened as part of a Cowen & Co. investment conference was decidedly ambivalent on Flurizan's prospects, a sentiment that, I think, is shared by many of Wall Street's biotech investing crowd. (And which helps explain why the stock is down for the year.)
I've seen Myriad executives speak at several forums this year. They don't seem as confident about the drug as much as they did in the past; choosing to talk up their genetic diagnostics business over drug development (and rightly so, since the diagnostics business is performing quite well).
And that latter point is very important. If Flurizan fails and the company stops spending money on it, the profitable diagnostics business is a good safety net. How much is that worth? It depends on who you talk to, but amongst my buy-side sources, I hear anywhere from $25 to $40 a share ($30-$35 most often). I'm not endorsing these valuation calls, just passing along what I hear. Myriad is trading currently between $42 and $43 a share.
Back to Flurizan: On Tuesday,
Lancet Neurology published
the final manuscript on the phase II Flurizan study accompanied by an editorial. Strangely, Myriad Genetics didn't issue a press release to highlight the phase II Flurizan publication.
Lancet Neurology
is a high-profile medical journal, so you'd think the company would have said something. Instead, the silence sends a different message.
Dr. Paul Aisen, an Alzheimer's disease expert at the University of California San Diego, penned the
Lancet
editorial on Flurizan:
"The Phase II trial of tarenflurbil
Flurizan was designed to show slowing of cognitive and functional decline in mild to moderate AD, with enrollment of about 200 patients in a 1-year trial. The primary analysis failed: There was no overall effect on the primary outcomes. But planned analyses nonetheless suggested that the drug had an influence on the outcome measures: there was significant interactive effect of treatment and baseline cognitive function on the change in outcomes."
Aisen goes on to say:
"Do these results prove the efficacy of tarenflurbil in slowing decline in mild AD? No -- the data are consistent with a beneficial effect in mild AD, but are hardly conclusive."
I'll be blunt: Aisen's reputation is that of someone who can be a bit Pollyannaish on experimental Alzheimer's drugs. He's a regular on the Wall Street health care consulting circuit, and I've never heard him say a discouraging word about any drug, no matter how iffy the data look. Case in point, he was a big supporter of
Neurochem's
( NRMX) efforts with Alzhemed.
So, his rather lukewarm take in this
Lancet
article comes as somewhat of a surprise, and not in a good way.
I don't have room here to go into much detail about the phase II Flurizan study, other than to say that the benefit was seen only in mild-Alzheimer's patients, and then only after a retrospective subgroup analysis was conducted. (Actually, they found the most positive data from a subgroup of a subgroup of mild patients.) Most interestingly, moderate Alzheimer patients on Flurizan did much worse on all outcomes than placebo patients. That's not a good sign, even if the Flurizan phase III study enrolls only mild patients.
Dave D. writes to opine on
ImClone Systems
(IMCL)
and its Erbitux, a company and drug I featured in
last week's Mailbag
:
"Hi, Adam -- good article on ImClone, but you missed a few things:
1. Tolerability of Erbitux is not superior to Avastin; most oncology offices keep a crash cart ready when giving Erbitux due to the possibility of life-threatening reactions during the infusion;
2. Avastin data in brain metastasis from non-small cell lung cancer has not yet been presented and could be positive;
3. In colon cancer, EGFR inhibitors
like Erbitux are ineffective when kRAS mutations are present, so there may be a group of non-small cell lung cancer patients (possibly 40%) who would not benefit at all from Erbitux therapy.
Just a few thoughts and thanks again for your insight."
I'll address Dave's points in order:
1. Yes, Erbitux patients do run the risk of anaphylaxis (serious allergic reactions), but the incidence rate is very low, about 3%, and there is research suggesting that patients at risk can be identified and pre-treated. You used to hear a lot of worry from doctors about the anaphylaxis risk associated with Erbitux when the drug launched; I don't hear it much anymore.
2. I'm not up to speed on the Avastin-brain mets data, but yes, if it's positive, this could put that subgroup of lung cancer patients more in play between
Genentech's
( DNA) Avastin and Erbitux (depending on the data, of course.)
3. The whole kRAS mutation situation is highly fluid. When I talk to ImClone bears, or those who are ambivalent on the stock, uncertainty over kRAS and what impact it may have on Erbitux market share in colon and lung cancer is brought up often.
ImClone bulls, on the other hand, make the point that a biomarker allowing doctors to identify patients that will respond particularly well to Erbitux has the potential to boost sales. So, Dave, your point is well taken, but at this point, I don't know how it shakes out.
Mike is ticked about the FDA's delay in making an approval decision on
Cardiome's
(CRME)
heart arrhythmia drug Kynapid.
"This is getting absolutely ridiculous! Approaching 120 days post-PDUFA and not a single comment from the FDA, Cardiome or
Astellas
? This could be the biggest investment debacle I have ever been involved in. Does anyone have accountability anymore?"
Mike, I share your frustration. And calling Astellas or Cardiome these days to ask about the situation gets you nowhere. I'm at a loss to explain any of it.
Lastly, William H. goes where few investors these days dare to tread:
"What is your take on
La Jolla Pharmaceuticals
(LJPC) - Get La Jolla Pharmaceutical Company Report
. They have a drug for lupus and have announced great results from an interim analysis of a phase III that won't end until 2010."
Bill, lupus is the disease where good drugs go to die. Did you see
what lupus did
to Genentech and
Biogen Idec's
(BIIB) - Get Biogen Inc. Report
Rituxan this week? Eek!
La Jolla's drug is called Riquent. It failed a phase III program and an FDA submission once before, so this is a do-over of sorts. I have a hard time believing the second shot will be any more successful than the first. La Jolla's stock price (under $2) is telling you the same thing.
Adam Feuerstein writes regularly for TheStreet.com. In keeping with TSC's editorial policy, he doesn't own or short individual stocks, although he owns stock in TheStreet.com. He also doesn't invest in hedge funds or other private investment partnerships. Feuerstein appreciates your feedback;
to send him an email.