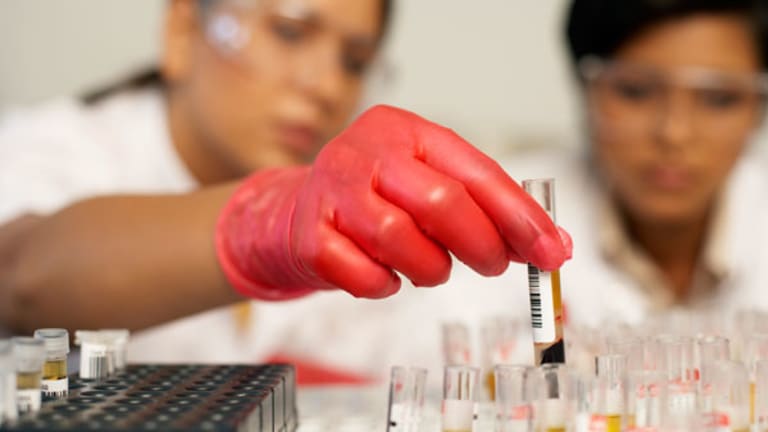 Feuerstein's Biotech-Stock Mailbag
What to expect when ImClone presents the latest Erbitux data at ASCO in June.
I'm starting to get a lot of email about the big cancer confab in June, otherwise known as the American Society of Clinical Oncology, or ASCO, annual meeting. In particular, there is considerable reader interest in
ImClone Systems
(IMCL)
because of the highly anticipated presentation of data from the phase III Erbitux lung cancer study known as FLEX.
In order to get to most of your questions, I've taken a different tack with this week's Mailbag, assembling my own Q&A on ImClone below. It's like a conversation with myself, but it encompasses all the major questions posted to me recently by readers. If there's something I don't cover, please let me know.
What's so important about the FLEX study data?
This is ImClone's best shot to date at joining the elite biotech oncology club. That means sharing the spotlight with companies like
Genentech
( DNA) and
Celgene
(CELG) - Get Celgene Corporation Report
. This is not to say that ImClone isn't already a player. Erbitux is a great drug and given some more time, it could probably hit a $900 million to $1 billion run rate (in the U.S.) as a treatment for colon and head-and-neck cancer alone.
But FLEX puts Erbitux squarely into the lung cancer treatment mix. That's big time. Moreover, FLEX is about positioning Erbitux as a first-line lung cancer drug. That means it will be the No. 1 drug (sharing that honor with Genentech's Avastin) that doctors turn to when choosing how to treat newly diagnosed lung cancer patients. There is big money to be made in oncology when you're the first-line drug.
How much money?
Well, that depends on to what extent Erbitux boosts survival in these lung cancer patients.
So, what's your guess?
The chatter around Wall Street's biotech water cooler has Erbitux (given in tandem with the chemo drugs cisplatin and vinorelbine) coming in with a four- to five-week survival advantage over the cisplatin-vinorelbine combination alone. That's what I've heard consistently for months. Given that the FLEX data was granted a primo plenary presentation slot at the ASCO meeting, I figure survival has to be at least four weeks, hopefully more.
Four or five weeks? Is that all?
Well, most doctors will tell you that anything more than a four-week survival boost for lung cancer patients is clinically meaningful. Getting back to your earlier question, I'd say that Erbitux could be a $500 million-plus lung cancer drug in the U.S. if the Erbitux survival number lands in that four- to five-week survival range. That's being fairly conservative, assuming modest market penetration, but that's my style.
ImClone shares have had a nice run from $38 in February to almost $48 today. Aren't ASCO and FLEX already priced into the stock?
To some extent, yes. Back in September, when the news on FLEX being positive was first released, I did a very rough
back-of-the-envelope calculation
that came up with a $50-$51 valuation for ImClone.
More recently, Yaron Werber, the biotech analyst at Citi Investment Research upgraded ImClone to buy from hold with a $52 price target. Werber is way smarter than I when it comes to forecasting and valuation models; his Erbitux assumptions and lung cancer forecasts make a lot of sense to me. Get his March 18, 2008, research note, if you can.
OK, so there isn't much room for upside in the stock from here?
Well, like I said, I'm being conservative in my estimates, and when I spoke with Werber this week about his forecasts, he acknowledged the same. A few more percentage points of market share for Erbitux in lung cancer can translate into significant revenue upside. If Erbitux performs really well, the case for a $60-plus stock isn't too hard to make. Of course, all of this depends on what the data really look like.
What about Europe?
Yes, we can't forget about Erbitux lung cancer in Europe, where the drug is marketed by ImClone's partner, German drug firm
Merck KGaA
. To its credit, well deserved, the FLEX study was conducted by Merck KGaA. ImClone gets a smallish royalty on European Erbitux sales; it's important and factored into the estimates above, but not as much as the drug's North American performance.
Erbitux will compete against Avastin for first-line lung cancer patients, you say, but if I'm not mistaken, the pivotal Avastin lung cancer trial showed a survival benefit for the drug of about two months. How is Erbitux, with a four- to five-week survival advantage, going to compete against Avastin?
Great question. The simple answer is the drugs won't compete. They don't have to. Avastin cannot be used in about 40%-50% of lung cancer patients, including patients who have squamous lung cancer (a more serious, harder-to-treat subtype of the disease); cancer that has spread to the brain; or patients who are susceptible to coughing up blood from the lungs, known as hemoptysis.
It's these lung cancer patients, ineligible for Avastin, for whom Erbitux is most likely to be used. And if the Erbitux data are really great, the drug might be used in some Avastin eligible patients as well, especially since the side effect and tolerability profile of Erbitux is better than Avastin.
The FLEX study combines Erbitux with the chemo drugs cisplatin and vinorelbine, which aren't used much in the U.S. Is that going to be a problem?
Perhaps. It is a risk and something to watch for. Doctors I've spoken with say they'd be comfortable using Erbitux with cisplatin and vinorelbine, or switching to a chemo backbone like carboplatin and taxotere, more commonly used here. In short, there is a feeling that the chemo is interchangeable, but then, it's still a bit unknown, so again, a risk.
Risks? Now you're getting me nervous. What else could go wrong?
The Erbitux survival data could hug close to that four-week line, which at this point, would probably be disappointing to a lot of investors. ASCO has a way of pumping up expectations (rightly or wrongly) for cancer stocks, especially in the case of ImClone since the FLEX data are being presented at a plenary session. While four-week survival would still be clinically meaningful and the drug would be used, in Wall Street's eyes, it might disappoint.
There also will be a lot of attention paid to Erbitux's efficacy in the various subtypes of lung cancer patients enrolled in the trial. Pay close attention to those squamous lung cancer patients because they make up the biggest potential pool of patients for Erbitux.
Biotech stocks like ImClone are so volatile, especially around big data presentations and meetings like ASCO. How the heck does the little guy know what to do?
Agreed, these stocks can be a heart-pounding ride. The way I look at ImClone this year is similar to what happened to
Onyx Pharmaceuticals
(ONXX)
and the Nexavar-liver cancer data presented at last year's ASCO meeting. Going into the meeting, we knew the Nexavar data were positive but we didn't know precisely how positive, and there were a lot of skeptics and doubters both before the meeting and even after the (great) data were presented.
Despite a good bit of volatility, including a selloff after the ASCO meeting, Onyx rebounded and did very well. Heck, it was the best-performing biotech stock last year. Now, I can't guarantee that ImClone does the same thing this year, but many of the same ingredients are there, we just need to see the actual Erbitux lung cancer data and then gauge the reaction from lung cancer doctors.
What else does ImClone have cooking at ASCO?
The other major presentation will be on the effect that the KRAS gene has on the efficacy of drugs like Erbitux and others in the EGFR inhibitor class. (This includes
Amgen's
(AMGN) - Get Amgen Inc. Report
Vectibix and
OSI Pharmaceuticals'
( OSIP) Tarceva.)
I spent some time discussing the KRAS gene in a January
Biotech Notebook
, so check that out. Overall, the jury is still out on whether KRAS will have a positive, negative or neutral effect on the sales of drugs like Erbitux. We should have more clarity after the ASCO meeting.
All of this ImClone talk makes me think about Sam Waksal. Where is he?
Waksal, ImClone's former CEO, is still in the federal penitentiary, but he's actually slated for release in early August.
Adam Feuerstein writes regularly for TheStreet.com. In keeping with TSC's editorial policy, he doesn't own or short individual stocks, although he owns stock in TheStreet.com. He also doesn't invest in hedge funds or other private investment partnerships. Feuerstein appreciates your feedback;
to send him an email.