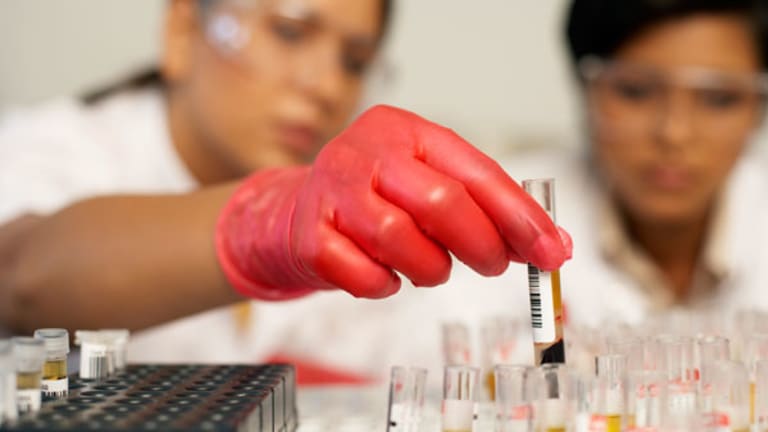 Feuerstein's Biotech-Stock Mailbag
Glaxo may face a tough sell with newly approved Treximet; additional feedback on Elan, and more.
I couldn't make a call on whether the U.S. Food and Drug Administration was going to approve Pozen's (POZN) migraine drug Treximet -- just too much uncertainty. But yes, regulators did approve the drug April 15, and Pozen shares reacted accordingly, up about 30% to $13.27 as I peck out this column.
The approval prompted Cal T. to write and ask, "Have you changed your mind on Pozen since
the FDA approval
of Treximet?"
The approval was clearly a positive for Pozen, especially after all of the previous Treximet delays, but I think it gets harder for the company from here. With approval complete,
GlaxoSmithKline
(GSK) - Get GSK plc American Depositary Shares (Each representing two) Report
, Pozen's partner, now has to sell Treximet. The U.K. drug giant has to convince doctors -- and more important, insurance companies -- that the benefits of Treximet outweigh putting migraine sufferers on cheaper, generic Imitrex, which will come out at the end of the year.
I think that's going to be a very tough task. Insurance companies don't take kindly to me-too drugs designed primarily to protect drug company profits. Let's face it, that's what Treximet is -- a not-so-new drug that Glaxo needed to develop so it wouldn't lose entirely the nearly $1 billion in U.S. sales generated by brand-name Imitrex. We're not talking groundbreaking medicine here.
As
The Wall Street Journal
spelled out quite well in a recent article, the only thing Glaxo seems to do these days is modify existing drugs in an attempt to stave off generic competition.
I must say I stand with Jefferies & Co. analyst Eun Yang, who raised her price target to $14 with a hold rating based on her guess that Glaxo will be able to convert about 20% of Imitrex users to Treximet. That translates into $200 million in peak revenue, or about $25 million in royalty revenue to Pozen.
Controversy anyone? Peter B. writes, "I was wondering if you might indulge me by expanding on your comments about
Elan
(ELN)
being a cult stock. You called it 'the textbook definition of a cult stock.' How so? What are some other well-known examples? Beleaguered Apple back in the day?"
A cult stock -- at least by my definition -- is one in which a large base of shareholders, typically retail or small investors, drink the proverbial Kool-Aid served up by management. These investors then proselytize for their beloved stock, fiercely defending it against any unwelcome criticisms or concerns, no matter the merits.
Elan pretty much fits that bill. Now, to be nice, many Elan shareholders are independent-minded. They do their own research, judge the pros and cons seriously and come out true believers. That's perfectly reasonable.
Unfortunately, there are just as many, if not more, Elaniac cultists out there, as my email inbox can attest! These are the folks with the blinders on, those who believe that Elan and its CEO Kelly Martin, for instance, are selflessly developing Alzheimer drugs not for profit but because they simply want to help mankind. Or that
Biogen Idec
(BIIB) - Get Biogen Inc. Report
, Elan's partner, is trying to undermine or undersell Tysabri in multiple sclerosis so -- in a pique of childish retaliation -- they post the home address of the Biogen Idec CEO on an Internet stock message board.
Elan can do no wrong, scream these cultists, and curses on those who even dare to raise a question about the effort. The fact that many of these cultists post ceaselessly on stock message boards -- which shows they're really in it for the money -- is beside the point.
In biotech,
Genta
( GNTA) was a cult stock for a long time, as was
Northfied Labs
( NFLD).
Apple
(AAPL) - Get Apple Inc. Report
is probably a good example of a tech cult stock. (Oh boy, before the Apple-tons start emailing me, I'm writing this column on a Macbook and I have an iPhone in my pocket.)
Not more than 15 minutes after I posted
Wyeth, Elan Halt Alzheimer Drug Trial
, a short news brief Thursday about Elan and
Wyeth
( WYE) suspending a clinical trial of experimental Alzheimer drug ACC-001, I received an email from Vince N., who chided me with the following:
I hope you never have a loved one with Alzheimer's, with such an ambiguous headline designed, it seems, to create panic. Are you as a journalist reporting the news or are you the news? As you already know, AAC-001 is the vaccine trial ... neither of these trials have anything to do with the lead bapineuzumab trial.
Peter, you see what I mean? Cult stock!
But then, I received this email from C.B.,
Thank you for the quick and accurate report on the ACC-001 suspension. Although I am a self-confessed Elaniac, I differ with most in that I think you only try to express unbiased opinions and try to get us to see through the Kool-Aid haze that most holders of Elan have. Nonetheless, I appreciate the quick, comprehensive and succinct item on the ACC-001 trial suspension and making it clear that this has nothing to do with the much more important bapineuzumab trials. Again, don't let the more rabid Elaniacs bother you.
Thanks a lot, C.B. I just hope they don't banish her from the cult for saying nice things about me.
My cautious
comments last week on Generex Biotechnology
(GNBT)
didn't sit well with quite a few readers. I'll stand by what I said. On a related note, Randall P. asks, "You say in your article that Generex isn't the only drug company developing an oral insulin product. Can you tell me what the names of the other companies that are doing this? I ask because I just don't know of any others."
Emisphere
(EMIS)
is trying to develop an insulin pill, as is
Diabetology
, which has an insulin pill candidate called Capsulin.
There are a couple of intranasal insulin products (not exactly oral, but close) in testing from
Nastech Pharmaceuticals
( NSTK) and
Bentley Pharmaceuticals
( BNT). Lastly
Biodel
(BIOD)
has a sublingual version of insulin called Viatab. (Credit, as always, to
for helping me research these companies quickly.)
Do I have any great confidence one or more of these products will be successful? Not really. Oral delivery of insulin is tough. If it were easy, the major players in the diabetes market would be all over the technology. They're not, which tells you something important.
Joy C. took great joy from
How to Review Biotech Clinical Data
, a column I wrote The subtext of the column was how
Introgen Therapeutics
(INGN) - Get Inogen Inc Report
is one again misleading investors.
Joy writes:
I'm in the biz and have created more posters for scientific meetings than I can count. The title of your article caught my eye, and I found it very well written. I looked at the poster for fun, and I'll tell you what it looks like to me -- I think they are laying the foundation to justify a non-significant result in the intent-to-treat population with a subgroup they are defining that seems to do better. I don't have to tell you this could be random. I also liked that trick of layering at least four subgroups in the Kaplan-Meyer plot, bolding the line they want you to see. No doubt the Ns in each of these subgroups was so small as to make an interpretation of the results clinically irrelevant. They'll have to complete a prospectively designed study in their so-called favorable patients to propose any claims of efficacy. Mark my words -- watch for a final report focusing almost entirely on this favorable P53 subgroup, which I venture to guess wasn't defined as the primary objective in the protocol. Bad science makes me mad. It makes us all look like scumbags, and we're not. Keep up the good work!
I couldn't have said it better myself, Joy, so I won't even try. Well done.
Onward to
Dendreon
(DNDN)
. This from Robert C.: "Adam, with the most recent news out on Dendreon, there seem to be mixed opinions on whether this news is good or bad for the company. Any chance you can share your opinion on this?"
Me? Share on opinion on Dendreon? You know I'm hesitant to do that...
Dendreon raised $47 million from a single institutional investor on April 3, which bought 8 million shares at $5.92 a share. The investor also got warrants for another 8 million shares with an exercise price of $20 a share.
Any time a biotech company can raise money in this market environment on neutral terms, it's a positive. So, Dendreon has more cash in the bank, and the dilution won't matter much if Provenge turns out to be a success.
But I don't think you can read too much into this investment regarding the odds for a positive outcome for the ongoing Provenge trial. The stock hasn't done much since the investment was announced, so I think that's what the market is telling you too.
Adam Feuerstein writes regularly for TheStreet.com. In keeping with TSC's editorial policy, he doesn't own or short individual stocks, although he owns stock in TheStreet.com. He also doesn't invest in hedge funds or other private investment partnerships. Feuerstein appreciates your feedback;
to send him an email.