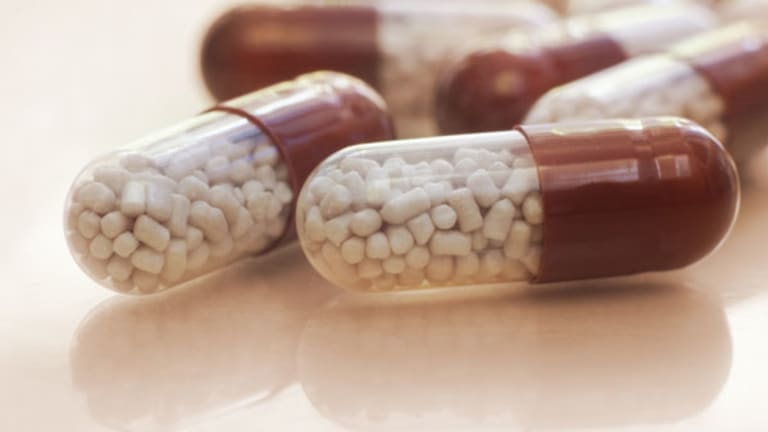 Feuerstein's Biotech-Stock Mailbag
A health stock rebound? Plus, my take on Onyx and M&A speculation fun.
Dear readers, I am a genius! I know, I'm modest too, but how else do I describe the sheer brilliance that went into timing three recent columns on the depressed state of the biotech sector? I totally called the bottom.
It started with a dour
March 8 Mailbag
. On March 11, I
the 20% loss in the Biotech Buzz Portfolio. I followed that uplifting tome with a
downer Mailbag
on March 17 discussing how biotech investors were in a world of hurt.
Well, I guess all the hand-wringing about how bad it was in biotech-land signaled the nadir, because the sector started moving up on March 17 and it's looked pretty good since. As of April 3, the
Biotech Buzz Portfolio
is down just 900 basis points. Can you say
comeback
?
If those buzz stocks aren't your idea of a perfect proxy for the health of the biotech sector, do consider that both the
iShares Nasdaq Biotechnology ETF
(IBB) - Get iShares Biotechnology ETF Report
and the
Amex Biotechnology Index
( BTK) are also on the rebound. While still down for the year, the IBB and BTK continue to outperform the broader stock indices.
We're not out of trouble yet by any stretch, but hey, it doesn't look like Armageddon either.
Before I go any further, I have to give major props to one reader in particular. Remember Andrew B? Here's what he said in my March 17 Mailbag:
"By the way, given your negativity and that of all the people you talk to, it's the perfect contrarian indicator. It may finally be time for Big Pharma to go on that long-rumored buying spree, especially for European Pharma with the dollar so low."With the short covering that will go along with it, I think biotech may be set afire in the next few months. Hell, when the bubble bursts in oil, gold and agriculture, people will have to go to the next roulette table. Maybe that will even be biotech, which really hasn't seen that in about a decade. You heard it here first."
Nice call, Andrew!
Perhaps I should turn over my laptop to Andrew, since he seems to know the score better than I do. Here's what he had to say this week:
"
Nasdaq
and
Dow
soaring, but guess what's up more? The BTK!!! Again, I'm no technician, but it seems like a breakout of a downtrend on the BTK, while the Nasdaq rally technically doesn't seem to mean much.
"Now, the coup de grace will be something big, like
Enzon
(ENZN)
capitulating to Carl Icahn and getting a high price, or maybe
Biogen Idec
(BIIB) - Get Biogen Inc. Report
or
PDL Biopharma
(PDLI) - Get PDL BioPharma, Inc. Report
getting a buyout offer after saying they're no longer for sale. Maybe biotech isn't dead after all."
Alright Andrew, give me back my Mailbag.
Kent P. writes, "Is this a good time to sell
Onyx Pharmaceuticals
(ONXX)
now, or is more good news coming our way."
I'm inclined to say hold on to Onyx. I like the recovery in the stock from $25 last month to where it sits now around $32. Nexavar is a good cancer drug. The
setback
in lung cancer hurt, but I think the opportunity in liver cancer is very much there and not fully reflected in the stock price at this time.
Just as important, I'm hopeful that new CEO Tony Coles, who just started this week, is going to bring some new energy into the company. Let's also hope that he does something to ratchet back
spending
or otherwise ensure that Nexavar's success is reflected in Onyx's bottom line -- and soon.
I haven't had a chance to speak with Coles yet, but conversations with other executives there, as well as with some significant institutional investors who own the stock, make me cautiously optimistic that Onyx has heard the
criticisms
and will make some changes.
Here's a factoid that may interest only me, but I'll share anyway: I wrote my first
significant story
on Onyx way back in November 2002. At that time, Nexavar was only just moving into its first phase III study; the stock was at $6; the market cap a tiny $132 million.
As I also pointed out in that story, by comparison,
Telik
(TELK)
sported a market cap of $464 million.
Genta's
( GNTA) market cap at that time: $828 million!
Wow! Times sure have changed.
Onward. Ron R. wants to play a game of M&A speculation. He writes:
"Would it make good business and scientific sense for
Gilead Sciences
(GILD) - Get Gilead Sciences Inc. Report
to buy
Vertex Pharmaceuticals
(VRTX) - Get Vertex Pharmaceuticals Incorporated Report
? Gilead is the Master of the Universe when it comes to treatment of viral diseases, and is interested in cystic fibrosis. Vertex is the leader in the race to develop a highly effective hepatitis C anti-viral therapy, and has made a major breakthrough in discovering a drug that modifies a fundamental defect in cystic fibrosis. Gilead has the money, Vertex is cheap. Is this a fit? If you were
Gilead CEO John Martin, would you buy Vertex?"
I love this kind of speculation. It's fun. However, I don't quite see these two companies getting together. I still like my
of Gilead merging with
Genentech
( DNA).
I don't think I've ever predicted a merger or takeover; my track record is horrible, just look back at this
from 2003. (Try not to laugh too hard.)
But I'm not about to let futility get in my way. So Ron, I'll see your Gilead-Vertex, and raise you a
Pfizer
(PFE) - Get Pfizer Inc. Report
-
Rigel
(RIGL) - Get Rigel Pharmaceuticals Inc. Report
. How about a
Roche
-
Pharmasset
(VRUS)
?
Bayer
-Onyx (an oldie but a goodie.) Some company is going to buy
Middlebrook Pharmaceuticals
( MBRK).
Amgen
(AMGN) - Get Amgen Inc. Report
-
AMAG Pharmaceuticals
(AMAG) - Get AMAG Pharmaceuticals, Inc. Report
. Or will Roche buy AMAG?
Don't ask me.
Adam Feuerstein writes regularly for TheStreet.com. In keeping with TSC's editorial policy, he doesn't own or short individual stocks, although he owns stock in TheStreet.com. He also doesn't invest in hedge funds or other private investment partnerships. Feuerstein appreciates your feedback;
to send him an email.