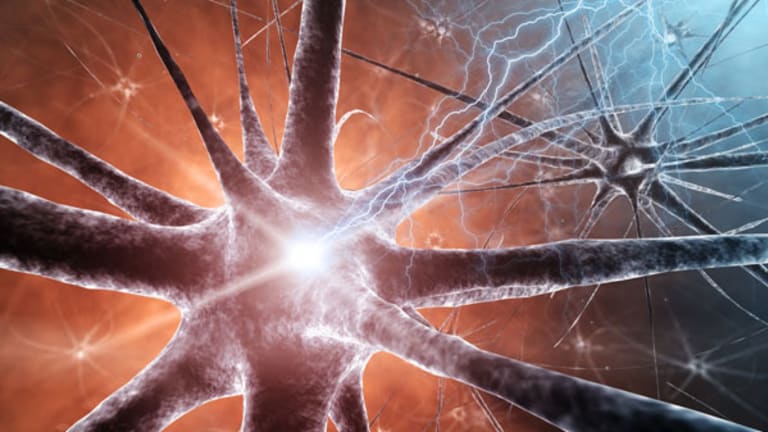 Feuerstein's Biotech-Stock Mailbag
Middlebrook Pharma still has some upside left.
Welcome back to the Biotech Mailbag. This week, I'll tackle questions on
Middlebrook Pharmaceuticals
( MBRK) and
Isis Pharmaceuticals
(ISIS)
.
Middlebrook Pharmaceuticals shares soared this week on the FDA approval of Moxatag, the company's proprietary, once-daily formulation of the antibiotic amoxicillin.
The news prompted an email from Neal G., who writes: "Is it me, or is this drug a big nothing? When my kids get strep they take antibiotics once a day."
I actually believe the Middlebrook story is a good one, and there's upside in the stock even with the big move Thursday. On Friday, the stock fell back to $2.75.
Middlebrook is for sale, and there's a more-than-decent shot that it finds a willing buyer. The company could go for $6 to $8 a share.
Neal is right about the non-sexiness of another antibiotic, but Moxatag employs a neat drug delivery technology owned by Middlebrook that allows for less frequent dosing. Generic amoxicillin must be taken three times a day, for example, which can be difficult to maintain.
Moxatag is more convenient and should improve compliance, especially in adolescents. Parents won't have to harangue their kids to take their pills three times a day.
There are about 60 million prescriptions written annually in this country for generic amoxicillin. Moxatag isn't going to dominate this market, because insurance companies aren't going to reimburse when they can pay for a cheaper generic instead.
But Middlebrook is being smart. The company will likely price Moxatag around $20-$25 per prescription, which is higher than the $5-$10 copay someone would pay for generic amoxicillin, but not too high to sting (especially since patients really need only one prescription to clear up their sore/strep throat or ear infection).
The company is counting on doctors and patients -- or parents of patients -- to be willing to fork out a few extra bucks for the convenience of a once-a-day antibiotic.
If Middlebrook can capture 10% to 15% of amoxicillin prescriptions, that's worth about $200 million in sales. The company's current market value is $127 million.
I also know that Middlebrook has no intention of launching Moxatag on its own. It's in no position to build or manage the primary care sales force necessary. This is why the company is up for sale. Management wants to sell out to a larger specialty pharmaceutical firm with an existing primary care sales force that desires another drug to sell to doctors.
Who's in the running? I hear
Adams Respiratory
( ARXT), recently acquired itself by
Reckitt Benckiser
, Indian drug maker
Lupin Pharmaceuticals
,
Forest Labs
(FRX)
and
King Pharmaceuticals
( KG).
Are there risks? Sure, Moxatag is only approved so far for sore/strep throat, so more clinical work needs to be done to broaden the antibiotic's label to match generic amoxicillin. At this point, Moxatag is only approved for adults and kids 12 years and older. Ideally, the drug's label needs to be expanded for younger children.
And of course, Middlebrook's commercial strategy for Moxatag may not fly with potential acquirers or the dynamics of the market.
Gary P. emails to ask about Isis Pharmaceuticals, which began the year with a rocking start by partnering its experimental cholesterol-lowering drug mipomersen with
Genzyme
( GENZ).
Asks Gary: "I am surprised that
Isis' stock price is tumbling as if the company has no value whatsoever. In your wisdom, can you do an updated analysis of its product and if you think it's a good buy. I bought a small amount and would be looking to add. What do you think?
I've received a bunch of email similar to Gary's, some not as nice, since I haven't been an Isis bull. In previous
columns, I've described myself as neutral on the stock, believing it was more than fairly valued and doubting management's ability to sign a partnership for mipomersen in the near term.
I was wrong on the latter prediction, so my congratulations go to Isis CEO Stanley Crooke for getting a deal done. He showed the doubters that he was a doer.
As Gary points out, however, Isis' stock price has round-tripped, from $15 before the deal was announced on Jan. 7, to $20 the day after, and now it's settled at $15.19.
This trading pattern isn't that uncommon in biotech. The same thing happened to
Novacea
(NOVC)
when it teamed with
Schering-Plough
( SGP) on its prostate cancer drug, for example. And let's not forget that the broader markets have been in freefall as well.
Isis did get a very cushy upfront payment and an equity investment from Genzyme for mipomersen rights, but not much else at this point. It's going to be a long wait for anything new to emerge from the mipomersen program, so a lot of investors don't see any need to own the stock right now. A similar sentiment is
affecting
Vertex Pharmaceuticals
(VRTX) - Get Vertex Pharmaceuticals Incorporated Report
and its hepatitis C drug telaprevir.
And as my colleague Elizabeth Trotta pointed out, the
details of the Isis-Genzyme program reveal that most of the financial upside potential for Isis is contingent on expanding mipomersen into indications still very much in doubt.
In other words, besides a bump in Isis' cash-per-share, the value of mipomersen's near-term commercial potential is now more than priced into the stock.
Adam Feuerstein writes regularly for TheStreet.com. In keeping with TSC's editorial policy, he doesn't own or short individual stocks, although he owns stock in TheStreet.com. He also doesn't invest in hedge funds or other private investment partnerships. Feuerstein appreciates your feedback;
to send him an email.