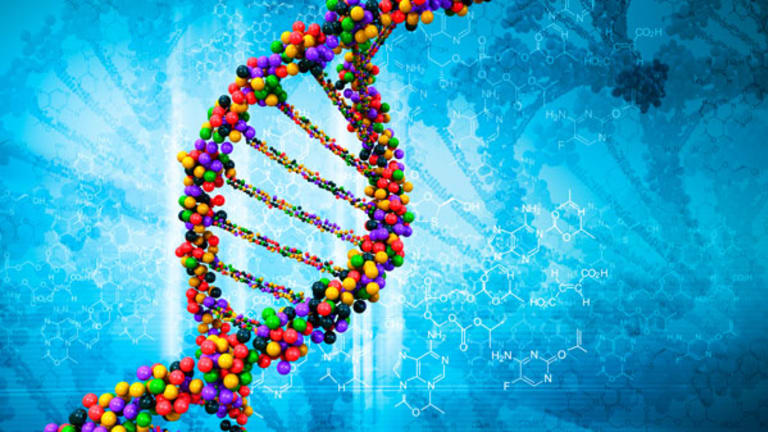 Publish date:
Feuerstein's Biotech-Stock Mailbag
This week: Small-cap stocks garner reader attention.
This week: Small-cap stocks garner reader attention.
I missed my appointed rounds by not delivering a Biotech Mailbag last week. But we're up and running again -- as always, send me your questions and comments here.
There was a buzz about
Delcath Systems
(DCTH)
this week, which was the subject of a slew of emails. Among those, Adam H. asks:
"I'm sure you know about the stock, and I'm sure you have read the story, but I think a perfect candidate for your mailbag would be a story highlighting the
National Cancer Institute vs. the FDA. The NCI has affirmed changes that have been implemented into the trial protocol, but still, the FDA asked for a temporary halt on new enrollments."
Here's some background: Delcath is testing a system that uses catheters and filters to deliver chemotherapy directly to the liver without allowing the toxic chemicals to reach the rest of the body. This Percutaneous Hepatic Perfusion (PHP) system is being tested in phase II and phase III clinical trials, some of which are being sponsored and conducted by the National Cancer Institute.
On Oct. 11, Delcath announced that its phase III trial was highlighted as the "Featured Clinical Trial" in a recent NCI
newsletter
.
On Oct. 23, the FDA sent Delcath a letter asking the company to halt enrollment in its clinical trials because of agency concerns over gastrointestinal side effects. Delcath claims that these GI toxicities were previously reported and disclosed to the NCI folks running the trial that changes were made in the study to prevent future events from happening, and that the NCI was OK with the study moving ahead.
But the FDA, apparently, isn't satisfied. It wants more information addressing the safety issues. Delcath's stock was essentially cut in half and now trades around $1.54.
Investors in the stock are spitting mad, claiming this as yet more evidence that the FDA is messing with cancer companies, a la
Dendreon
(DNDN)
and Provenge.
If the NCI is a fan of Delcath's PHP system and isn't worried about safety, why is the FDA butting its nose into the picture, they ask?
My simple answer is that the FDA, not the NCI, is the country's final arbiter on drug safety, so if the agency has safety concerns, it's not a trivial matter.
Many readers who emailed me about Delcath this week are placing a lot of emphasis on the fact that Delcath's PHP phase III trial was a "Featured Clinical Trial" in the NCI newsletter, as if that's some imprimatur of great import.
Well, previous cancer trials featured in NCI newsletters include one study investigating pomegranate juice as a treatment for prostate cancer; another trial is looking at the combination of frankincense and a vegan diet in brain tumor patients. (Apparently, myrrh is not necessary.)
I'm not trying to equate Delcath with fruit juice or ancient herbal remedies, but on the other hand, let's all realize that the NCI conducts a lot of cancer research. Some of it is groundbreaking and important, and some of it ends up in the trash heap. So it's best not to equate a newsletter mention with a guarantee of success.
And if Delcath is so great, why is the stock such a laggard, even before this FDA setback? It may be simplistic, and I may be woefully shortsighted, but might there be a good reason that it has never really traded much above $5?
I've also received many emails about
Exact Sciences
(EXAS) - Get Report
, including this one from Andre L.:
"I've enjoyed your work over the years. I had a question on Exact Sciences. It originally caught my eye when Odette Galli, your former colleague, wrote about it as an alternative to colonoscopy.
"It's been a long road and it looked like the Pregen-Plus test was about to be included in the Ameircan Cancer Society guidelines, which meant that the insurance companies would reimburse patients (i.e., pay Exact).
Now the FDA seems to have sent a warning letter about this "device" and about some additional steps that Exact may have to jump through. What's your take on this whole situation?"
A blogger/stockpicker posting on the
SeekingAlpha
Web site seems to be responsible for the early October run in Exact Sciences. This guy was touting the stock's potential for an "exponential increase" on speculation that the Pregen-Plus screening test for colon cancer would soon receive blessing and inclusion in the American Cancer Society's colon-cancer screening guidelines, with Medicare reimbursement to follow soon after.
Well, soon after that posting, the FDA told Exact that it wanted the company to seek formal regulatory approval for its diagnostic test. That sent the stock reeling, because it signals more delays and setbacks for Pregen-Plus, which has already been hit with years of delays and setbacks.
I view Exact with the same lens as a company like
Discovery Labs
(DSCO)
, i.e., train wrecks that might, perhaps, possibly, eventually, one day turn themselves around. But there's no guarantee, and the track record certainly shouldn't give anyone confidence that the carnage can be cleaned up.
It seems better to sit on the sidelines and wait for something good to happen.
Manuel E. writes: "I am from Portugal. I appreciate very much your articles, they are informative enough and your opinions are wise. Thank you. Please let me know what you think about
Prana Biotechnology
(PRAN)
and its drug against Alzheimer's disease."
Thank you, Manuel. I left Prana out of my recent column looking at various Alzheimer's drugs in clinical trials. It was an accidental oversight on my part.
The company recently announced that patient-dosing in a phase IIa study of its drug PBT-2 is finishing up, with data expected in the first quarter of 2008.
I don't have an opinion on PBT-2; we'll see what the data from this trial tell us. My friend Harry Tracy, editor and publisher of the
newsletter, however, isn't a big fan.
An email From Pir M.:
"On Oct. 11,
Hemispherx Biopharma
(HEB)
announced that it had filed an NDA
new drug application with the FDA for Ampligen for the treatment of chronic fatigue syndrome (CFS). Any thoughts about this company, its drugs and the market potential for CFS?"
This week's Mailbag is chock full of single-digit-midget stocks, isn't it? Doesn't anyone want to know about real biotech companies? Sigh...
I knew nothing about Hemispherx before reading Pir's email. But plug the company into Google, and you'll find a lot of interesting stuff:
Hemispherx and renowned (or infamous) Wall Street short-seller Manuel Asensio had a pretty ugly
row
in the 1990s.
My old friend and former colleague Herb Greenberg even
chimed
in on Hemispherx back in the day.
At various times, Hemispherx has claimed that Ampligen could treat SARS, AIDS, West Nile virus and avian flu, among other maladies.
The clinical data on Ampligen and chronic fatigue syndrome look suspiciously thin to me. (The efficacy data from a "pivotal" study seems to change with every press release.) The side effects of Ampligen, at least the way the company describes them, are downright scary. I'll just quote from the company's 10-K, with my emphasis added:
"We believe that Ampligen has been generally well tolerated with a low incidence of clinical toxicity, particularly given the severely debilitating or life threatening diseases that have been treated. A mild flushing reaction has been observed in approximately 15% of patients treated in our various studies. This reaction is occasionally accompanied by a
rapid heart beat
, a tightness of the chest, urticaria (swelling of the skin), anxiety,
shortness of breath
, subjective reports of "feeling hot",' sweating and nausea. The reaction is usually infusion-rate related and can generally be controlled by slowing the infusion rate. Other adverse side effects include
liver enzyme level elevations
,
diarrhea
, itching, asthma, low blood pressure, photophobia, rash, transient visual disturbances,
slow or irregular heart rate, decreases in platelets and white blood cell counts, anemia
, dizziness, confusion, elevation of kidney function tests, occasional temporary hair loss and
various flu-like symptoms
, including fever, chills, fatigue, muscular aches, joint pains, headaches, nausea and vomiting. These flu-like side effects typically subside within
several
months."
That's some list!
Pir, you probably know where I'm going with all this: Stay away from Hemispherx.
John B. is mad about my
mention of
Vion Pharmaceuticals
( VION):
"Thank you very much for your advice on Vion. I had 7,000-plus shares and sold yesterday morning. You should go crawl under a rock!"
Glad to help, John.
Adam Feuerstein writes regularly for TheStreet.com. In keeping with TSC's editorial policy, he doesn't own or short individual stocks, although he owns stock in TheStreet.com. He also doesn't invest in hedge funds or other private investment partnerships. Feuerstein appreciates your feedback;
to send him an email.