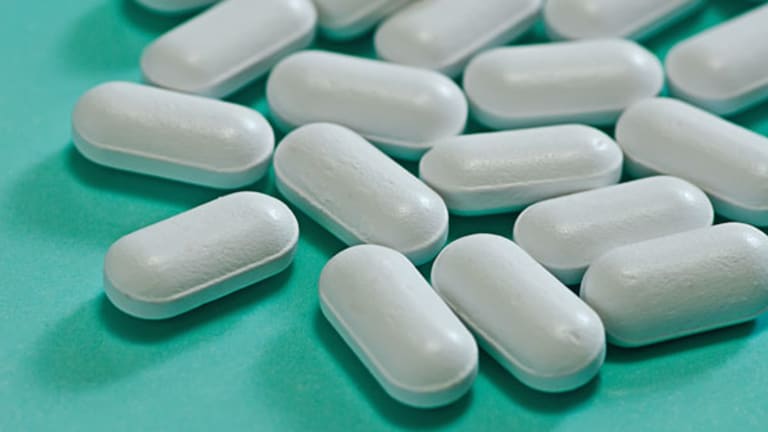 Publish date:
Feuerstein's Biotech-Stock Mailbag
This week: Biogen Idec and Synta.
This week: Biogen Idec and Synta.
BOSTON -- Thanks for returning to the Biotech Mailbag. I do my best to respond to your comments and questions, so please email me here.
This week's Mailbag:
Biogen Idec
(BIIB) - Get Report
and
Elan
(ELN)
Synta Pharmaceuticals
(SNTA)
Repros Therapeutics
(RPRX)
and
Indevus Pharmaceuticals
(IDEV) - Get Report
PDL BioPharma
(PDLI) - Get Report
Everyone loves a chuckle, especially on a Saturday, so let's kick off with a very funny letter from a guy who identifies himself as "G F Urself." Apparently, Mr. Urself is a bit peeved at something I said in last week's Mailbag about
Biogen Idec
. (I wonder what G F stands for?)
I
wrote: "And what happens if another fatal or disabling case of progressivemultifocal leukoencephalopathy (PML) crops up in a Tysabri patient? I guess I'm on the fence about Biogen Idec."
To which, Mr. Urself emailed to me:
"How about you 'guess' you are and have been a disingenuous hatchet shill, bought and paid for by a competitor that produces a drug that tries to compete in the mktplace
sic with Tysabri? I'll continue to enjoy watching the user numbers and their inexorable climb upward at the expense of your handler's offerings; it is inevitable ... ShalomAhole
sic."
Apparently, someone forget to take their meds ...
I don't know if Urself is an investor in Biogen Idec or Tysabri marketing partner Elan (I'm guessing the latter) but if he does own Biogen Idec, he's one happy (albeit still twisted) camper this morning after the
big news that broke Friday night.
I guess I should have jumped off that Biogen Idec fence, it's electric-hot right now. I'm surprised that Biogen Idec is entertaining buyout offers -- it's something I've been
about -- but then, when investor Carl Icahn is involved, anything is possible.
If this moves further down the road to an actual offer, I'll be interested to see how the contractual issues with Genentech for Rituxan are handled.
Back to Tysabri: I did get a few reasonable emails from sane readers who think I'm overblowing the fear that Tysabri patients might, in the future, contract PML.
Richard K. was one such reader. Regarding Tysabri, he writes, "The only association with PML is in severely immuno-compromised patients on multiple immunosuppressants."
True statement. The cases of PML that caused Tysabri to be pulled from the market in 2005 were in patients who were taking Tysabri in combination with other immuno-suppressant drugs, including another drug for multiple sclerosis. There has not been a case of PML reported yet in patients who are on Tysabri monotherapy.
And as of September, there have not been any new confirmed cases of PML in any Tysabri patients, according to a safety update provided by Biogen Idec and Elan on Thursday as part of the European multiple sclerosis conference known as ECTRIMS.
But past performance doesn't predict future results, right? There's a reason the FDA slapped a black-box warning on Tysabri, stating in part, "Although the cases of PML were limited to patients with recent or concomitant exposure to immunomodulators or immunosuppresants, there were too few cases to rule out the possibility that PML may occur with Tysabri monotherapy."
And when you talk to Biogen Idec executives and ask them if they believe additional cases of PML will crop up in Tysabri patients, they answer in the affirmative.
Not that any of this matters now. Possible Tysabri risks aren't going to matter squat with everyone buzzing about Biogen Idec takeout talk.
I received some great email on my
Synta Pharmaceuticals
"homework"
column. Two readers, Mario H. and Eric B., looked deeper into the possible inbalances in the melanoma phase II study of STA-4783 that could have skewed the data in the drug's favor.
Mario included some specific data in his email to demonstrate that the "holes" in the data that I mentioned are "not as deep" as I suggested, he says.
Eric pointed me to a different analysis of the phase II study that reached a similar conclusion.
I haven't had time to dive into any of this, so I'll take both guys at their word for now. But the broader point is that a "quickie" analysis of the sort I outlined in my Synta column is a great starting point. It can give you a broad sense for the good and the bad. After that, you can do the deeper digging like Mario and Eric are doing to get better answers.
On the same subject, Tony L. is worried about the way Synta's stock has acted since the GlaxoSmithKline partnership was announced.
"If STA-4783 is a good drug and the
GlaxoSmithKline
(GSK) - Get Report
deal so favorable, why did the stock trade down?" he asks.
I scratched my head a bit about that, too. Talking to a couple of investors in the stock, it turns out that a partnership announcement had been expected. As recently as last week, the Bear Stearns analyst who covers Synta had been telling his clients to expect a deal fairly soon.
As a result, the stock did run up into this announcement, so Wednesday's selloff looked a lot like a sell-the-news reaction.
It's also important to understand that while the Glaxo deal provides Synta with a nice cushion of cash it can use to further the testing of SNTA-4783 without having to do another public financing, it doesn't really reduce the risk of the drug ultimately failing. Melanoma is an impressively tough cancer to treat, and as I pointed out in the column, SNTA-4783 isn't the perfect drug -- yet.
Nate S. comments along a similar vein: "To be fair, Synta hasn't been such a hot investment unless you were really able to call the bottom."
He's right. Synta's stock price traded in a tight $8-$9 range for most of the year, before dipping down to $5 in August. It didn't stay there long before climbing back to above $11. Now it's back to $8.76.
If there's anyone out there who bought Snyta at $5, I'd love to hear from them. Nice call.
The behavior of Synta's stock price, like that of
Novacea
(NOVC)
after its deal with
Schering-Plough
(SGP)
, isn't always easy to understand. But remember, there are many different types of biotech investors out there. I tend to look at the sector with a long-term view, but others, quite legitimately, have a much shorter investment perspective.
My
column on "manopause" stocks prompted a couple of questions. Jon. R. asks, "Why has the FDA not also raised the bar on Nebido as they have done with Repros?"
As I wrote this week,
Repros Therapeutics
is in a bit of a bind with its testosterone-boosting drug Androxal because it hasn't yet reached agreement with the FDA on an approval-worthy clinical endpoint for a phase III study.
Androxal works by stimulating a man's body to produce more of his own testosterone. That puts the drug in a different category than currently marketed testosterone replacement products, including
Indevus Pharmaceuticals
and its long-acting, injectable testosterone replacement Nebido.
On the same topic, Dick F. asks, "Do any of these testosterone companies mention anything about artificial testosterone possibly causing cancer?"
Great question. Yes, the subject did come up at the UBS conference I attended last week because it is, or has been, a concern. There were two doctors -- a urologist and an endocrinologist - speaking at the conference, and both downplayed the testosterone replacement-cancer link.
At this point, there is no clinical data to suggest that men who use a testosterone replacement are at any greater risk for developing cancer, specifically, prostate cancer, the docs said. It is well understood that testosterone "feeds" prostate cancer, which is why prostate cancer patients are put on hormonal therapy to deplete testosterone. But there is no evidence that circulating testosterone causes prostate cancer to develop.
Francois R. writes in to comment on my
column detailing the effort to dismantle
PDL BioPharma
:
"It's just a pity to watch the destruction of PDL by greed-driven hedge fund activists. Are they in need of cash because of the subprime market? What is wrong in using royalties to develop the pipeline? Clinical development needs time and you just cannot rush the thing."
I understand where Francois is coming from, but the hedge funds aren't responsible for PDL's problems. As far back as 2001, I was writing about the company's
faltering efforts to develop its pipeline. Does anyone else remember Zamyl and Remitogen?
Using royalties to develop a pipeline of proprietary drugs is smart strategy. Sadly, PDL has not proven capable of putting together a clinical team that knows how to develop drugs. Hedge funds, like any other shareholder, are right to demand a fair return on their investment, which is why years of disappointment have led to the point where PDL needs to be broken up and sold.
Adam Feuerstein writes regularly for TheStreet.com. In keeping with TSC's editorial policy, he doesn't own or short individual stocks, although he owns stock in TheStreet.com. He also doesn't invest in hedge funds or other private investment partnerships. Feuerstein appreciates your feedback;
to send him an email.