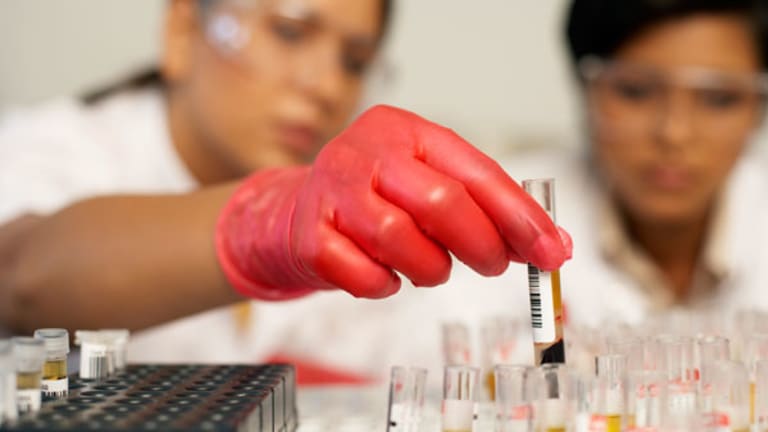 Publish date:
Feuerstein's Biotech-Stock Mailbag
This week: Biogen Idec and Neurocrine Biosciences.
This week: Biogen Idec and Neurocrine Biosciences.
Welcome to the Columbus Day Weekend edition of the Biotech Mailbag.
True story: When I lived in San Francisco, my kids didn't get the day off from school for Columbus Day. Instead, they spent the day celebrating "Indigenous Peoples Day." As my daughter explained to me, you can't "discover" a new world when plenty of people live there already.
Now we live in Boston and let's just say that my kids' new school has a different, more traditional take on ol' Chris Columbus. They get the day off, too. The West Coast-East Coast Columbus perception thing is interesting.
But enough about 15th-century European explorers. Let's get to your email. This week:
John C. writes: "Is Biogen Idec a good buy right now? It's up over 34% for the year. Do you think it will keep trending upward? I don't see a lot of insider buying."
Biogen Idec has had a rock-star year. As I write this, with shares trading at $65.66, the stock is up 33% year to date, up 53% from its March low. No other big-cap biotech stock has performed as well in 2007.
Gilead Sciences
(GILD) - Get Report
and
Celgene
(CELG) - Get Report
have done very well, but they only take the silver and bronze; Biogen Idec is the gold medalist.
Naturally, the skeptic's voice in my head says Biogen Idec must be overvalued, especially since the stock's outperformance has come in the second half of the year and has been fueled to some extent by speculation that the company will be acquired. (The fact that Carl Icahn took a big position in the company helped fuel the takeout talk.)
On the other hand, Biogen Idec is trading at a
price-to-earnings ratio of 20 times estimated 2008 earnings. Gilead trades at 23 times '08 EPS;
Genentech
( DNA) at 22 times; Celgene at 43 times. From this vantage point, Biogen Idec might be expensive, but not any more than its big-cap biotech peers.
I'm avoiding a direct answer to John's question. That's bad, but I must admit to feeling conflicted about Biogen Idec. It's a quality company, for sure, and the stock has been a winner, but it also feels toppy and there are some
fundamental issues that worry me.
I'm skeptical about the acquisition chatter. The company's recent forecast of 100,000 Tysabri patients by 2010 was very bullish, but was it too aggressive? The push by Genentech to develop Rituxan, as well as a next-generation Rituxan, for multiple sclerosis could hurt Biogen Idec in the long term.
And what happens if another fatal or disabling case of progressive multifocal leukoencephalopathy (PML) crops up in a Tysabri patient?
I guess I'm on the fence about Biogen Idec.
Next up, this email from Theodor L.: "I would like your take on the probability of FDA approval of Neurocrine BioSciences' insomnia drug indiplon. According to its CEO, the FDA did not request any additional trials."
After getting kicked to the curb by the Food and Drug Administration the first time around -- and losing its dance partner
Pfizer
(PFE) - Get Report
-- you'd expect (hope) that Neurocrine has gotten its act together enough to get indiplon approved. The FDA action date on the indiplon approval decision is Dec. 12.
So, yeah, I guess the odds are in Neurocrine's favor, but frankly, I don't think it matters much. As I've written before, the insomnia drug market is very competitive and indiplon will enter with many disadvantages. My sense is that investors won't give Neurocrine much credit for an indiplon approval until the company lines up a strong marketing partner and/or proves it can actually sell the drug.
I did sit in on Neurocrine CEO Gary Lyons' presentation at the UBS biotech conference last week and came away puzzled. Lyons' major take-away message was that indiplon will be the drug of choice for people who wake up in the middle of the night and can't go back to sleep. He showed off results from a company-sponsored marketing survey that found that this "middle-of-the-night" niche is problem No. 1 for insomniacs.
Well, if people wake up and can't fall back to sleep, why not just take a pill before going to bed that helps them sleep all night? What's the point of waiting to take something after you wake up at 2 a.m.?
To me, indiplon is an insomnia drug in desperate search of a market; there isn't a market in dire need of indiplon.
Next is Manuel E, who asks for my opinion on Panacos Pharmaceuticals.
How can I say this politely: Panacos is a mess! CFO Peyton Marshall resigned Sept. 24 to "pursue other opportunities and outside personal interests."
That's not a good sign, especially since Marshall was previously the company's interim CEO after then-CEO Skip Ackerman died suddenly in June 2006.
The company's effort to develop its HIV drug beviramat has been saddled with setbacks and delays. A tablet formulation of the drug was shelved last year, forcing the company to work with a liquid formulation while it tries to come up with a way to make a new tablet dosage work. A phase II study of liquid beviramat continues, but again, new data has been delayed. (And no, a liquid drug for HIV is not commercially viable.)
I think beviramat has potential and it's definitely an interesting and novel anti-HIV target (a first-in-class maturation inhibitor) but why mess with this stock until Panacos proves it can actually do something right for a change?
Brian writes: "Can I get your views on Vion Pharmaceuticals?"
Another winner. (Yes, that's me leaning on the snark-o-meter again.)
You can pick up a share of Vion for 71 cents. That's not a good thing. One of the lessons I relearned from the
Sonus Pharma
( SNUS) debacle is that I'm no longer going to try to be the smartest guy in the room. The Vion chart is screaming "Stay Away!!" It's not saying, "I'm cheap -- I'm a hidden gem because investors are missing something!"
Vion's lead drug, cloretazine, is being developed for some blood cancers but has run into trouble. A phase III study in acute myelogenous leukemia was put on clinical hold because of high on-study mortality. Another trial, this one in elderly, high-risk AML patients is ongoing with data expected at the American Society of Hematology meeting in December.
I don't see any reason to own the stock going into that data. If cloretazine can dig itself out of its current hole, fantastic, but there's too much risk here. Go spend your 72 cents on some other biotech stock. Or a candy bar.
Let's end with the best letter of the week, from Cary L.:
"When Discovery Labs got its FDA approval letter pending solving the stability issue, I took a 'country-boy' whupping in the stock! With the stability issue pending and new 12-month results in October, should I put myself into another situation of preparing for another 'whupping,' or stay away from Discovery? I'm seriously thinking about taking a small position with hopes that the whupping will be done with a small belt, as opposed to the large belt the last time."
Oy, this Mailbag is chock-full of quality stocks. (Snarks-ville, again.)
Cary, it sounds like you like whupping a bit too much. There are therapists you can see about that. I kid! I kid!
Seriously, stay away from Discovery. For those unfamiliar with the story, it's real simple: Discovery developed a drug, Surfaxin, to treat infants with respiratory distress syndrome. The drug seems to work OK, but Discovery can't manufacture it. The FDA has refused to approve Surfaxin twice now because of manufacturing and stability issues.
Discovery says it's making progress solving the manufacturing issues, but let's just say management has credibility issues that make it hard to take their statements at full face value.
Cary, I'd try wearing your belt instead of getting slapped on the you-know-what by it.
Adam Feuerstein writes regularly for TheStreet.com. In keeping with TSC's editorial policy, he doesn't own or short individual stocks, although he owns stock in TheStreet.com. He also doesn't invest in hedge funds or other private investment partnerships. Feuerstein appreciates your feedback;
to send him an email.