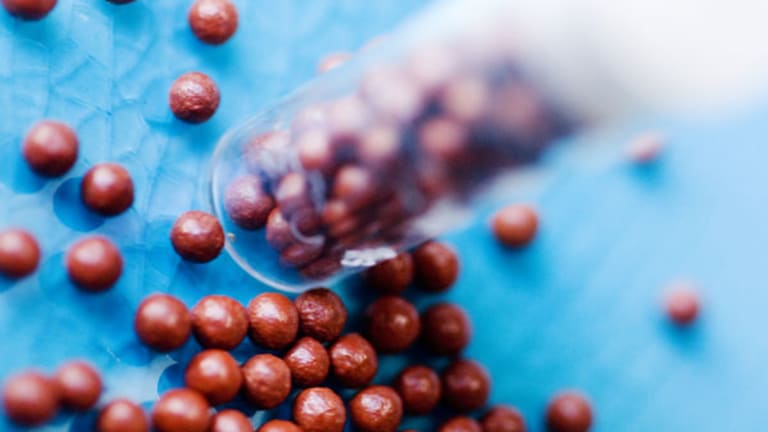 Feuerstein's Biotech-Stock Mailbag
This week: tackling Memory Pharma and Peregrine.
BOSTON -- Welcome back to the Mailbag. I hope everyone caught my special midweek
edition on Tuesday. As always, send questions, criticisms and praise here.
In this edition:
Memory Pharmaceuticals( MEMY)
Orexigen

undefined

Peregrine Pharmaceuticals

undefined

Medarex( MEDX)
I received this email from a reader identified only as "HungryToLearn":
"As we enter the middle of September the season of fall biomedical conferences is upon us. I am currently looking for small-cap biomedical stocks with a catalyst event upcoming in the fourth quarter. I was wondering if you had any insight into
Memory Pharmaceuticals
, which is scheduled to report phase IIa clinical trial results on two drugs designed to enhance memory in Alzheimer's patients. I like the idea that an investor gets two chances to win in the next three months. Any thoughts?"
I can understand why "Hungry" has his sights set on Memory: The $2 stock sports an enterprise valuation of just over $100 million, so it's fairly cheap. The company is developing two Alzheimer's drugs, MEM 1003 and MEM 3454, both in phase II "proof of concept" trials enrolling patients with mild-to-moderate forms of Alzheimer's. Data from these midstage studies are expected in the fourth quarter.
Memory traded as high as $4-plus in February, and it also fell below $1 last fall. This sets up a classic biotech investing guessing game: Will results from the two Alzheimer's drug studies return Memory's stock to its recent high, or dump it back to its low?
Unfortunately, I don't know the answer to the question. Like everyone else, I'll wait for the data. But let's take a closer look at both drugs.
MEM 1003 is an L-type calcium channel blocker, which means it regulates the flow of calcium in and out of cells. Small amounts of calcium in nerve cells are believed to contribute to memory and normal cognitive function, but too much calcium is thought to be toxic to nerve cells. Malfunction of the calcium channels of nerve cells is thought by some to be one of the first steps in the Alzheimer's disease process.
MEM 1003 is designed to regulate the calcium channel and therefore return calcium levels to a normal state in nerve cells, thereby improving memory and possibly having a neuro-protective effect that would prevent or stall the development of Alzheimer's.
Calcium channel blockers are commonly used drugs for treating cardiovascular disease like high blood pressure. In fact, Memory is the only drug company I could find that is investigating the use of a calcium channel blocker in Alzheimer's disease, according to a database maintained by BioMedTracker, a research service that tracks drug development.
Is Memory alone in this pursuit because it knows something that no one else does? Or, is it because others have investigated this avenue of Alzheimer's disease research and found it lacking?
I'd also note that MEM 1003 failed a "proof-of -concept" study in bipolar mania last March. While this negative result may not have anything to do with its potential role in Alzheimer's, it should, nonetheless, be some cause for worry.
As for MEM 3454, this drug targets the nicotinic alpha-7 receptor, which helps to up-regulate the release of acetylcholine, a neurotransmitter used by nerve cells to communicate with each other. A breakdown of acetylcholine between nerve cells is one of the defining characteristics of Alzheimer's disease.
Memory might be on more stable ground when it comes to the approach taken by MEM 3454. The drug is partnered with Swiss drug giant
Roche
, which has the right to take over development of the drug based on the phase IIa study results that are expected later this year.
There are also other companies developing similar drugs for Alzheimer's, including
AstraZeneca
(AZN)
, which has its own nicotinic alpha-7 receptor drug (licensed in from
Targacept
(TRGT)
) in phase II studies, according to the BioMedTracker database.
Matt M. asks about
Orexigen
:
"Thank you for your helpful articles on companies in the biotech sector. Because of stories from you and Jim Cramer I have invested in both
Gilead Sciences
(GILD)
and
Celgene
(CELG)
and have realized respectable gains in both. Alas, I also invested in
Amgen
(AMGN)
, but got out of that one before I lost too much.
"I am curious if you know anything about a small biotech, Orexigen, which is developing anti-obesity drugs which seem to work differently than some of the current mainstream drugs. Not many analysts follow Orexigen. Is it just too small and speculative at this stage?"
Thanks for the kind words, Matt. Like
Vivus
undefined
, which I
wrote about on Tuesday, Orexigen is also combining currently approved drugs to create new weight-loss treatments. Orexigen has two such combination therapies under development:
Contrave combines naltrexone (approved for opioid and alcohol addiction) with bupropion (an anti-depressant). Empatic combines the anti-seizure medicine zonisamide with bupropion.
I haven't dug deep into these weight-loss cocktails, but a quick glance at phase II results show about a 5% weight loss for both, which is right around the minimum efficacy hurdle you'd want to see for any new obesity drug.
Phase II studies tend to report better results than what you end up with in larger, more important phase III studies. So, I'd maybe question why phase II weight-loss results from Contrave and Empatic weren't better? It may be that there are certain types of patients and/or different combinations of the drugs that give better results, but a bit more research could flesh that out. (Hint: Matt, that's homework.)
Orexigen will be presenting phase IIb data on Contrave at an obesity meeting in October. The drug has already begun phase III studies. Empatic is still in phase II testing.
At its mid-$14 price, Orexigen's enterprise value is just under $290 million, which makes it a bit more expensive than Vivus, with an enterprise value of $255 million.
One thing Orexigen does have that Vivus lacks is bulge-bracket support. Orexigen was taken public by JP Morgan and Merrill Lynch, and the analysts at both firms have buy ratings on the stock.
Chris S. is a frustrated shareholder of
Peregrine Pharmaceuticals
. He writes, "I have been in this company for six years! Ugh, what a disapointment! I can't understand that with no negative reports about their drugs they can't seem to sustain a fair market price. Please enlighten me!"
Chris, sometimes a chart will tell you all you need to know -- and Peregrine's isn't pretty. As you're painfully aware, this stock has been a single-digit midget since 2000. I don't think it has traded above $3 since 2002. Right now, the stock sits at 67 cents.
I hadn't looked at Peregrine for years before getting your email, but what I remembered about them was that they were developing drugs -- vascular targeting agents -- that sought to disrupt and destroy the blood vessels that feed tumors.
A quick glance at the company's Web site shows that the VTA technology seems to be on the back burner in favor of some new anticancer and antiviral drugs.
I know the market isn't always right, but in this case, it's hard to argue against its verdict on Peregrine. Sorry, Chris.
My takes on
Medarex
(
here and
here) continue to generate email, most of it critical of my skeptical stance. But as you'll read below, I do have at least one reader in my corner.
James C. put on his sarcastic pants before writing me: "Thank you for giving me an opportunity to purchase more Medarex at a lower price. Remember Fischer Black: 'Some people trade on noise as if it were information.'"
In reply to James, I told him that I'm always glad to help. I guess he views my Medarex columns as not much more than noise. That's OK, others have called the columns much worse! I disagree with James, obviously, but I guess we'll see how it all turns out soon.
Soon after hearing from James, however, I received this very kind note from Andrew B.:
"I'm a former Wall St. biopharma equity research analyst and a fan of your columns. Your logic is tight and you present a good set of well-researched information. I owned Medarex in my personal account until last week -- made a nice 68% on the trade in fact -- and was convinced enough by your recent article on Medarex that the risks outweigh the advantages at these prices to sell. It is rare for me to be convinced by anything I read in the financial media. Nice job also on responding to your critics, I like seeing that transparency and your presentation of the counter-arguments. It's a great column, keep up the good work!"
Thanks so much, Andrew.
Adam Feuerstein writes regularly for RealMoney.com. In keeping with TSC's editorial policy, he doesn't own or short individual stocks, although he owns stock in TheStreet.com. He also doesn't invest in hedge funds or other private investment partnerships. Feuerstein appreciates your feedback;
to send him an email.