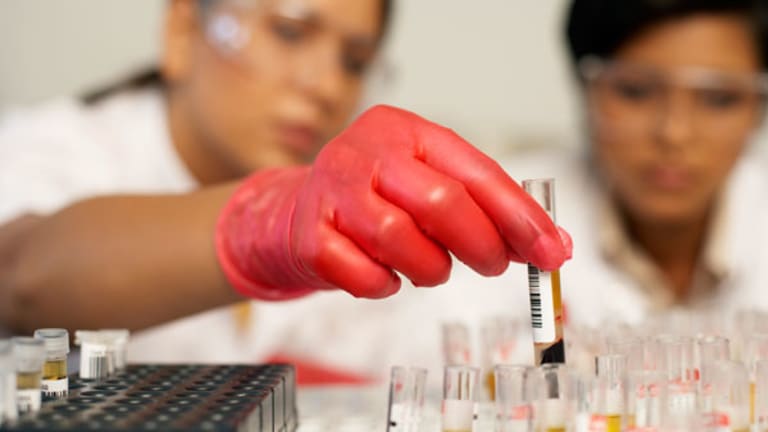 Feuerstein's Biotech-Stock Mailbag
What's up with Elan and Tysabri?
It's been a bit of a crazy week: a Monday holiday, the start of a new school for my kids and two days spent listening to company presentations at the Thomas Weisel Partners Healthcare conference. In other words, I'm offering an excuse for not having the time to answer reader email this week.
Sorry about that. Instead, here are some observations from the Weisel conference, which I hope are helpful. I'll get back to your email next week. And as always, please send me your questions and comments.
I won't be able to fit everything I learned at the conference into this column, but I'll focus on
Biogen Idec
(BIIB) - Get Free Report
,
InterMune
(ITMN)
,
SuperGen
undefined
and
ImmunoGen
(IMGN) - Get Free Report
.
Can Biogen Idec and
Elan
(ELN)
meet their stated goal of 100,000 Tysabri patients by the end of 2010?
That's the financial projection that stood out most to me when Biogen Idec presented at the conference Thursday. Tysabri is a very good drug for multiple sclerosis, but so far, it's being used in about 14,000 patients worldwide. Getting from here to 100,000 patients in three years seems like a tough task.
The payoff for both companies, were they to meet this goal, would be huge. Assuming an annual Tysabri treatment cost of around $24,000, having 100,000 patients on the drug suggests $2.4 billion in 2010 Tysabri sales. That's a very big number. To put the potential for $2.4 billion in Tysabri sales in perspective, consider that JPMorgan analyst Geoff Meacham -- a Biogen Idec bull -- has $1.25 billion in Tysabri sales modeled for 2010.
So, maybe this explains why Carl Icahn has taken a liking to Biogen Idec. To me, it's a more plausible explanation than the theory popular amongst some investors that Biogen Idec is a takeover target for Big Pharma.
I chatted briefly with Mullen after his Weisel presentation and he confirmed two things that make Biogen Idec less attractive to potential acquirers: 1) If there is a change of control at Biogen Idec,
Genentech
(DNA)
has the right to acquire the Rituxan franchise outright. 2) Similarly, if Biogen Idec is acquired, Elan has the option to acquire 100% rights to Tysabri.
Now, Elan may not have the financial strength to acquire Tysabri outright, but still, these provisions in the respective partnership agreements with Genentech and Elan certainly muddy the calculus any Big Pharma company may be working up for Biogen Idec.
On the flip side, Mullen repeated that he is not likely to pull the trigger on any M&A activity of his own in the near future. The company went looking for something to buy, but hasn't found anything to its liking. I asked him if that meant Biogen Idec passed on buying
PDL Biopharma
(PDLI) - Get Free Report
. He wouldn't answer me directly, but said they looked at "everything" with a market cap of $2 billion and under and found nothing attractive.
PDL's market is in the $2 billion range, so I guess Mullen sort of answered my question.
Regardless of what happens to Biogen Idec in the future, the stock, right now, is working -- up 35% year to date. At $66, the stock trades at around 20 times 2008 EPS estimates. That's a tad higher than the profitable biotech group as a whole, but not so much if investors are underestimating the company's earnings for 2008 and beyond.
InterMune's CEO Dan Welch sounded remarkably confident Tuesday when discussing the prospects for his company's hepatitis C drug candidate ITMN-191. On Tuesday, InterMune announced that European regulators have given the OK for the start of a phase Ib study of ITMN-191.
This will be the first clinical trial of the drug in patients with hepatitis C, and therefore, the first opportunity for investors to gauge the drug's real potential in the disease. ITMN-191 has looked impressively potent in test tubes, but efficacy in real people is another matter entirely.
The ITMN-191 program has been a bit slow to get to this point where the drug is ready for testing in hepatitis C patients. The reasons for this aren't entirely clear. There have been rumors of toxicity issues with the drug, which InterMune denies (although they refuse to discuss any specific toxicities associated with ITMN-191 when given to healthy volunteers in a previous phase Ia study).
During his Weisel remarks Tuesday, Welch took some jabs at
Vertex Pharmaceuticals
(VRTX) - Get Free Report
and its leading hepatitis C drug candidate telaprevir. Several times, Welch suggested that telaprevir had toxicity and tolerability issues that could make it an inferior drug to ITMN-191. On the efficacy front, Welch repeated once again the company's well-worn take-home message for investors that ITMN-191 is hugely more potent than telaprevir in preclinical models.
Welch could be right. Maybe ITMN-191 is going to be a better drug than Vertex's telaprevir. But it might be nice for Welch to show us some actual human data to back up his claims. At this point, we've seen nothing on ITMN-191. By comparison, telaprevir is looking pretty darn
good, not to mention the fact that the drug is way, way ahead of ITMN-191 in the race to be the first new hepatitis C drug approved in years.
I guess this makes me an InterMune skeptic until I see something tangible on ITMN-191 that suggests I should think otherwise.
Shares of SuperGen took a big hit in the beginning of August -- falling from $6 to $4 -- after the company's main competitor,
Pharmion
undefined
, announced positive data on its cancer drug Vidaza, which showed a significant
survival benefit for patients with myelodysplastic syndrome (MDS).
Sales and market share of SuperGen's MDS drug Dacogen are likely to drop in the coming months because it lacks comparable survival data.
While the Vidaza news clearly wasn't good for SuperGen, the stock's fall does set up a possible buying opportunity going into next year when SuperGen and marketing partner MGI Pharma are expected to release data from a Dacogen survival study in MDS patients.
Dacogen and Vidaza are very similar drugs (the latter metabolizes into the former once inside patients), so it's not a stretch to assume that if Vidaza can prolong survival in MDS patients, so too, can Dacogen.
At the Weisel conference Tuesday, SuperGen CEO Jim Manuso said the study set up to show a Dacogen survival benefit is ongoing, with data expected in the first half of 2008.
One worry: Is the Dacogen study powered strongly enough to show a statistically significant surival benefit? The Dacogen study doesn't enroll as many patients as the Vidaza survival study (cause for concern), although the Dacogen study doesn't need to detect as large a survival benefit to be successful.
The answer will be known next year. Until then, Vidaza has the marketing advantage so it's reasonable to expect SuperGen shares to be fairly rangebound. The company does have an early-stage pipeline of targeted cancer drugs that may yield value later on, but at this point, SuperGen shares are tied much more tightly to the future of Dacogen.
The Genentech presentation on Thursday was rather boilerplate. The company sent Robert Mass, a principal scientist involved with its Avastin franchise, to speak, so the discussion didn't stray too far from his area of expertise, with one exception.
Mass did heap praise on TDM-1, an early-stage cancer drug program that relies on technology from Immunogen. For what it's worth, Mass said Genentech was "very excited" about TDM-1 and was moving the drug into phase II studies for breast cancer. It was the only partnered drug program that Mass chose to highlight in his presentation.
Immunogen shares traded above $6 per share in early June in anticipation of clinical data on TDM-1 presented at the big
ASCO cancer conference. Naturally, the stock sold off after the conference and into the summer, and now trades around $5.
It may be a while before Genentech has more data to release on TDM-1, but for Immunogen shareholders, Thursday's presentation at least shows that Genentech remains quite interested in the drug.
Adam Feuerstein writes regularly for RealMoney.com. In keeping with TSC's editorial policy, he doesn't own or short individual stocks, although he owns stock in TheStreet.com. He also doesn't invest in hedge funds or other private investment partnerships. Feuerstein appreciates your feedback;
to send him an email.