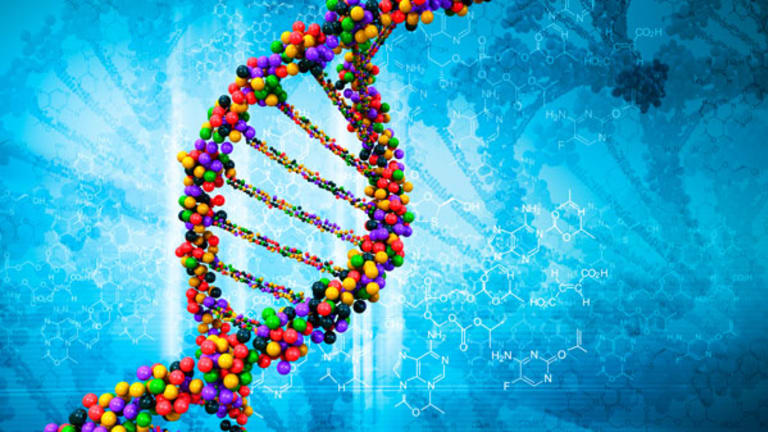 Feuerstein's Biotech-Stock Mailbag
This week, questions on Vertex Pharmaceuticals, Novacea and more.
Saturday has arrived, which means it's time to open the Biotech Mailbag once again. This week, I'll cover questions about Transition Therapeutics (TTHI) , Vertex Pharmaceuticals (VRTX) - Get Free Report, Novacea (NOVC) and Alfacell( ACEL).
Let's start with a question about Alzheimer's disease drugs. Peter R. asks: "I was wondering if you have any opinion on Transition Therapeutics? ... What is interesting is
Transition's Alzheimer's drug, which is in phase II fast track. It is partnered with
Elan
(ELN)
on this drug, and Elan seems more excited about this partnered drug than some of the other Azheimer's drugs that Elan is also working on."
The drug in question is called ELND-005, and while still in phase I testing, the drug's early data showed enough potential to attract the attention of several big companies with aggressive Alzheimer's disease programs.
Last year, Transition inked a favorable partnership with Elan to co-develop ELND-005. While I'm not sure Elan is more excited about ELND-005 than it is about the other Alzheimer's drugs in its deep pipeline, Elan executives have talked up about the drug's potential.
All this is good for Transition Therapeutics, which is a company that should be on the radar screen of any biotech investor interested in the Alzheimer's disease field.
Now, a glance at Transition's stock chart shows that the easy money for investors was made in the second half of last year. Moving ahead, catalysts for ELND-005 become a bit scarcer in the near term.
On its July 26 quarterly conference call, Elan executives said a phase II study of ELND-005 should begin by year's end. If that study follows normal course, it will involve 18 months of dosing in Alzheimer's patients to determine the drug's ability to modify the course of the disease. This means new data on ELND-005 might not be ready until deep into 2009.
Transition has begun the process of transitioning from the Toronto Stock Exchange to the Nasdaq. When that switch occurs, the stock should receive greater attention from U.S. investors.
ELND-005 is believed to work by interfering with the process in which protein fragments in the brain clump together to form plaques. These plaques damage nerve fibers in the brain that lead to the reduced cognition and memory problems that are the hallmark of Alzheimer's disease. ELND-005 is designed to work itself between these protein fragments, preventing them from coming together and allowing them to be cleared from the body.
Ted C. read this week's
column on Vertex Pharmaceuticals and worries about the safety of its hepatitis C drug telaprevir.
"What's the potential for Vertex's hepatitis C drug to run into the same type of problem in combination therapy that troubled
Viropharma's
(VPHM)
drug?"
Ted is right to be worried about the safety of any new hepatitis C drug. Telaprevir is no exception. In fact, Vertex shares were weak for much of this year because of anecdotal reports of severe rash in patients taking the drug in clinical trials.
I didn't discuss safety risk in my Vertex column, but not because it doesn't exist. With that said, telaprevir (in combination with currently approved hepatitis C drugs) has been dosed in patients for up to 12 weeks with no reports of toxicity or side effects serious enough to put a stop to clinical trials (as what happened to Viropharma).
The tolerability and side effects of telaprevir is still an issue, but at this point, I think there is confidence that safety will not permanently derail telaprevir. (I'm knocking on wood.)
Larry R. is a frustrated Novacea shareholder, and he's taking it out on me.
"I get it now. You guys are short Novacea and have been pumping lies at it," he writes. "So, you assess Novacea on the valuation of its agreement with
Schering-Plough
( SGP) as the only valuation on which to consider the stock (and under-assess it at $330 million), making it seem as they are fairly valued at 9 when they just went to 17 and have analysts saying fair value is 15 or so ...
"You ignore Schering-Plough's investment as though their folks are total idiots next to you and just love to piss away hundreds of millions of dollars on drugs that show no promise. I have seen you hedge-fund-related bull#$%@ artists operate. I am steering clear now. You will attempt to pump the system with lies to get your desired result."
Larry's tirade was prompted by my
posted Tuesday night on
RealMoney
that raised concerns about Novacea's decision to increase the number of patients in the phase III trial of the prostate cancer drug Asentar.
For those who missed it, here's what I wrote:
Novacea says the decision to super-size the trial was made to increase the odds that the trial produces a meaningful clinical benefit in favor of Asentar. In this case, that means a survival benefit. Now, I'm no biostatistical expert, but yes, I see how more patients could increase the statistical power of a clinical trial and therefore improve the chances for positive results. But to me, it also raises the possibility that 1) Novacea is concerned about Asentar's ability to boost survival in prostate cancer patients, or 2) that any survival benefit produced in the study will be numerically small (and clinically meaningless) while still being statistically significant. Of course, adding more patients to a trial also delays the timing of data. For Novacea, investors were already hating the fact that we weren't going to get phase III results until the end of 2008. Adding another 300 patients to the study will push that time line back.
On Wednesday, the first trading day after the Novacea announcement, shares fell 82 cents, or 9%, to $8.23. Perhaps my cautious words were correct?
I'm an easy target for Larry's anger. I understand that. But go back and read my previous comments on Novacea. If you do, it's hard to argue that I'm "pumping lies at it," as Larry claims. Read the July 7
issue of the Biotech Mailbag, for starters, where in response to another of Larry's emails, I lay out a case for Novacea being undervalued at $9 per share:
By my calculations, I get an enterprise value for the company in the range of $140 million to $230 million. As I write this, Novacea trades around $9, which gives it an enterprise value of $158 million. In other words, there is more room for upside than downside in Novacea's stock today.
After Larry calms down, he may realize that I'm not the bogeyman here.
Mike C. is my favorite reader this week: "Is there a way to bookmark your commentary so I can go to it periodically? I know how to access
TheStreet.com
, but navigating from there directly to you is challenging."
Periodically? C'mon Mike, how about checking in every day?
My columns are available via an RSS feed. Postings in the Columnist Conversation on the
RealMoney
site are not collected, but you will be able to easily access all my columns once they are posted. For more information and to subscribe to my feed, go
.
Claude H. writes in to say that he "noticed that Alfacell is missing on the list of companies for phase III trials. Alfacell is about to complete its confirmatory phase IIIb trial, and so far the interim results look promising. Could you offer your opinion on this company?"
The omission of Alfacell from my
list of companies with pending phase III trial results was accidental. With that said, I'd steer way clear of an Alfacell investment.
Alfacell has been trying to develop Onconase as a treatment for malignant mesothelioma for years. The drug is a natural protein derived from leopard frogs that is supposed to trigger apoptosis, or cell death, in cancer cells.
An old phase III clinical trial of Onconase failed to improve survival in mesothelioma patients compared with the chemo drug doxorubicin, although the company data-mined some positive survival data from a subgroup of patients.
A second phase III study based on this patient subgroup analysis has been running for years, beset by numerous delays with enrollment. Results are expected later this year.
Claude says that interim results (released in April 2006) from this second phase III trial were promising, but that's just not true. The combination of Onconase plus doxorubicin resulted in only marginally better survival than doxorubicin alone, and the results were not statistically significant. The odds that final results come in any better are pretty small.
Adam Feuerstein writes regularly for RealMoney.com. In keeping with TSC's editorial policy, he doesn't own or short individual stocks, although he owns stock in TheStreet.com. He also doesn't invest in hedge funds or other private investment partnerships. Feuerstein appreciates your feedback;
to send him an email.