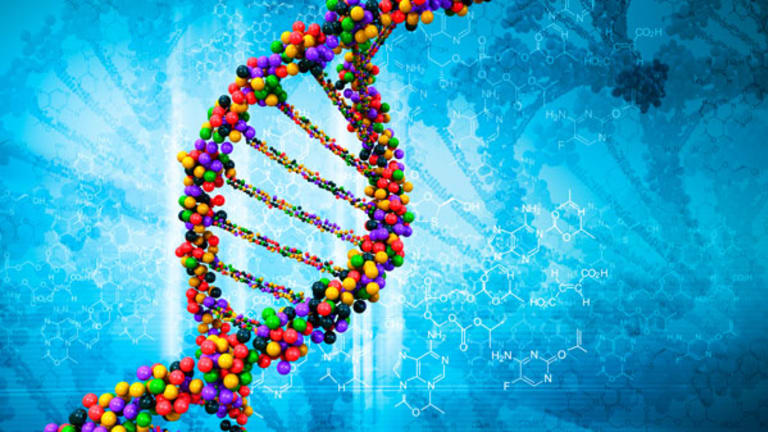 Feuerstein's Biotech-Stock Mailbag
The Novacea story, Millenium Pharmaceuticals potential and Satraplatin's impact.
It's Saturday, so time for another Biotech Mailbag. As always, send your rants and raves
here.
Several readers have inquired about
Novacea
(NOVC)
and its drug Asentar. Judging by the anguished tone of their emails, I get the sense that many bought the stock
after
it nearly doubled overnight to $15 on May 30. The big move was triggered by a very nice Asentar partnership signed between Novacea and
Schering-Plough
( SGP).
Unfortunately, the stock hasn't been able to sustain the momentum. One month later, it has dropped more than 30%, all the way back down to around $10.
I missed a chance to write about Novacea before the Schering-Plough deal, so I can't say I'm unhappy about the stock's retrenchment. I believe Asentar is a compelling drug for the treatment of prostate cancer, on the basis of the data generated to date. The Schering-Plough partnership is a big positive, and management deserves kudos for promising a deal and then actually delivering one (the latter accomplishment being something sorely lacking in biotech circles).
But (and yes, there is always a "but") the next big event for Novacea is going to be data from its ongoing pivotal phase III trial of Asentar. That's not expected before the end of 2008 -- a long time from now.
That's a big reason behind the pullback in the stock. (I also believe momentum investors went a bit crazy on May 15, too.) For those who already own Novacea, patience will be required. For those who are not yet in the stock, it deserves another look, because the risk/reward is compelling.
Joe N. writes to ask about
Millennium Pharmaceuticals
( MLNM). He met recently with management, and they seemed very bullish. This leads him to wonder if there are new reasons for investors to get excited about the company's prospects.
It's fun (sometimes) to go back and read old columns to see if what you wrote back then is still true today.
In December 2004, I wrote a
column titled "Millennium's Future Remains Cloudy," which basically argued that the biotech firm was relying too heavily on its multiple myeloma drug Velcade. Millennium's growth rate was slowing, the research-and-development pipeline wasn't advancing fast enough, and as a result, the stock price was languishing around $12 per share.
If I wrote the same column today, I don't think I'd have to change much, unfortunately. Velcade is still an important drug in multiple myeloma, but its growth has been stunted by Revlimid, a competing drug from
Celgene
(CELG) - Get Report
.
Millennium has followed through on its promise to cut costs and achieve profitability, but just barely. Revenue growth remains basically flat to down.
As for its drug pipeline, let's just say that Millennium has a lot to prove before investors get excited. The new R&D focus is on drugs to treat oncology and inflammation, but historically, Millennium has not done a good job advancing internally developed drug candidates into the latter stages of clinical trials. To be perfectly blunt, the company's track record is wretched, especially given its size and resources.
This is not meant to write off Millennium altogether, just to say that it's a biotech company -- and a high-profile one at that -- which has not lived up to its potential. Maybe there is something in the R&D pipeline that will change Wall Street's perception of the company. At this point, however, Millennium has to deliver before investors start to believe.
That's clear by looking at Millennium's current stock price of around $10 per share, lower than it was when I wrote that old column two-and-a-half years ago.
Back to the subject of prostate cancer drugs, Ali M. writes to ask whether
Spectrum Pharmaceuticals
(SPPI) - Get Report
stands to benefit if or when the FDA approves the prostate cancer drug Satraplatin.
The quick answer is yes.
There are two other primary stocks tied to Satraplatin. The drug will be marketed in the U.S. by
GPC Biotech
( GPCB). European rights are controlled by
Pharmion
( PHRM), which licensed it from GPC. As for Spectrum, it licensed the drug to GPC originally, so it will receive a low-double-digit royalty on global sales (as well as cash milestone payments).
I wrote about Spectrum in the April 7
Mailbag
, so check that out. What I said then was that at $6-$7 per share, I felt like the stock was essentially pricing in the company's Satraplatin opportunity. That doesn't mean, however, that Spectrum won't see a bump if or when Satraplatin is approved.
Coming out of the big ASCO cancer meeting, the feedback I got from doctors was that Satraplatin should be approved, but there were mixed feelings about the drug's clinical benefit. Translation: There are worries about just how much of the drug will be prescribed and used, which could pinch revenue.
There are a couple of important dates to put on the calendar for satraplatin: There will be an FDA advisory panel July 24 to review the drug. The FDA's approval decision date is Aug. 15.
While Spectrum's value is tied somewhat to Satraplatin, the more important driver for the stock will be new clinical data coming in the third quarter from its drug ozarelix, which is being developed to treat enlarged prostate.
Uh-oh, another
Dendreon
(DNDN)
question, this one from Maxim J. "Have you heard anything about Dendreon increasing the size of their IMPACT study to 600 patients?"
Yes, I heard the same unconfirmed chatter, loudest around the time of the company's recent debt offering. I'm actually surprised it hasn't happened yet. Dendreon raised the cash it needs to survive in the short run, so why not add more patients to the IMPACT trial? As most of you know, this phase III study -- still enrolling patients -- will determine whether or not Provenge is approved.
More patients could help the study succeed, although it might also delay the release of data. As it stands, it's my belief that Dendreon will have a very tough time showing a statistically significant survival benefit in favor of Provenge at the interim analysis. This is a risk that's not recognized by many retail investors who are obsessed with this cult stock, in my opinion.
An institutional investor who met with Dendreon CEO Mitch Gold recently tells me that he asked about increasing the size of the IMPACT study, but Gold said it wasn't in the company's plans.
Dendreon, of course, has become the zaniest cult stock in biotech -- I think it might even be crazier than
Elan
(ELN)
these days -- so the drama will continue well into next year, when IMPACT data should be available.
My son, Graeme, turned 7 years old today. Happy birthday, little skate dude! I love you.
Please note that due to factors including low market capitalization and/or insufficient public float, we consider Novacea and Spectrum Pharmaceuticals to be small-cap stocks. You should be aware that such stocks are subject to more risk than stocks of larger companies, including greater volatility, lower liquidity and less publicly available information, and that postings such as this one can have an effect on their stock prices.
Adam Feuerstein writes regularly for RealMoney.com. In keeping with TSC's editorial policy, he doesn't own or short individual stocks, although he owns stock in TheStreet.com. He also doesn't invest in hedge funds or other private investment partnerships. Feuerstein appreciates your feedback;
to send him an email.