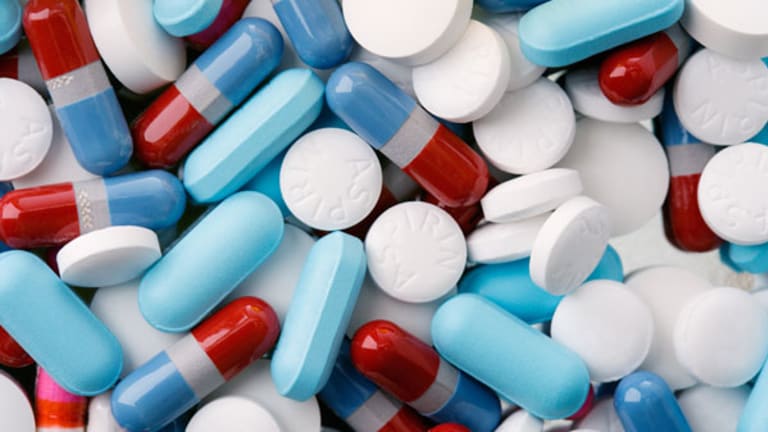 Feuerstein's Biotech-Stock Mailbag
Could Biogen Idec buy PDL BioPharma?;TNFerade doesn't spark confidence; YM BioSciences' nimotuzumab may be for real.
Welcome back to the Biotech Mailbag, the post-ASCO edition.
I returned home Tuesday from five days in Chicago at the annual meeting of the American Society of Clinical Oncology. I'm still trying to catch up on sleep and work though a lot of unanswered email, but let's hope this column takes care of some of your unanswered questions. As always, email me
.
There will be no mention of cancer drugs in next week's mailbag. I promise. I think cancer needs a rest, and so do you, probably.
Hedge fund manager and activist investor Daniel Loeb of Third Point has been dipping his pen into the poison inkwell often these days to excoriate
PDL BioPharma
(PDLI) - Get Report
CEO Mark McDade.
Loeb wants McDade's hide on the wall and he hasn't been shy about letting everyone know that the company needs to shape up or be sold.
The run in PDL stock from the midteens to the mid-20s seems to reflect investor sentiment that Loeb will get his trophy, and if new management is put in place, there could be some kind of deal for the company to follow.
So, who might be interested in buying PDL? How about
Biogen Idec
(BIIB) - Get Report
?
That's the guess of a friend, an institutional broker, who is admittedly long PDL. In other words, he's not a disinterested party to this story. But his argument seemed logical enough to repeat here.
The two companies are already partnered on several pipeline drugs, including daclizumab in multiple sclerosis and volociximab, an antiangiogenic cancer drug that hits different molecular targets than
Genentech's
( DNA) Avastin.
There was some early clinical data on volociximab presented at ASCO last week, and at a PDL-sponsored meeting, Biogen Idec's head of oncology research, David Parkinson, was there and did a lot of the talking.
PDL is best known for its humanized monoclonal antibody technology, an expertise that Biogen Idec might find valuable. It also would be profitable, given that PDL derives its existing revenue and profits from royalties paid by companies like Genentech and
Medimmune
( MEDI), which utilized PDL technology in the development of drugs like Avastin and Synagis, respectively.
And how's this for a twist of fate: If Biogen Idec acquired PDL, Genentech would be contractually obliged to pay royalties to Biogen Idec. That's one way of getting some measure of payback for an existing relationship between the two companies that decidedly favors Genentech.
I know everyone is all hot for cancer immunotherapy and gene therapy these days, but
GenVec
(GNVC)
? I'm not feeling that one.
The company presented some updated phase II/III data on its pancreatic cancer drug TNFerade over the weekend. Monday, the stock tanked. On Wednesday, GenVec management held a conference call with investors to go over the ASCO data in more detail and clear up what they felt might have been some investor misperceptions.
Well, I stood in front of the TNFerade poster in Chicago for quite some time and it just didn't fill me with confidence. Sure, there appears to be a survival benefit in favor of TNFerade, but we'd seen this data already and it's derived from very few patients.
More troubling to me was the rest of the poster. TNFerade didn't induce any tumor shrinkage at all. In fact, the control arm of the study performed better. There were also all kinds of patient dropouts and missing data.
Now, GenVec management and TNFerade believers say the data presented at ASCO are just a single snapshot of the drug's potential efficacy. In pancreatic cancer there is no correlation between tumor response and a survival benefit at one time, so don't worry too much. Over time, TNFerade's efficacy will shine through and a survival benefit -- not tumor shrinkage -- is all that matters, they insist.
Fine. I hear that. I don't want to be overly skeptical or negative. But it would be comforting to see TNFerade doing something to the tumors, wouldn't it? These kinds of drug development programs are so high risk, it's like a roll of the dice. Is it possible to offer something more concrete to hang an investment on other than, "Trust us, our drug works, even though we don't know why?"
I'm not averse to risk-taking. Heck, that's what biotech investing is all about. To prove my point, take another look at
YM BioSciences
( YMI) and its EGFR-inhibitor drug nimotuzumab.
This is a stock that still trades near cash (it closed Friday at $1.80), yet data presented this weekend at ASCO suggests that nimotuzumab, or "nimo" for short, has the potential to be a real drug.
Let's put the ugly stuff up front: YM BioSciences is better known in biotech circles by its ticker symbol YMI, as in "Why am I invested in this dog of a stock?" A breast cancer drug under development blew up last year, which didn't exactly bolster the company's track record.
But nimo is interesting. In form and function, nimo is in the same class as
ImClone's
(IMCL)
Erbitux, but without causing the nasty skin rash. This also makes nimo controversial because conventional wisdom says that with EGFR inhibitors, rash equals potency equals efficacy. That might mean that if nimo equals no rash, nimo might also equal a big fat zero.
But this orthodoxy over EGFR and rash is being challenged. Dr. Leonard Saltz, a colon cancer expert who spearheaded Erbitux's development, sits on YM's scientific advisory board. A phase II study of nimo in colon cancer patients is being conducted in Canada, which should give us an answer to the basic question of whether nimo can work without rash. Data should be ready in late 2008.
Meantime, YM and its partners are moving nimo forward as a potential therapy for kids suffering from severe brain tumors. This was the data presented at ASCO, and it was encouraging. Some of the kids had a life expectancy of just four weeks, yet treatment with nimo resulted in some tumor shrinkage and a meaningful extension of survival.
It's too early to say with any definitive confidence that nimo is a real drug, but YM and its partners are moving the drug forward and the early signs are encouraging. And with a stock price of $1.80 and about $1.30 per share in cash, it's not a huge bet to make.
The last word belongs to
Arqule
(ARQL) - Get Report
and
Exelixis
(EXEL) - Get Report
. Both companies presented data at ASCO on their respective c-met inhibitor drugs. C-met is one of the more buzz-worthy cancer targets these days.
There is just so much you can glean from phase I studies, but in this case, both drugs -- Arqule's ARQ197 and Exelixis' XL880 -- performed well. The latter looked like it had a bit more efficacy, but also more toxicity.
A possible explanation for this is that XL880 is a so-called multikinase inhibitor, which means it works against multiple molecular targets. By comparison, ARQ197 is more selective, targeting only c-met.
Still, getting any tumor response in a phase I trial is encouraging. Both drugs passed that hurdle and both drugs are advancing into phase II trials.
The last, last word: Biotech stocks took it on the chin this week, with big-caps like
Celgene
(CELG) - Get Report
and
Gilead Sciences
(GILD) - Get Report
taking a particularly hard hit on Thursday.
In addition to the general market reaction to inflation fears and bond worries, biotech investors should remember that we're entering the summer doldrums -- that period of slumping stock prices, slow news flow and lack of excitement -- that usually begins soon after ASCO and doesn't let up until the fall.
It's been a great year for investors in Gilead and Celgene, in particular, so I'm not too surprised to see some profit taking. And many small- and mid-cap cancer stocks ran up into ASCO, so again, a postmeeting selling period is not a shocker.
Fundamentally, the sector looks fairly healthy to me. The slow summer can be a good time for opportunistic investors to pick up biotech stocks on sale, so keep your eyes open for bargains.
Adam Feuerstein writes regularly for RealMoney.com. In keeping with TSC's editorial policy, he doesn't own or short individual stocks, although he owns stock in TheStreet.com. He also doesn't invest in hedge funds or other private investment partnerships. Feuerstein appreciates your feedback;
to send him an email.