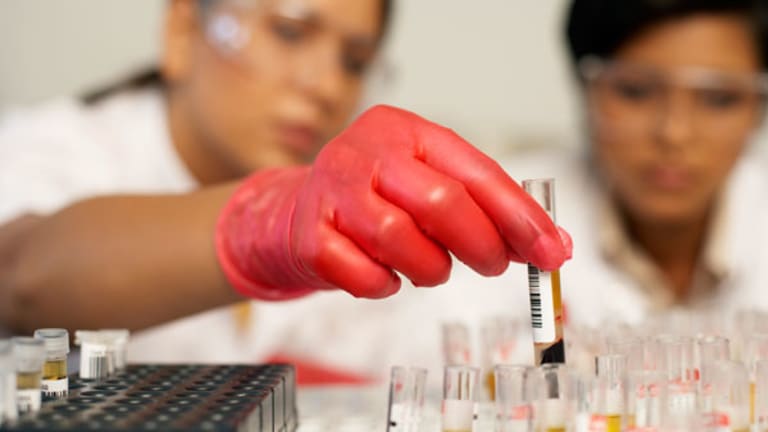 The Biotech-Stock Mailbag returns once again. I'm here to answer your questions on all things biotech, so please drop me a line
here.
Reader Will S. asks about
Genitope
(GTOP)
. "Another company with spotty fundamentals, but possibly a breakout cancer vaccine," he writes, adding that "I think it's the next
Dendreon
(DNDN)
."
I actually wrote this mailbag a week in advance because I needed a few days off this week, so Will's letter is a bit old. Given the Dendreon news Wednesday, I'm sure he doesn't want Genitope to be the next Dendreon anymore!
But it may not have any choice. I have serious doubts about Genitope and its cancer vaccine, known as MyVax, that is currently involved in a phase III trial of follicular non-Hodgkin's lymphoma patients.
This MyVax study essentially (not directly) pits the vaccine against
Genentech's
( DNA) Rituxan, which is a monster drug in non-Hodgkin's lymphoma. That always seemed ridiculous to me, and I never had any faith in a positive outcome.
But I really want to detour a bit because any discussion of Genitope has to touch on Jonathan Aschoff, the biotech analyst at Brean Murray, Carret & Co. These days, Aschoff is best known -- some would say notorious -- for his bearish stance on Dendreon. He hates Provenge, thinks the product doesn't work and won't ever receive FDA approval. He has a sell rating on Dendreon and a flinty $1.50 price target.
Well, Aschoff was right about Provenge this week.
Needless to say, Aschoff is not exactly admired by the Dendreon faithful! (He may actually get more hate mail than I do.)
Now, I like Aschoff, and I think he's a good, skeptical analyst, not afraid to wield a sell rating like so many of his sell-side peers. We disagreed on Dendreon, but that's ok. He did well by his clients this week, so he deserves congratulations.
Getting back to Genitope, Aschoff was a huge table-pounder for the company. He loved Genitope, was hugely bullish on MyVax and thought the phase III trial was going to be a big success.
In Genitope, Aschoff found a cancer vaccine company that even a natural-born skeptic could love.
Notice the past tense there? Well, Genitope has issued a few blinded interim analyses of the MyVax study, none positive. The trial continues, but the odds for a successful outcome seem slim. Aschoff initiated coverage of Genitope in December 2003 with a price target of $27. On April 20, he downgraded the company to a sell (after stopping at hold for awhile) with a new price target of $1. (The stock currently stands at $3.55.)
So, while Aschoff is taking a victory lap this week, he's only batting .500 when it comes to cancer vaccine stocks. I wouldn't want his ego to swell.
Stan C. asks about
Immunogen
(IMGN) - Get ImmunoGen, Inc. Report
, his favorite biotech stock. "It is a cancer stock that really hasn't participated in the cancer investment craze. It has an interesting drug platform and numerous large partners. A buyout seems inevitable if they can get near an approval. What do you think?"
Immunogen owns a drug technology that links a monoclonal antibody that seeks out and attaches itself to receptors found only on cancer cells, with a potent cell-killing agent, that once inside a cancer cell, kills it. Think of it as a heat-seeking missile for cancer.
Great concept, but application and validation of the technology has been very slow, of which Stan makes note.
Genentech is an Immunogen partner on a drug called Herceptin-DM1, which is basically Genentech's breast cancer drug Herceptin linked to Immunogen's cancer-cell killing agent. This has been a very slow-moving drug program, but Genentech did talk up Herceptin-DM1 at its recent investor-day meeting, and there will be new phase I data presented at the American Society of Clinical Oncology meeting next month.
"I have a question regarding
Nymox Pharmaceutical
(NYMX) - Get Nymox Pharmaceutical Corp Report
," writes Tim W. "I was wondering what your thoughts were on their NX-1207 drug for BPH. Nymox has been on the move in the past few months and word has it that NX-1207 could be a big drug for them."
I looked into Nymox and didn't like what I saw. If you want a small-cap biotech company with a pipeline drug to treat BPH, or benign prostatic hyperplasia (an enlarged prostate), I definitely prefer
Spectrum Pharmaceuticals
(SPPI) - Get Spectrum Pharmaceuticals, Inc. Report
. Another choice would be
Aeterna Zentaris
(AEZS) - Get Aeterna Zentaris Inc. Report
.
With
Spectrum, you also get the added benefit of a potential royalty stream from the prostate cancer drug Satraplatin, which could be approved by the FDA later this year. And this week, the company announced the start of a phase III trial of its drug Eoquin in noninvasive bladder cancer. I have no idea if Eoquin is a real drug, but its success is not figured into the stock price at all, so you get it for free.
Nymox is way too speculative for my taste and way too opaque about what its BPH drug, NX-1207, is really doing. I can't find any information on the drug's target or mechanism of action. The data released to date seems positive, but it's all in company press releases and from small trials. Nymox claims to be running a "pivotal" phase II study, but what does that mean? Will they file on phase II data? Sounds fishy to me.
And another thing I hate -- companies that issue press releases to hype potential partnerships that don't yet exist. Nymox has a nasty habit of doing just that.
And still more: Nymox claims to have a patent on the use of statins to treat Alzheimer's disease. Really? That must be news to Big Pharma, which actually sells statins.
Maybe I'm wrong. Maybe I'm being too critical. But Nymox doesn't pass the smell test.
Juan is not a fan, apparently. He writes, "I think you are out of your mind. Why do you approach everything so negatively? Some of us with some of these illnesses care to hear something positive and for sure we don't get it from you."
Negative? Me? I prefer to think of myself as appropriately skeptical. But yes, sometimes that requires a certain amount of negativity, as in writing that Drug X doesn't work. Wishful thinking or positive thoughts won't change that.
That's not to say I can't sympathize with those who suffer with disease. I absolutely do. But I write about biotech stocks, and we all know that requires a healthy dose of realism. Too many drugs -- and drug companies -- go bust for me to be any other way.
Please note that due to factors including low market capitalization and/or insufficient public float, we consider Genitope, Immunogen, Nymox Pharmaceutical, Spectrum Pharmaceutical and Aeterna Zentaris to be small-cap stocks. You should be aware that such stocks are subject to more risk than stocks of larger companies, including greater volatility, lower liquidity and less publicly available information, and that postings such as this one can have an effect on their stock prices.
Adam Feuerstein writes regularly for RealMoney.com. In keeping with TSC's editorial policy, he doesn't own or short individual stocks, although he owns stock in TheStreet.com. He also doesn't invest in hedge funds or other private investment partnerships. Feuerstein appreciates your feedback;
to send him an email.