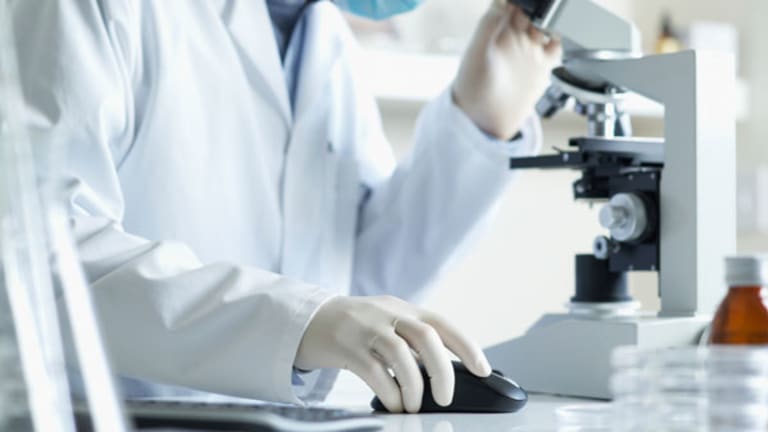 Feuerstein's Biotech Mailbag: ImClone
Understandig the drug-rights fight between ImClone and Bristol. What about Sangamo's drug for treating diabetic nerve damage? And a big fat zero for Mannkind.
This column originally posted on
RealMoney.com
at 6:59 a.m. EDT. For more information about subscribing to
RealMoney
, please click here.
Welcome back to the Biotech Mailbag. What a week, eh?
The biotechs were holding up fairly well on Monday and Tuesday, but then came Wednesday, and, well, it's a day I'd rather forget. For me, the worst was seeing big-caps sell off hard. I expect to see tons of downward pressure in more speculative, small-cap biotechs, but
Celgene
(CELG)
was down 8% on no news (other than a collapsing global financial market, of course), and
Genentech
( DNA) fell from $93 to $89 on fears that
Roche
wouldn't be able to raise enough debt to complete its planned acquisiton.
When you see stuff like that, it's means there is panic in the market, and big funds are being forced to sell the good with the bad. It goes right along with all the rumors of various health care funds liquidating as they go out of business.
Thursday wasn't much better. As I finish up this column at midday, the markets overall are rallying just a bit, but the biotech sector is still lagging. And again, there is very heavy selling pressure on big-caps -- Celgene,
Gilead Sciences
(GILD)
,
OSI Pharmaceuticals
( OSIP) and
Amgen
(AMGN)
.
When I was finally able to peel my eyes from my computer screen Wednesday night (it was like watching a bad horror flick -- you don't want to watch, but you must), I reminded myself that a Wall Street meltdown doesn't stop people from getting sick, nor does it lessen the need for new, life-saving drugs. In other words, Lehman and Merrill and AIG and whoever is next to blow up can't derail biotech forever.
Moving to your emails. First up, Raji N.
"In August, you wrote that
Bristol-Myers Squibb
(BMY)
would have to raise the takeover offer for
ImClone Systems
(IMCL)
from $60 to $70 a share. Yet today, ImClone is trading around $60. Why doesn't the market believe that ImClone is worth more money? Have you changed your mind about ImClone?"
Raji sent me this email on Tuesday. I wonder how he felt Wednesday when the stock closed at $57.63!
I've tempered my view on ImClone because of the latest twists to the story, most notably Bristol's claim that it has rights to the
follow-up on drug IMC-11F8. That claim, to me, is a game-changer and gives the negotiating edge to Bristol, not ImClone.
For those without a
RealMoney
subscription, this is what I wrote on Sept. 11, minutes after Bristol's CEO made public the letter written to ImClone's Chairman Carl Icahn in which
said it had no intention of raising its $60-a-share bid and claimed rights to IMC-11F8:
"Let me explain a bit more about the importance of BMY's claim to IMC-11F8. As I said, the drug is a fully humanized version of Erbitux, which means that it won't cause the severe allergic reactions that occur in some patients who take Erbitux. Theoretically, IMC-11F8 should also be equally effective. By claiming 100% rights to IMC-11F8, IMCL held an important bargaining chip over BMY. IF IMCL were to be acquired by someone else and they gained control of IMC-11F8, it could conceivably decimate the Erbitux franchise. (Docs would presumably rather use IMC-11F8 than Erbitux.) But if BMY, in fact, does have marketing rights to IMC-11F8, that makes IMCL a lot less attractive to an outside suitor and strengthens BMY's position. Now, clearly, IMCL is going to assert that BMY has no rights to IMC-11F8. That's been their position for some time. Who decides? I guess the courts, ultimately, if it gets that far. But if I were a potential suitor for IMCL, wouldn't I be a bit nervous now that I know that one of the big assets I thought I was buying outright may not be 100% mine after all?"
I know that Icahn says he has a mystery pharmaceutical company in his pocket willing to offer $70 a share for ImClone, but c'mon. Given Icahn's shenanigans with
Biogen Idec
(BIIB)
, it's not inconceivable that the dealmaker extraordinaire is simply bluffing in the hopes that Bristol raises the bid. On Tuesday, Bristol's CFO was quoted saying the company could walk away from its ImClone offer.
Clearly, there is a lot of posturing and bluster on display here from both sides. At the end of the day, an equitable deal should be struck. Back in August, I
said $70 a share makes sense, because that's what Bristol paid for its original ImClone stake, but I also said a compromise price in the mid-to-high $60s was more likely.
That still seems plausible to me, although when you read the current Erbitux partnership agreement between Bristol and ImClone, it makes a strong case for Bristol also having rights to IMC-11F8. That should give any other bidder great pause, and it strengthens Bristol's bargaining position.
Cory M. writes: "What happened to
Sangamo BioSciences
(SGMO)
? The company put out great data in diabetic neuropathy but the stock went down on the news. I know there's some skepticism about the company, including from you, but I thought this strong data would have been more convincing."
Two problems: The data weren't complete, and Sangamo got caught in a nasty market downdraft.
The phase II study enrolled 27 patients with diabetic neuropathy (blocked nerves) affecting their legs. Seventeen patients were treated with Sangamo's drug SB-509, and 10 patients were treated with a placebo. Patients were treated on days 0 and 90, with follow-up through 180 days.
Sangamo, however, reported data Monday on just a subset of 16 patients -- 12 given SB-509 and four treated with placebo -- who had blocked sural nerves.
The sural nerve is one of the big nerves running down the leg into the foot and is significantly affected by diabetic neuropathy.
The subset analysis showed a positive, albeit not statistically significant, trend in favor of SB-509. Seventy-five percent of SB-509 patients with blocked sural nerves showed evidence of recovered nerve function, compared with 25% of the placebo patients. (Why one of four placebo patients responded is a bit of mystery, isn't it?)
What about the other 11 patients in the study? How did these patients, presumably without blocked sural nerves, respond to SB-509? This isn't a trivial question. In the real world and in later clinical studies, diabetic neuropathy patients are going to present themselves with all combinations of blocked nerves, so why did Sangamo choose not to release the data?
Perhaps Sangamo thinks it can get more bang for the buck by dribbling out results from this phase II study over time. I think the withholding of data shows a lack of transparency. If Sangamo has the data -- and I assume the company does, because the full 27 patients completed the 180-day follow-up -- then show us all the numbers, not just the data that put the drug in the best light.
At Wednesday's close of $6.91, Sangamo is down almost 50% from its high for the year in May. The stock hasn't traded this low since around May 2007. Clearly the company has made significant, positive progress in both its agricultural and drug development businesses since then, so the extreme drop, especially lately, has the feel of someone being forced to liquidate.
Sangamo is expected to have more diabetic neuropathy data on SB-509 available later this year. If it's more complete and continues to show a positive trend, the stock should rebound.
Steven P., ever the optimist, asks, "Can
Mannkind
(MNKD)
succeed with inhaled insulin where
Pfizer
(PFE)
and
Nektar
(NKTR)
failed?"
I have a few simple rules about biotech companies, one of which is, "Don't trust a company named after its founder." In this case, Al Mann equals Mannkind equals a no-no.
We know that inhaled insulin is technically feasible and FDA approvable because Pfizer and Nektar were successful on both counts with Exubera. But we also know that there isn't a market for inhaled insulin. Exubera flopped commercially, forcing Pfizer to ditch the product.
Now, perhaps Mannkind's Technosphere inhaled insulin is superior in some way to Exubera, and the device Mannkind will have patients use to inhale the insulin will be smaller and more convenient than the enormous, bong-like contraption Pfizer and Nektar foisted on diabetics.
I have my doubts, enough so that I don't see Mannkind as a worthy place for biotech investing dollars right now.
At the time of publication, Feuerstein's Biotech Select model portfolio was long Genentech, Celgene and Gilead.
Adam Feuerstein writes regularly for TheStreet.com. In keeping with TSC's editorial policy, he doesn't own or short individual stocks, although he owns stock in TheStreet.com. He also doesn't invest in hedge funds or other private investment partnerships. Feuerstein appreciates your feedback;
to send him an email.