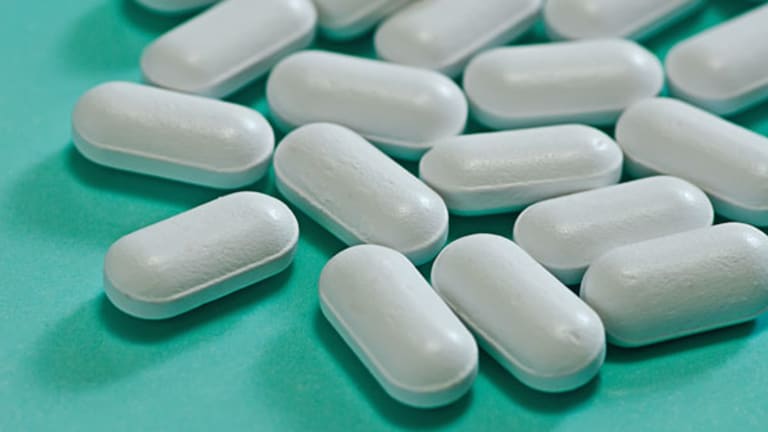 Feuerstein's Biotech Mailbag
Less on Dendreon, sort of; Provenge déjà vu, GenVec and Medarex, at last.
Welcome back to the Biotech Mailbag, where this week, thankfully, we won't be talking about
Dendreon
(DNDN)
(directly, at least, as you'll see below). But a Dendreon-free mailbag can still be fun and informative, right? Remember to
email me here.
Mike W. writes, "What is your opinion on DORB? Will OrBec be approved?"
Mike is referring to minuscule market-capped
DOR BioPharma
(DORB)
and its drug OrBec, which goes in front of the Oncologic Drug Advisory Committee of the Food and Drug Administration on May 9.
I've actually received a bunch of email about DOR since the Dendreon advisory panel last month because there are similarities between the two companies. DOR is seeking FDA approval of OrBec, a cancer-related drug, based on a clinical trial that failed its primary endpoint but which later showed that OrBec patients were living longer.
The statistics supporting this survival benefit are controversial, and it will be up to an advisory panel of experts to hash it all out and offer a recommendation to the FDA.
Is this Dendreon déjà vu, or what? Yes and no. There is at least one significant difference of which you should be aware (and wary).
OrBec is an oral (pill) reformulation of a well-known topical steroid that aims to treat the gastrointestinal aspects of graft-versus-host disease, or GVHD, in cancer patients who have undergone bone marrow transplant. In GVHD, immune cells from the donated bone marrow attack the recipient's organs and tissue -- most often in the GI tract. There are no approved drugs to treat GVHD, although steroids and other immunosuppressants are often used.
DOR and its researchers believed that daily use of OrBec, which can specifically target GVHD in the gut, would allow patients to use a much shorter course of prednisone, an injectable steroid commonly used to treat GVHD but which brings with it a lot of toxicity and side effects. If OrBec allowed patients to taper off prednisone faster, it would be a safer treatment for patients while still keeping GVHD at bay.
Well, DOR ran a phase III trial to test this hypothesis and it failed the primary endpoint. At Day 50, OrBec patients had a 31% cumulative rate of GVHD treatment failure compared to 48% for placebo patients. While this result trended in favor of OrBec, the result was not statistically significant.
But when these patients were followed for longer periods of time, the OrBec patients were found to be living longer than patients taking a placebo. At 200 days after bone marrow transplant, five OrBec patients were dead compared to 16 placebo deaths -- a 67% reduction in the risk of death. This survival benefit was durable out to one year after transplant.
In January, I spoke with the primary investigator in the OrBec trial, Dr. David Hockenberry of the Fred Hutchinson Cancer Research Center. The study had just been published in the medical journal
Blood
, and DOR was eager to get the word out about its drug.
Hockenberry acknowledged the difficulty in reconciling the conflicting data coming from the trial. In hindsight, 50-day GVHD treatment failure was not an ideal primary endpoint, he said, but then, the survival benefit was a positive surprise and one the researchers had difficulty explaining away. Of course, statistics become an issue because there was no retrospective plan to analyze the trial for survival. Is Orbec really boosting survival in these patients, or is some other, outside factor the positive contributor?
This is the central question that the Oncologic Drugs Advisory Committee will grapple with on May 9. It's Dendreon-esque, except for the fact that ODAC is likely to be much tougher than the gene therapy panel that reviewed Provenge for Dendreon. This could be a big problem for DOR.
The FDA is expected to issue an approval decision on OrBec on or before July 21.
From Mike A. comes a question about
GenVec
(GNVC)
. "I would appreciate your analysis on the potential of GenVec's pancreatic cancer drug TNFerade. They are due to present at ASCO in June."
GenVec is a highly speculative stock. TNFerade (pronounced T-N-F-erade or ten-ef-er-ade? I have no idea) is generating excitement in some corners of the biotech world because gene therapy is sexy and interim data from a phase III trial looks good. However, there's a ton of risk here that won't be cleared up until we get more data on the drug.
Last December, GenVec announced interim survival results from a phase II/III study of TNFerade in patients with locally advanced pancreatic cancer. The data, from the first 51 patients enrolled, showed a 70.5% survival rate in patients given TNFerade plus standard of care at one year, compared to 28% of patients given standard of care alone.
These were encouraging results, but they were derived from a small number of deaths (five and seven in the TNFerade and control arm, respectively) which makes drawing larger conclusions very difficult.
These are the data, I believe, that will be presented in June at the American Society of Clinical Oncology annual meeting, as Mike said. The details will be interesting, but even then, my gut tells me that this TNFerade study in pancreatic cancer is still high-risk.
Pancreatic cancer is really tough to crack; the list of clinical trial failures is long. And TNFerade itself is a bit quirky. The drug uses a benign virus to deliver a therapeutic protein known to be toxic to cancer cells. But in order for TNFerade to work, it must be delivered directly to the tumor. In other words, it can't be injected in the arm or given via an IV. Instead, doctors use a couple of different invasive procedures to get the drug directly into the pancreas, where it then must be activated by radiation.
GenVec: Intriguing story, but I'd tread carefully.
Gil R. is annoyed with me because I haven't written about his favorite stock. "Still avoiding
Medarex
(MEDX)
? Your readers need some information!" he writes.
Medarex keeps getting pushed to my back burner, and even here, I won't have a ton of space to comment fully, but I need to show Gil some love, so here's my quick take:
Medarex is another cancer immunotherapy story, so it basks in the Dendreon glow. The company has an impressive list of drugs in late-stage clinical testing and is tied up with some big-name Pharma partners, including
Bristol Myers Squibb
(BMY) - Get Bristol-Myers Squibb Company Report
and
Pfizer
(PFE) - Get Pfizer Inc. Report
. It also owns a chunk of European biotech
GenMab
(GNMSF)
.
Overall, I like the diversification because Medarex has multiple ways to win. No wonder the company is frequently mentioned as an acquisition target.
The primary focus at Medarex now is its anti-CTLA4 drug programs. In English, these are drugs (there are two of them) that switch a patient's immune system (specifically T cells) into hypersensitive mode so that it can more easily recognize and destroy cancer cells. Cancer cells are sneaky and often successfully hide from T cells, which is one reason why our immune systems don't normally rid us of cancerous cells.
Medarex and partner Bristol-Myers have multiple clinical trials ongoing with an anti-CTLA4 drug called MDX-010 (also known as ipilimumab). The most advanced of these are multiple phase III trials in first- and second-line melanoma, with data expected in the second half of this year.
Previous studies have shown some impressive efficacy out of MDX-010, and some nasty side effects. The toxicity is not necessarily bad because it's managed fairly well and may actually be a signal that the drug is working in patients.
But here's the rub: Melanoma is the cancer where otherwise good drugs go to die. It's a black hole of drug development. Now, there are some scientific reasons that an anti-CTLA4 drug and melanoma are a good fit and the efficacy hurdle might be low, but for me, melanoma drug trial equals big-time risk.
Another issue: A couple of these MDX-010 melanoma studies lack a control arm, which could make interpreting results a bit tricky for the FDA. Remember, the cancer folks at the FDA are real data-driven sticklers, and single-arm studies may not carry enough proof of efficacy. Still more worries: These single-arm studies use tumor response as the primary endpoint, but response rate has never been shown to correlate with survival in melanoma.
So, Gil. I think Medarex is an interesting stock to own, but at the right price and with the recognition that the upcoming trial data are high-risk. It looks like Medarex has been bid up lately, probably on the Dendreon happenings. Would a pullback make for a better entry point?
Please note that due to factors including low market capitalization and/or insufficient public float, we consider DOR BioPharma, GenVec and GenMab to be small-cap stocks. You should be aware that such stocks are subject to more risk than stocks of larger companies, including greater volatility, lower liquidity and less publicly available information, and that postings such as this one can have an effect on their stock prices.
Adam Feuerstein writes regularly for RealMoney.com. In keeping with TSC's editorial policy, he doesn't own or short individual stocks, although he owns stock in TheStreet.com. He also doesn't invest in hedge funds or other private investment partnerships. Feuerstein appreciates your feedback;
to send him an email.