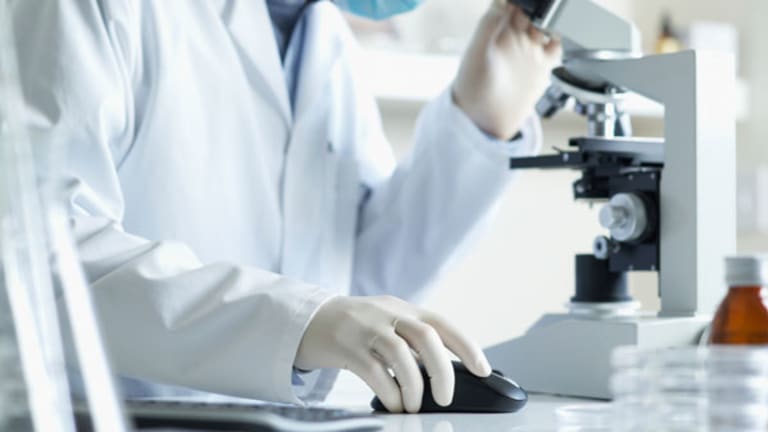 Feuerstein's Biotech Mailbag
More on Dendreon, a Northfield Labs update and a little Biotech 101.
If it's Saturday, it must be time for the Biotech Mailbag. Please,
keep those emails coming.
Thanks to everyone who chimed in on my recent
Dendreon
(DNDN)
column. Honestly, I'm starting to succumb to a bit of Provenge fatigue, but it has been a great story to cover.
With that said, I find it interesting that many of the comments focused on what I'll call the "evil hedge fund" angle. Lots of you think there is some kind of conspiracy -- led by short-selling Wall Street hedge funds and facilitated by investment bank cronies like
Leerink Swann
-- to rig the game against Dendreon, to force the FDA to reject Provenge and, ultimately, to drive the stock price into the ground.
There's even one guy out there who emailed me to rant incoherently that it is the Jews on Wall Street who are conspiring to kick Dendreon because they want prostate cancer patients to die. Stupid, sick stuff. (Funny, though, this guy was shocked to learn that I was able to find out his real name and where he lives. You should have heard him stammer when I called him on the phone and challenged his anti-Semitic garbage.)
Here's what I think (and it might make many of you mad). I don't believe in conspiracy theories (except those involving
and the
). If hedge funds are short Dendreon, it's because they think Provenge doesn't work or won't get approved, and being short the stock is a way to make money. That's all. If they believed in Provenge, they'd be long on the stock because that would be the way to profits. It's all about making the green, and it doesn't matter if it's done long or short.
I listen to short-sellers and appreciate the work they do because they're often the only investors out there really digging into a story to find the truth. And please, don't try to tell me that shorts manipulate markets because there is just as much manipulation done by longs!
In my
Dendreon column, I raised the question about Leerink Swann and its motivation for holding this week's conference call. Yes, the firm makes a lot of money from hedge fund trading commissions, so it might be biased toward the negative on Provenge.
But that doesn't mean necessarily that Leerink Swann is spewing disinformation. Heck, they might be right about Provenge. That's why it's important to listen to the other side of the argument. You don't have to agree with it, but it should inform your decision making.
Last word: Many of you know that I worked on Wall Street for two years. It was a great experience. Yes, there is some ugly stuff that goes on. I've witnessed it. And yes, the retail investor is often at a disadvantage to the Wall Street pro. But don't fall into the trap of automatically rejecting a short thesis as some evil conspiracy. That's a money-losing mindset, for sure, especially in biotech.
Moving on to a related topic. Joe C., one of my most loyal readers (thanks, Joe) writes in to request a separate "Mailbag for Dummies" that would explain some of the basic biotech concepts that get thrown around in my columns.
I try to be sensitive to the fact that many of you don't spend every waking moment thinking about biotech investing (and thank goodness for that!). But I also know that I slip sometimes, get lazy and start throwing around jargon that only geeks like me understand.
By all means, if there is something you don't understand, let me know and I'll write about it. In the meantime, a couple of old "Biotech 101" columns should be a big help.
This one explains drug development, while
this one discusses the regulatory/FDA approval process.
And while I'm linking, many of you have asked if there is a Web site that tracks FDA decision dates, panel meetings, etc. Unfortunately, there isn't, at least nothing free that I'm aware of. I've mentioned
before as a great resource, but you have to be pay for the service.
The FDA's
is not much help either and can be a navigational nightmare. Go
to find information about marketed drugs,
this page
will give you a calendar of upcoming FDA advisory panels, and
this page
is where to go for briefing documents and FDA reviews related to said advisory panels.
A few company updates: I haven't given much thought lately to
Northfield Labs
( NFLD) and its blood substitute Polyheme, but the company held its first-quarter conference call on Tuesday, so I listened in. Apparently, the data from its failed
phase III study is still being reanalyzed, with results to be released before the end of April.
Frankly, I think this effort is a lot of spin that will get Northfield and Polyheme nowhere. The company talks about conducting "internal" and "external" audits, and unlocking, relocking and correcting the database, as if all these efforts are going to result in some great epiphany that will reverse Polyheme's dismal fortunes.
That's not going to happen. Northfield doesn't get a mulligan on its phase III Polyheme trial. It can't just reanalyze data because it wants a better result. When you boil down its recent actions, that's what the company is doing.
Speaking of going nowhere, my old friend
Introgen Therapeutics
(INGN) - Get Inogen, Inc. Report
should be gearing up a new effort to bamboozle investors with data from its head-and-neck-cancer drug Advexin.
The company has a poster presentation scheduled for Sunday at the annual meeting of the American Association for Cancer Research. If Introgen holds true to form, it will issue a jubilant press release about the poster on Monday.
Don't believe the hype. Remember, Introgen wrote the book on
how to perform misleading data analysis and has been issuing
empty promises about Advexin for years. There are only two winners in this story -- investors who have shorted the stock and CEO David Nance, who rakes in millions of dollars in compensation.
According to Introgen's latest proxy, filed this week, Nance's 2006 compensation totaled $2.7 million, which includes a salary of $595,000 and $2.1 million in share-based (stock options) pay. Nance's compensation package for 2005 totaled $1.2 million. With a gravy train like that, no wonder Nance and crew seem to be in no hurry to actually do anything.
Lastly (and briefly), there was more positive phase III data this week from
Advanced Magnetics
(AMAG) - Get AMAG Pharmaceuticals, Inc. Report
for its intravenous iron-replacement therapy. Good stuff.
Adam Feuerstein writes regularly for RealMoney.com. In keeping with TSC's editorial policy, he doesn't own or short individual stocks, although he owns stock in TheStreet.com. He also doesn't invest in hedge funds or other private investment partnerships. Feuerstein appreciates your feedback;
to send him an email.