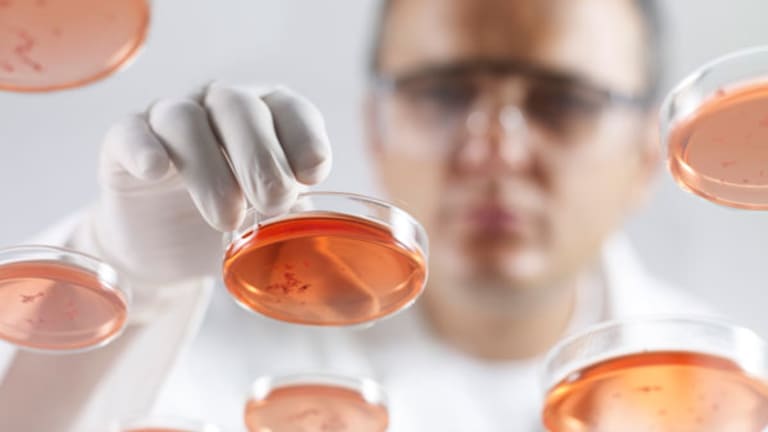 Feuerstein's Biotech Mailbag
Worrying about Amgen, Geron's pipeline and the year in biotech calendar.
You've got mail. Actually, I got mail. From you, and lots of it. I'm working my way slowly through it all, as you'll read below. So thanks, and
keep the correspondence coming.
Reader J.C. writes: "In one of your recent
columns on
Encysive Pharmaceuticals
( ENCY), you state that 'Ambrisentan is widely believed to be superior to Thelin.' Where do you get or read that information? There has been no direct comparison with these drugs. You need to be careful what you state in your articles."
J.C. is right on one point. There has not been a direct head-to-head comparison between the two drugs -- Encysive's Thelin and
Gilead Sciences'
(GILD) - Get Gilead Sciences, Inc. (GILD) Report
ambrisentan. Both drugs are under FDA review as a treatment for pulmonary arterial hypertension (PAH).
But I still believe ambrisentan looks to be a better drug than Thelin, on the basis of data from their respective phase III clinical trials. Let's take a closer look:
In the STRIDE II clinical trial, 3% of Thelin patients reported elevated liver enzymes three times the upper limit of normal, a marker of liver toxicity. But in the ARIES-1 and ARIES-2 studies of ambrisentan, no patients developed those symptoms.
In the STRIDE II study, there was a negative interaction between Thelin and the blood thinner warfarin, which is given to most PAH patients. But in the ARIES-1 and ARIES-2 studies, there was no significant interaction between ambrisentan and warfarin.
Now, both Thelin and ambrisentan are likely better drugs than Tracleer, which is currently used to treat PAH. But on the basis of the data above, I think ambrisentan looks superior to Thelin.
A different J.C. writes in to ask if I have any thoughts about
La Jolla Pharmaceuticals
(LJPC) - Get La Jolla Pharmaceutical Company Report
.
Well, J.C., good for you if you own the stock, as it has more than doubled in the past week and is now trading above $7, it's highest price since early 2005.
The trigger for this run was a March 8 announcement of an interim analysis from a phase III trial of La Jolla's drug Riquent in patients with the autoimmune disease lupus. La Jolla said that lupus patients treated with higher doses of Riquent (300 mg and 900 mg) had greater reductions in antibodies to double-stranded DNA than patients treated with a 100 mg dose of Riquent or placebo.
Why is that a big deal? Because La Jolla believes that antibody reduction is a positive surrogate marker suggesting that Riquent is working to reduce kidney inflammation, or renal flares, in lupus patients. The prevention or delay in the time to renal flare is the actual primary efficacy endpoint of the Riquent phase III trial, which must be met if the drug is to be approved by the FDA.
But I'd be careful before getting hyped up about the latest data. As my fellow biotech traveler Dan Rosenblum of
reminds me, this isn't the first time that La Jolla has pitched Riquent's potential on the basis of surrogate clinical data.
Back in 2003-2004 during Riquent's first attempt at a pivotal phase III trial, the drug failed to reduce renal flares in lupus patients despite showing a reduction in antibodies. Failed study in hand, La Jolla sought FDA approval anyway. The gambit didn't work, the FDA
rejected Riquent, and La Jolla is now back to try again.
The current trial is using higher doses of the drug, which might improve the odds of success. But then again, it might not. In 2003-2004, La Jolla was confident that the 100 mg dose was optimal, but now it's saying higher doses are better.
That worries me. This current phase III trial will complete enrollment toward the end of the year, and it will then take another year before final results are released.
"What's up with Amgen?" asks J.M. "I'm trying to find an entry point, but I'm nervous."
Join the
Amgen
(AMGN) - Get Amgen Inc. Report
worrywarts club, J.M. If you're a
RealMoney
subscriber, you might have caught last Friday's discussion
on Amgen in the Columnist Conversation. (And if you're not a
RealMoney
subscriber, you should be!)
I agonize over Amgen because I like the company, but this Aranesp overhang is thick. There's just too much uncertainty, even with the stock trading at 12-13 times forward earnings. The question is, what happens if this situation sours further and earnings take a big hit? Then a cheap stock isn't so cheap anymore -- classic value trap.
There have been people making bottom calls with Amgen near $60, and they might be right. I'm lousy at making those kinds of predictions, so I won't even try. But keep an eye on them and the Aranesp situation, especially as May rolls through. If we get more clarity in a positive way, the stock should rebound.
On a related note, big-cap biotechs have been a bit droopy lately. The Amex Biotechnology Index (an index weighted heavily in big-cap bios) is down 7% since late February. The overall market downturn, obviously, is a factor, and when the market goes south, risky biotech is not the place investors turn to for refuge.
With that said, I still really like Gilead Sciences, especially now around $69-$70. Keep an eye on
Genentech
( DNA), especially with its
investor day coming up Friday. Recently, Jim Cramer has also highlighted
Celgene
(CELG) - Get Celgene Corporation Report
and
Genzyme
( GENZ) as two of his favorite big-cap biotechs.
"What can you tell me about Geron's future in the biotech field?" writes E.R. "They seem to have many drugs in the pipeline but nothing in the trial stages, unless I have missed it somewhere along the line."
I've been waiting for someone to ask me about
Geron
(GERN) - Get Geron Corporation Report
, so thanks, E.R. Geron is a company that is really interesting because of the groundbreaking science involved (stem cells and telomerase, an enzyme that gives cells a level of immortality). As a stock, however, it's basically been a dud.
My main beef with Geron is that pipeline progress seems to crawl. Contrary to what E.R. writes, the company does have drugs in human clinical studies, but they're mostly early phase I/II stuff, so I don't blame him for not noticing. And is it just me, or do some of Geron's programs seem stalled out or moving at glacial pace?
Geron might be a great company one day, chock full of stem-cell therapies and telomerase-based cancer drugs, but I guess I'd like to see more evidence of that potential before I dive in. (Especially given the company's current $400-million-plus market valuation.)
Reader J.M. liked my biotech catalyst calendar, and he wants more. "Can you provide dates to upcoming biotech conferences and the company that will be involved?"
Sure, J.M. I put together a calendar of important 2007 medical meetings below. These are the conferences where biotech companies strut their stuff -- meaning clinical data. I hope it helps.
Please note that due to factors including low market capitalization and/or insufficient public float, we consider Encysive Pharmaceuticals, La Jolla Pharmaceuticals and Geron to be small-cap stocks. You should be aware that such stocks are subject to more risk than stocks of larger companies, including greater volatility, lower liquidity and less publicly available information, and that postings such as this one can have an effect on their stock prices.
Adam Feuerstein writes regularly for RealMoney.com. In keeping with TSC's editorial policy, he doesn't own or short individual stocks, although he owns stock in TheStreet.com. He also doesn't invest in hedge funds or other private investment partnerships. Feuerstein appreciates your feedback;
to send him an email.