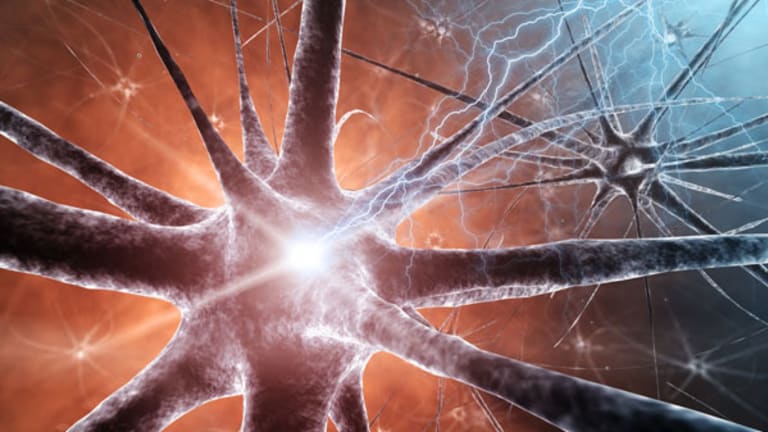 Feuerstein's Biotech Mailbag
Vertex Pharma's next big event, Flamel and Dendreon.
Vertex Pharma's next big event, Flamel and Dendreon.
Mail call! This the column where I answer reader mail on all things biotech. Thanks for writing in and
keep those emails coming.
F.F. writes in about
Vertex Pharmaceuticals
(VRTX) - Get Report
: "I wish you can give me an idea where Vertex is heading. I understand that Wall Street is betting on it to be next cure for hepatitis C."
That's right. Investor focus on Vertex is lasered in on telaprevir, the company's experimental hepatitis C drug in a rigorous phase II clinical trial program. I've
written about Vertex and telaprevir before.
As an investor, pay attention to the upcoming meeting of the European Association of the Study of Liver Disease, taking place April 11-15. This is the first big hepatitis C meeting of the year, and Vertex should (or at least, it's hoped it will) have new data to present on telaprevir. Research abstracts will be posted at the
after April 11, but they don't contain anything new on telaprevir. For that, we wait for the meeting to begin.
Nervousness and uncertainty about telaprevir, especially in front of this EASL meeting, are behind most of the recent weakness in Vertex shares. The biggest worry: drug-related rash that might cause patients to drop off telaprevir treatment.
D.J. asks, "What about
Flamel
?"
Like Vertex investors, those with an interest in Flamel will steer their attention to an upcoming medical meeting, in this case the annual gathering of the American College of Cardiology, March 24-27.
There, eyes will be on
GlaxoSmithKline
(GSK) - Get Report
to see whether the European drug giant uses the cardiologist confab to kick off a splashy marketing launch for Coreg CR, a second-generation heart drug that uses Flamel's Micropump drug delivery technology. Flamel will receive a royalty of about 5%-6% on Coreg CR sales.
Coreg IR, the predecessor drug, is a twice-daily beta blocker used most often to treat congestive heart failure, with a sliver of market share for resistant hypertension. Coreg IR sales topped $1.4 billion in 2006 for Glaxo, but the drug goes generic later this year.
Using Flamel's drug-delivery technology, Coreg CR is a once-daily treatment. Better dosing should allow Glaxo to switch Coreg IR patients over to Coreg CR. A once-a-day-pill should also allow Coreg CR to capture larger market share in the hypertension market, where it will be more competitive against other once-daily beta blockers, says Punk Ziegel biotech analyst Matt Kaplan, who has a buy rating on Flamel.
Kaplan says recent weakness in Flamel's stock can be attributed to uncertainty around the timing of a formal Coreg CR launch by Glaxo as well as rumors that the drug was having problems getting listed on hospital formularies. His checks, however, show the drug making it onto pharmacy shelves just fine, he says. Kaplan is also flying down to New Orleans for the cardiology meeting to see whether Glaxo starts pushing Coreg CR hard.
The email regarding my
Dendreon
(DNDN)
column is still pouring in, loaded with intelligent comments. Thank you. There are too many letters to respond to individually, but let me make some general comments:
In my column, I wrote that Provenge's phase III trial "was designed to measure time-to-progression -- not survival -- as its primary endpoint. And on this score, the trial was a statistical failure."
Many of you who wrote to me were a bit dismayed by how definitively I dismissed Provenge's ability to extend time to progression in prostate cancer patients. You have a point. Provenge just barely missed here, with a "p value" of 0.052, just a hair above the 0.05 value that signifies statistical significance in clinical trials. Moreover, many of you commented that an immunotherapy like Provenge takes some time to prime the immune system (slower than traditional chemotherapies), so clinical endpoints such as time to progression may not be the ideal way to measure Provenge's clinical benefit.
Points well taken. But I'll also remind folks that in Provenge's second trial, time to progression was also measured, but Dendreon never disclosed the results. I think it's safe to assume that Provenge performed poorly on that score in the second trial.
I was also speaking with a trader who spends a lot of time in the biotech sector. He doesn't believe Dendreon is likely to sink below $3 on a negative Food and Drug Administration advisory panel recommendation March 29. His reasons: short covering and buyer interest in the stock for what would be the next big event, results from the next big clinical trial of Provenge, which should definitely prove whether the drug can extend survival for prostate cancer patients.
I guessed that Dendreon shares, now around $4, would be cut in half on a negative panel, and could go lower since Dendreon has about $1 in cash and will need to raise more money. I offer my trader friend's perspective as an alternative to mine.
Reader J.K. writes in to ask about
Encysive Pharmaceuticals
( ENCY). "This biotech troubles me. Their drug Thelin is approved in Europe and Australia, but why can't this drug get approved in the United States? What is the big secret of the one outstanding item on the approvable letter? Why can't the CEO tell investors what it is?"
Great questions, J.K. Frankly, I'm as stumped as you are, which makes me very cautious about Encysive as an investment.
Thelin is a drug developed to treat pulmonary arterial hypertension. It was supposed be on the market in the U.S. already, but the FDA has delayed approval for reasons that Encysive's CEO Bruce Given refuses to discuss with investors.
The FDA's next approval decision date arrives June 15, but that is just three days earlier than when the FDA is expected to issue an approval decision for
Gilead Sciences'
(GILD) - Get Report
PAH drug ambrisentan.
Ambrisentan is widely believed to be superior to Thelin, so any time advantage Thelin might have had is now gone. And there is still a chance that Thelin won't even get approved this time around. (The FDA could ask for more clinical studies.)
Encysive's stock might look cheap, but I believe there is too much uncertainty around the company's prospects for that to be the case. The company reported fourth-quarter results Friday and its 2007 outlook wasn't very encouraging. No guidance on Thelin sales was provided, even in Europe, and the company acknowledged that it was going to have to raise more money, even if Thelin was approved here.
Finally, let me say a short word or two on
Introgen Therapeutics
(INGN) - Get Report
, which reported fourth-quarter results on Thursday and held another of its theatrical conference calls. Management hyped the call in advance by promising to address my previous "false and misleading"
columns
.
Sadly, other than repeating the tired mantra that short-sellers were out to get the company, Introgen CEO David Nance didn't respond at all to any of the points I've raised. And once again, I tried to ask a question and wasn't chosen. The company chose instead to answer softballs lobbed by the same fans who ask questions every quarter.
Honestly, the call was boring and did nothing to change the story or soften my negative opinion one bit. I'll stand by every word I've written on Introgen so far. There's no need to repeat myself here. Instead, I'll continue to dig up new information (there's a lot out there), and when I have something, you'll be the first to see it.
Please note that due to factors including low market capitalization and/or insufficient public float, we consider Dendreon, Encysive Pharmaceuticals and Introgen Therapeutics to be small-cap stocks. You should be aware that such stocks are subject to more risk than stocks of larger companies, including greater volatility, lower liquidity and less publicly available information, and that postings such as this one can have an effect on their stock prices.
Adam Feuerstein writes regularly for RealMoney.com. In keeping with TSC's editorial policy, he doesn't own or short individual stocks, although he owns stock in TheStreet.com. He also doesn't invest in hedge funds or other private investment partnerships. Feuerstein appreciates your feedback;
to send him an email.