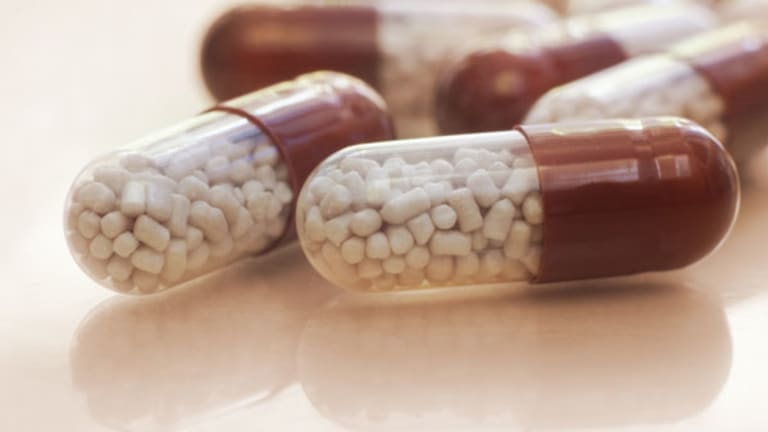 Feuerstein's Biotech Mailbag
This week: Amgen, Onyx and why I pick on Introgen Therapeutics.
It's Saturday, which means time for another biotech mailbag. I received a lot of email this week about my
past weeks' columns, so I want to focus on them here. We'll get back to questions about new biotech stocks next week. As always,
feel free to email me with your questions and comments.
Reader J.K. has a problem with the way I
reported on
Amgen
(AMGN) - Get Amgen Inc. Report
and its anemia drug Aranesp:
Your piece seems to be an attempt, with others in the media, to punish Amgen's management for not commenting on this study in January. Give me a break. Amgen's anemia drug is for those on chemotherapy, not radiation. End of story. What is it with you guys in the press? Do you want those you cover to take you seriously? I guess "punishing" them is one way. But I suggest instead that you report like you have a brain."
J.K. is not holding back, so neither will I. Is anyone else tired of the old "blame the media" canard? It's especially ridiculous -- or should I say brainless -- in this situation because it was Amgen that first highlighted a potential safety issue with Aranesp.
J.K. does have a point that, so far, all of the negative safety data associated with Aranesp has come from studies where the drug was used in off-label situations. But I know my reporting has explained that fact, as have many other stories I've read.
Amgen does benefit from these off-label uses, so if this revenue is in jeopardy, it seems a justifiable concern for investors.
On the same topic, reader G.B. writes: "The real question is (and I am a former long with Amgen. Luckily I sold at the highs.) why would anyone wish to invest at this point in a company that willfully withheld information from investors? They can apologize all they want to, I would never again touch this stock."
For every investor like J.K. who believes the market is hyperventilating over Amgen for nothing, there are investors like G.B. who feel the opposite.
Like, G.B, I was troubled by Amgen's less-than-speedy disclosure of the Danish study of Aranesp in patients with head and neck cancer. But I also think the company realizes it made a mistake. If the Aranesp woes grow and the company takes a significant hit to its growth, there will be ample reason to abandon the stock. A one-time (hopefully) lapse in disclosure, however, is not enough to do that.
Prompted by my
column on
Onyx Pharmaceuticals
(ONXX)
and its success against liver cancer, reader S.D. takes issue with the price of new targeted therapies like Onyx's Nexavar, which costs more than $4,000 per month.
"I applaud the increase in survival time for these
liver cancer patients, however, the price associated with this nominal benefit I find shameful," writes S.D. "Companies should be rewarded for significant drug development, but this is gouging a dying patient. Ethically speaking, my opinion is this drug should be provided at little or no cost. Absent this, a cap should be placed on drugs which show small benefits."
S.D. is not alone in complaining about the high cost of new drugs. It's becoming an increasingly visible and important issue. But I don't think price caps on biotech drugs, even those with only small benefits, is the answer. It's been pretty convincingly shown that profits are a good motivator for new drug research.
With that said, I believe the government should be able to negotiate preferred (lower) drug prices for Medicare. And insurers are taking tougher stances on companies that pad profits with "me too" branded drugs that provide no extra benefit over generics. And look at what happened to
Genentech
( DNA) this week -- it appears that a lower dose of its high-priced cancer drug Avastin might be as effective as the currently marketed dose, at least in lung cancer. Unless Genentech jacks up the price, lower dose equals less cost.
The email continues to pour in regarding my
bearish outlook on
Introgen Therapeutics
.
(INGN) - Get Inogen, Inc. Report
The feedback intensified this week after the company issued a brief response, calling my columns "false and misleading," but offering no specific rebuttal whatsoever. The company's refusal, or inability to do so, says a lot, I think.
Reader K.F. isn't happy with my Introgen coverage and lets me know it. His letter is lengthy, so I won't reprint it in full, but it is representative of some of the more thoughtful responses I've been getting on the topic. (Sadly, most of the email I get on Introgen is either profane or idiotic.)
"Investing in development-stage biotechs is painful enough without gunslingers like the proteges of Jim Cramer taking potshots at the companies. But what I can't understand is why INGN and why now? Wall Street is littered with failed biotechs and many others who have been stuck in R&D mode for over a decade, so why pick on INGN?" K.F. asks.
I like the term gunslinger, for starters, although I prefer pens and keyboards over guns. My motivation for writing about Introgen in a very hard-edged and critical way is simple: Because the company has been misleading investors for years, and it's about time that someone calls them on it.
Investing in biotech is hard enough when dealing with honest management teams making good-faith efforts to develop breakthrough medicines. And even when you find a good company or drug to invest in, savvy biotech investors know that it's always possible to wake up one morning and see that investment blown away for some reason they never thought possible.
So, I chose Introgen to write about because it's a valuable lesson for all biotech investors in how to spot companies that don't have their best interests at heart. Introgen is not the only biotech company that falls into that category, just the most recent. Anyone who's read my work at
TheStreet.com
over the years knows that I try to parse out praise and criticism in equal quantities.
K.F goes on to ask why I only talk about Advexin, Introgen's lead cancer drug, while ignoring the other molecules in the company's pipeline.
I focus on Advexin because the drug is Introgen's main focus and the nearest-term driver of the stock. Introgen does have other drugs in its pipeline, but at this point, I view the company's efforts to talk about them as a diversionary tactic.
An example: A recent press release from Introgen with the headline, "Introgen Reports that INGN 241 in Combination with Avastin Results in Complete Tumor Regression." Wow, sounds amazing. But a read of the press release reveals the study to be preclinical, in animals. Not a human cancer touched or cured. It's hardly worth mentioning, really.
By the way, Introgen claims to be conducting a phase III study of INGN 241, but you'd be a better sleuth than me if you can find any information about it. I can't verify that this study exists, and of course, Introgen doesn't provide details. If anyone out there knows anything about this study, I'd sure like to hear more.
I'll wrap up this column with one of the best emails of the week. Reader J.C. writes to say that "the only problem with the Biotech Mailbag is that it's too short."
Well, J.C., I could write longer, but my editors won't let me! Thank you for the kind words.
Adam Feuerstein writes regularly for RealMoney.com. In keeping with TSC's editorial policy, he doesn't own or short individual stocks, although he owns stock in TheStreet.com. He also doesn't invest in hedge funds or other private investment partnerships. Feuerstein appreciates your feedback;
to send him an email.