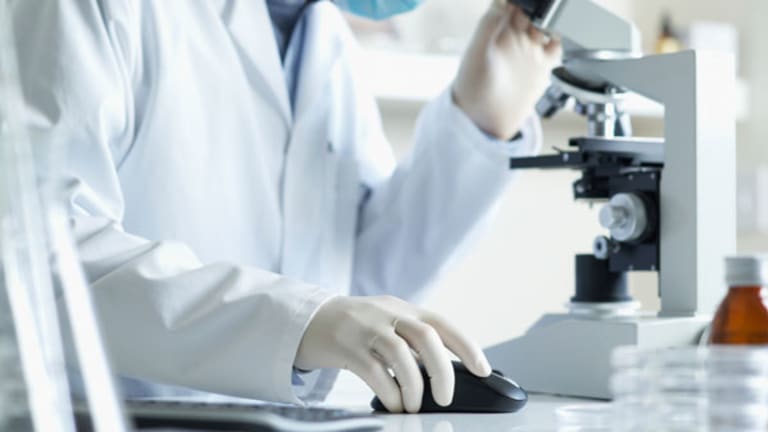 Publish date:
Feuerstein's Biotech Mailbag
This week, Bioenvision, Nuvelo and Neurocrine.
This week, Bioenvision, Nuvelo and Neurocrine.
Welcome back to the "biotech mailbag." The response to this column has been great, so please keep the feedback coming. If you have questions about biotech or want to take me to task for something I wrote,
send me an email. Now, off to the mailbag:
Reader J.H. emails to ask about
Bioenvision
( BIVN) and its leukemia drug, Evoltra. "Why is this stock price so low? Am I missing something, or is this undiscovered?" he asks.
J.H., I rang up a fund manager friend about your question. He sighed in frustration because he owns the stock and wonders, like you do, why it seems to be stuck in a rut.
Bioenvision closed Friday at $4.73, which is about half of where it was one year ago.
My buddy feels that Bioenvision is a "show me" story right now. Specifically, investors are waiting to see how the company executes its plan to get Evoltra expanded into the treatment of elderly patients with acute myeloid leukemia (AML). An approval application was just filed with European regulators, who should issue a decision by the end of the year.
Elderly AML in Europe could be a $100 million commercial opportunity for the company, my friend believes. It's why he stays with the stock, because at this price, it's undervalued.
There is a competitive wrinkle with the story, too, so be aware of that.
Vion Pharmaceuticals
( VION), another biotech firm, is conducting a pivotal study of its leukemia drug, cloretazine, in elderly AML patients, too.
Evoltra is currently approved for pediatric relapsed acute lymphocytic leukemia. That's a small market, but still, the drug is doing fairly well. Launched in Europe in September, Evoltra sales totaled $1.8 million and $3.6 million in the third and fourth quarters, respectively.
In the U.S., Evoltra is sold by
Genzyme
( GENZ), with Bioenvision receiving a royalty on sales.
With a market cap of around $200 million, which includes $29 million in cash, it seems as if investors don't have much confidence right now in Bioenvision's ability to expand Evoltra sales-potential. If the company does what it says it can do, the stock should move higher.
Reader B.A. brings up a painful subject:
Nuvelo
( NUVO). It's a company I liked, but then it blew up in December. Kaboom. "Is this stock dead forever?" B.A. asks.
The simple answer, B.A., is yes, the stock is dead, at least for the near term. For those who don't follow, Nuvelo's blood clot-dissolving drug alfimeprase failed two phase III trials in December. The bad news was a big surprise (investor expectations were for good news), so the stock took a mighty tumble.
Nuvelo is trying to figure out what went wrong and is expected to provide an updated status report on the alfimeprase program in the first half of the year. While the company may try to rescue this program, there also stands a good chance that alfimeprase gets dumped altogether.
Nuvelo does have a couple of other drugs in the pipeline, including something called rNAPc2, which might be a cardiovascular drug, or it might be a cancer drug, depending on which direction Nuvelo takes it. Regardless, the drug is probably too young to hang much value on right now.
R.Z. writes in to ask: "I would like your take on the probability of a buyout of
Neurocrine BioSciences
(NBIX) - Get Report
in 2007. Which companies do you think would have the most interest in their pipeline?"
I thought R.Z.'s letter was a good one to follow Nuvelo because Neurocrine is also dealing with the aftermath of a major collapse. Last May, the FDA rejected the company's insomnia drug indiplon. Then
Pfizer
(PFE) - Get Report
, which had partnered with Neurocrine to co-market indiplon, filed for a quickie divorce. The result was a 75% shellacking in Neurocrine's stock price.
Neurocrine is still trying to get indiplon to market, but the sleep market is tough and getting tougher, especially with generic Ambien on the way. It might be able to partner indiplon again, but it's probably best if Neurocrine just sells the drug outright to a specialty pharmaceutical company.
However, Neurocrine's pipeline might have some value, which gets to the heart of R.Z.'s question. The drug most discussed is NBI-56418, a gnRH antagonist being developed for endometriosis. A couple of pilot phase IIa studies have been successful, which led the company to launch a longer phase IIb study. Data are expected at the end of the year or early 2008.
Would another Big Pharma company (maybe not Pfizer again, but someone else) want to gobble up Neurocrine for this endometriosis drug? Sure, it's possible. Would I make a big bet on this scenario? No.
Reader I.P. wants to know if I follow any new drugs for the treatment of lung cancer. And if so, which ones show real promise.
Cancer is big business in biotech, but it's tough. There are a lot of experimental drugs out there, all competing for similar indications, with clinical data that are often hard to differentiate.
Lung cancer, especially non-small-cell lung cancer, can be an especially difficult field to follow. I logged onto BioMedTracker.com, a drug research service from
Sagient Research
, to get a sense of how many lung cancer drugs are out there: Eleven drugs in phase III clinical trials, with another 58 listed in phase II studies, according to the BioMedTracker database. There were scores more drugs listed in phase I, and preclinical development, too.
On the one hand, that should give us all hope, right? Maybe we're gonna lick lung cancer one of these days. But as an investor, it's tough to separate a drug with real promise vs. those that are duds. I do my best, by looking at data and talking to experts, but still, it's not easy.
If you're interested in doing more research, take a look at the lung cancer drugs being developed by these companies:
Onyx Pharmaceuticals
(ONXX)
,
ImClone
(IMCL)
,
Amgen
(AMGN) - Get Report
,
Coly Pharmaceuticals
( COLY), Pfizer,
Astrazeneca
(AZN) - Get Report
,
Array BioPharma
(ARRY) - Get Report
,
Exelixis
(EXEL) - Get Report
and
Regeneron
(REGN) - Get Report
.
Please note that due to factors including low market capitalization and/or insufficient public float, we consider Bioenvision, Vion Pharmaceuticals, Nuvelo and Coly Pharmaceuticals to be small-cap stocks. You should be aware that such stocks are subject to more risk than stocks of larger companies, including greater volatility, lower liquidity and less publicly available information, and that postings such as this one can have an effect on their stock prices.
Adam Feuerstein writes regularly for RealMoney.com. In keeping with TSC's editorial policy, he doesn't own or short individual stocks, although he owns stock in TheStreet.com. He also doesn't invest in hedge funds or other private investment partnerships. Feuerstein appreciates your feedback;
to send him an email.