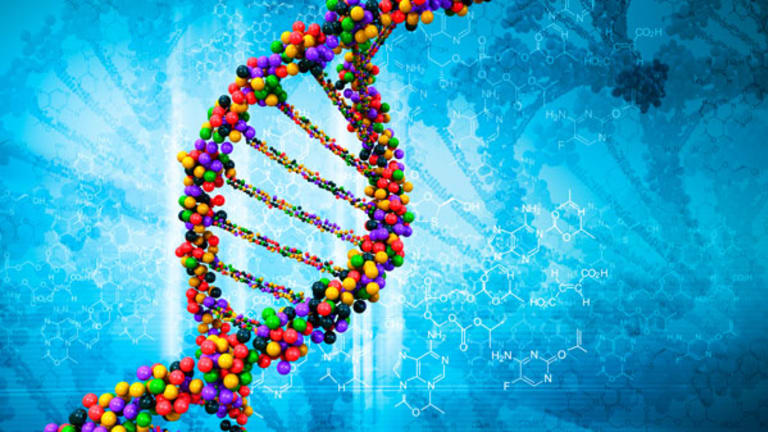 Feuerstein's Biotech Mailbag
This week, Lexicon Genetics, Nastech Pharma, Amgen and Celgene go under the microscope.
Welcome to the "biotech mailbag." I get a lot of great reader email and feedback -- keep the email coming -- which I try hard to answer directly. But often, there are questions asked or issues raised that could benefit a wider audience.
So consider this weekly column a chance to ask me questions about biotech or take me to task for something I wrote. I'll pick the best of the mail and address it here. Now, off to the mailbag.
No dilly-dallying, let's get right to it.
I received two letters asking about
Lexicon Genetics
(LEXG)
this week. I'll quote one, because both asked essentially the same question. Reader T.H. writes: "I picked up LEXG's volume gap-up move scanning charts and am considering buy and hold. It's a local company (to me), and I understand they're 'righting the ship.' Do you have any insight or warnings on LEXG before I plunk down some investment dollars?"
Lexicon Genetics is the latest "genomics" company to go under the knife on
Extreme Makeover: The Biotech Edition
. On Monday, the old name was dumped in favor of something fresh:
Lexicon Pharmaceuticals
. And the business model was given a shot of Botox -- no longer will Lexicon scour the human genome in the search of drug targets; instead, the company will actually try to develop drugs. This new business model was even given a sexed-up name, the 10to10 Program, for its goal of pushing 10 new drugs into human clinical trials by 2010.
I mock Lexicon Genetics, er, Pharmaceuticals, but in all seriousness, why did this rejuvenation take so long?
Human Genome Sciences
(HGSI)
and
Millennium Pharmaceuticals
(MLNM)
learned the painful lesson years ago that spending your days poking around human DNA might be noble work, but it certainly wasn't a viable business model. The real money is in developing, and hopefully selling, drugs.
So, in many ways, Lexicon is starting over after six years as a public company (the chart isn't pretty), which means that investors will probably require a lot of patience. The company has two drugs in phase I trials and a couple more in preclinical development. Unfortunately, such an early-stage pipeline is hard to value until more data are generated.
If there is wild card, however, it might come from the remnants of its genomics research: about 100 potential drug targets, possibly more, that one day might yield a blockbuster. With Big Pharma desperate for new drugs to fill the holes created by generic competition, Lexicon could find itself in the position of forming alliances for some of these drug targets under lucrative terms.
Reader D.K. asks: "My question is regarding
Nastech Pharma
(NSTK)
. Do you think they have a solid management team?"
Nastech is a drug-delivery firm that is developing a technology to allow the nasal administration of large-molecule drugs, which now often require injections. Nastech has no products on the market yet. It's what I consider a small-cap biotech with a market cap just under $300 million, and its five-year stock chart resembles the scariest roller-coaster you'll ever ride on, which to be fair, is not all that uncommon for development-stage biotechs.
That's about all I know of Nastech, but D.K. asks a good question, because the quality of management is one of the things I like to dig into when I start to research a new stock. I'm not one of these guys who hangs on every word that leaves a CEO's lips. I tend to live by the credo: "Trust, but verify." But with that said, it's important to have some confidence in the guy who's essentially shepherding your investment.
So let's take a quick look at Dr. Steven Quay, the CEO of Nastech. His bio is fairly impressive, but then, CEO bios are typically polished to a high sheen. Before joining Nastech, Quay founded
Sonus Pharmaceuticals
(SNUS)
in 1991 and ran it as CEO until June 1999.
From a stock perspective, Quay had a good early run: In September 1997, Sonus was at $43. But by the time Quay left Sonus, the stock was under $10, a slide that continued until its nadir at under $1 in 2000. Given this volatility, I'd definitely want to dig deeper into his time at Sonus to see what happened.
More important is Quay's performance as CEO of Nastech. To get a quick sketch, I like to eye the stock chart for any big moves, which typically indicate good and bad news. And sure enough, Quay earned his paycheck in September 2004 when he inked a partnership with
Merck
(MRK) - Get Merck & Co., Inc. (MRK) Report
to co-develop a nasal spray for obesity that came out of Nastech's lab.
Alas, that partnership went bust in March 2006 when Merck returned rights to the compound, sending Nastech shares tumbling. When Big Pharma gives back a drug, especially one with blockbuster potential, it's usually a strong signal that it doesn't work. But Nastech continues to develop this spray on its own. Is that a good use of company funds and time?
Nastech has also run into problems and delays getting FDA approval for a calcitonin-salmon nasal spray. That's not a great sign, especially since this product was supposed to be a copycat of something already on the market. Stumbles like this can be a sign of deeper problems and would make me wonder whether management has the chops to execute.
Reader C.A. sends this: "I've been following your commentary on biotech and have noticed your positive bias on
Amgen
(AMGN) - Get Amgen Inc. Report
. I was hoping you could shed some light on their recent announcement to purchase securities for put options. Is this a positive for shareholders or something to be concerned about?"
Thanks for the question, C.A., and yes, I do like Amgen. While there are things to worry about -- the anemia drug Aranesp in particular -- the July 31 announcement of a "put option" for its convertible debt is not a concern.
What's going on here is that holders of certain Amgen convertible notes have the right to sell -- or put -- their notes back to the company for a prespecified price. If 100% of these note holders decide to exercise this option, it will cost Amgen $1.8 billion, according to Chris Raymond, an analyst at Baird. Since Amgen has more than $6 billion in cash, this isn't a problem. The last time Amgen note holders had a window to put their debt back to Amgen, about 40% did so.
J.D. writes in to ask about
Celgene
(CELG) - Get Celgene Corporation Report
. "What do you think of Celgene going into earnings and two European approvals coming in the first quarter? Will they get to $100 this year?"
Unfortunately, Celgene reported earnings on Thursday, and I passed J.D.'s question to my colleague Marc Lichtenfeld, who covers Celgene more
closely than I do. Marc's answer is below:
This is an example of liking the company but not the stock. Celgene has amply rewarded investors over the past few years, and it's a little scary to jump off the train at this point. Right now, sentiment is what's driving the stock. As long as there is no negative news and the market remains strong, I see no reason why Celgene shouldn't continue higher. However, if the company stumbles with a regulatory issue, disappointing trial results or an earnings miss, I suspect the stock's lofty multiple will have to come down. It's a Wall Street darling now. But if sentiment and earnings projections shift lower, there could be a significant correction in store.
Thanks for the help, Marc. And thanks to readers for sending in your questions. Remember, I like email, so if you have questions or issues to raise,
don't hesitate to write.
Adam Feuerstein writes regularly for RealMoney.com. In keeping with TSC's editorial policy, he doesn't own or short individual stocks, although he owns stock in TheStreet.com. He also doesn't invest in hedge funds or other private investment partnerships. Feuerstein appreciates your feedback;
to send him an email.