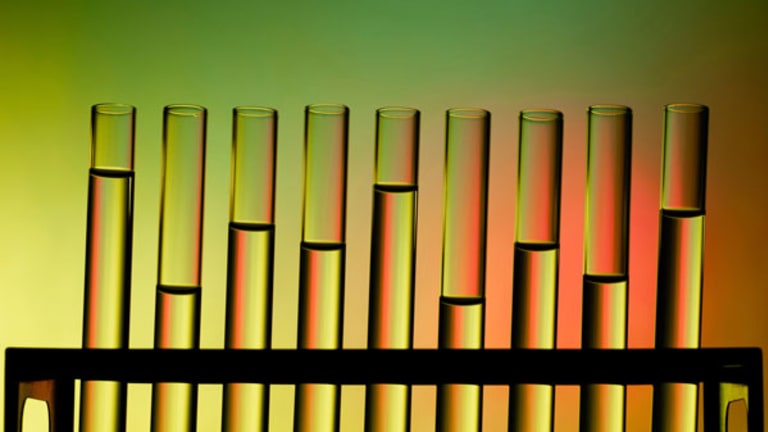 Feuerstein's Biotech Bonus Mailbag
Approval still looks likely for Dendreon's prostate cancer drug.
Writing
Biotech Mailbag
every Saturday has been a great experience all around. My only regret is that I don't get a chance to provide as many company updates as I'd like, given the limited space and my desire to answer as many questions as I can.
So, here's a bonus mailbag that refreshes some of the biotech stocks and stories I've discussed in past columns. As always, please
drop me a line.with your questions and comments.
The latest on
Dendreon
(DNDN)
: We still wait for the Food and Drug Administration to render its decision on Provenge, which is expected on or before May 15. My best guess remains that the agency will approve the prostate cancer drug. And to be clear: Approval, to me, means the FDA will not require Dendreon to submit additional proof of Provenge's efficacy before allowing the drug to be marketed. Additional clinical data on the drug will be necessary only as a post-marketing commitment.
In the past couple of days, sell-side analysts at Banc of America Securities and JMP Securities have both come out favoring approval as the most likely outcome of the May 15 decision. Previously, both analysts were more skeptical about Provenge's chances.
Many readers have asked if my thinking about Provenge has changed.
No. But am I
nervous about my call? Yes.
Several people also have asked if I've updated my
revenue projections for Provenge, and if not, why not, since they believe I'm way too conservative with my peak sales forecast ($1 billion in the U.S.) and my Dendreon price target of $27.
There will be plenty of time to update Provenge numbers when (or if) the drug is approved. At this point, I'm very comfortable where I stand. Given the controversial nature of the Provenge data, I want to see the drug's label and get a sense of how urologic oncologists and medical oncologists view it. I believe that will tell us a lot about how well Provenge launches.
With that in mind, if Provenge is approved on May 15, a couple of important events for investors will be the annual meeting of the American Urological Association (May 19-24) and the American Society of Clinical Oncology meeting (June 1-5). One of or both of these medical confabs could serve as Provenge's coming-out party.
Last week,
Altus Pharmaceuticals
( ALTU) priced an offering of 6 million shares at $14.75 each -- a small discount to the stock's market price.
Altus has been fairly vocal about its need to raise money, so the deal doesn't surprise me. The timing, however, bothers me a bit. I would have liked to see Altus announce the start of the phase III trial for its ALTU-135 pancreatic enzyme replacement before dipping back into the market to raise cash.
That trial is expected to start this quarter, but notching another important milestone before raising money would have given me more comfort that everything is on track.
I can't say I'm all that happy with Altus' stock performance of late, and it certainly hasn't done well since I first
wrote about the company in mid-January. There is considerable pessimism about ALTU-135 and worries about competition, as well as a general feeling that management needs to put up some real results before it is to be fully trusted.
I share some of those worries, though I believe the potential for ALTU-135 is still there -- and I always expected the competition. Likewise, the ALTU-238 program is in good hands now that the
Genentech
( DNA) partnership is on line.
Altus is a long-term story, and it will require some patience. Hopefully, the offering brings new investors into the story. (SAC Capital disclosed a 5% stake in the company last week.) With that said, I'd certainly be happier if the stock were benefiting even a little bit from the recent surge in the overall biotech sector.
From
Introgen Therapeutics
(INGN) - Get Inogen, Inc. Report
comes word on Tuesday that it has started an efficacy analysis of one of two Advexin phase III trials for head and neck cancer.
The company has been talking about this for months now, so I guess it's good that they're finally getting around to it. (Not sure what took so long.) But given management's penchant for spin, I don't have much confidence that the data released from this trial (whenever that happens) will be an honest and accurate depiction of Advexin's performance.
This phase III trial, which compares Advexin with the drug methotrexate in patients with recurrent head and neck cancer, was started about five or six years ago and has never completed patient enrollment. To call the study "stale" would be an understatement.
Introgen says that the FDA granted the company "permission" to perform a safety and efficacy analysis on the study. But don't buy into that line either, because it's merely designed to have investors believe the FDA is somehow endorsing the company's plan.
It's probably more true that Introgen is stuck because its Advexin phase III trials can't be completed, so the company is analyzing whatever data it has managed to gather.
Introgen says it will measure the efficacy of Advexin in this trial on the basis of prognostic biomarkers, including abnormal levels of p53 protein levels, that the company claims correlate to better response and longer survival for patients.
Unfortunately, these are the same prognostic biomarkers that Introgen found by
data-mining results in a small number of patients from its phase II studies. In other words, it's not very reliable.
When the phase III trial was designed, Introgen wasn't talking about Advexin efficacy on the basis of prognostic biomarkers or abnormal p53 protein levels. This means that patients weren't likely measured for these things when they entered the study. Nor were patients stratified, or divided equally, into the two arms of the study on the basis of these biomarkers.
That's a big problem for Introgen and its efficacy analysis, but one you don't hear it talking about.
At best, whatever comes from this phase III efficacy analysis will be more like a proof-of-concept phase II study. Introgen may just follow through with its promise to seek FDA approval based on this data before the end of the year. Let's hope that happens, because as I've said before, when the FDA finally does get hold of Advexin, the truth about the drug (and how that differs from what Introgen has said about it over the past two or three years) will finally get a public airing.
I wanted to follow up on last week's
in the Columnist Conversation regarding
Avanir Pharmaceuticals
(AVNR)
. The stock shot up after the company announced positive results from a phase III study of its Zenvia drug to treat diabetic neuropathic pain.
Unfortunately, Avanir and its drug have a lot of issues, and this puts a significant damper on this seemingly good news.
As I wrote last week, the company has been a laggard because of setbacks and safety concerns with Zenvia in another disease -- involuntary emotional expression disorder, or IEED. Zenvia combines two drugs -- dextromethorphan and quinidine. The problem is that quinidine causes irregular heartbeats, or prolongation of the QT interval, something the FDA is very concerned about.
Last October, the FDA asked Avanir to conduct another study of Zenvia in IEED patients with a lower quinidine dose. The big question: Will a reformulated Zenvia work as well? And will a reformumated Zenvia solve the QT prolongation issue? No one knows, but the study could take a couple of years to complete.
So now, Avanir says Zenvia works in diabetic neuropathy, too, but at the same unsafe dosing as the IEED studies. The company will need to do another confirmatory phase III study, but at what dose? And if the dose is lower, will it work and be safe? A lower dose might bring with it lower efficacy. If so, will Zenvia compare favorably with current drugs used to treat diabetic neuropathy, such as
Pfizer's
(PFE) - Get Pfizer Inc. Report
Lyrica?
One additional concern that I didn't raise last week: Avanir's financial condition, which is far from healthy. The company finished the first quarter with $8.7 million in cash, and it also has $22 million in debt. Avanir is trying to reduce operating expenses to get its cash burn down to about $5 million per quarter. But even if Avanir can cinch the belt tighter, the company still needs to raise significant cash to run these clinical trials.
Adam Feuerstein writes regularly for RealMoney.com. In keeping with TSC's editorial policy, he doesn't own or short individual stocks, although he owns stock in TheStreet.com. He also doesn't invest in hedge funds or other private investment partnerships. Feuerstein appreciates your feedback;
to send him an email.