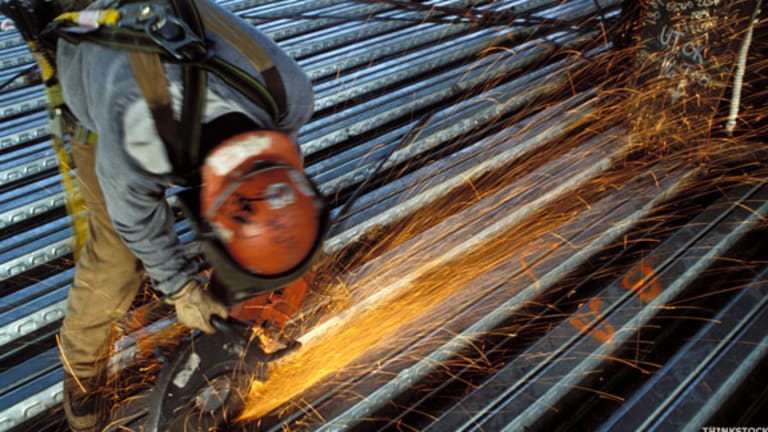 Fertilizer Wars Become a Foursome
Terra Industries needs to decide between two suitors -- Yara and CF -- as the fertilizer-war drama enters yet another act.
NEW YORK (TheStreet) -- CF Industries (CF) - Get CF Industries Holdings, Inc. Report just couldn't take it.
Like a jealous lover, the company had to stand by and watch as Norwegian fertilizer giant
Yara Industries
swooped in and agreed to acquire
Terra Industries
(TRA)
, a nitrogen-fertilizer specialist that CF had been pursuing in a hostile manner for a year before ending its bid in January.
According to the proxy statement filed by Terra after striking its deal with Yara last month, Terra and its Norwegian suitor had been flirting behind CF's back for almost the entire period.
But on Tuesday,
with CF re-upping its bid for Terra
and trumping Yara's offer of $41.10 a share by 14%, the Deerfield, Ill., company has come back aggressively onto the scene. Still, Yara's deal is all-cash, a substantial check in the Norwegians' favor.
A Terra Industries fertilizer plant in Verdigris, Okla.
Terra's agreement with Yara includes a so-called "no-shop provision," which means that Terra can't solicit competing bids. Its board can only assess the latest CF offer, and then respond yea or nay. If Terra responds in the positive, Yara, under its merger pact with Sioux City, Iowa, company, has five days (technically, at least) to match or surpass the CF offer. In practice, Yara could probably take a little longer if it's indeed working on a compelling counter.
Predictably, Terra shares shot higher by 10.8% Tuesday to $45.63, on volume of 35.5 million shares, more than 7 times the daily average turnover in the name. Despite the heavy trading, Terra shares closed at a discount to the new CF price.
Under its fresh proposal, CF hiked the total value as well as the cash mix of its bid substantially. CF is now offering to pay $37.15 per Terra share in cash (up from $29.25) and 0.0953 per share in CF stock (down from 0.1034). As of Monday's close, the new bid values Terra at $4.6 billion, more than double the original offered in January 2009.
Some investors and analysts have questioned whether CF may be offering too much in its move to outbid Yara.
"You can make arguments about whether it would be accretive or dilutive, depending on how you treat certain aspects of the deal," said Charles Neivert, an analyst at Dahlman Rose in New York. For instance, if CF and Terra agree to a deal, CF would need to pay Yara a $123 million break-up fee. Also, there's the Terra debt CF would assume and the equity offering it has said it would pursue immediately after the closing of a deal.
Chris Damas, a principal at BCMI, a Canadian stock research and trading outfit, said he's long Terra at the moment -- but not CF. He believes Yara will eventually come back with an offer of $50 a share or more.
Damas noted that the sums both CF and Yara are willing to fork over for Terra are predicated on corn-ethanol mandates from the U.S. government causing a kind of boom in North American maize growing. More corn planting would mean more nitrogen fertilizer sales, which is Terra's core product.
But because corn-ethanol mandates are anything but a fait accompli, Damas is circumspect. CF's latest bid values Terra at eight times the smaller company's average earnings before interest, taxes, deprecation and amortization over the last three years: $622 million. Damas, however, thinks that a "normal" EBITDA of $500 million is probably more accurate.
The question now is obvious: Who will Terra choose?
CF's camp, which includes both
Morgan Stanley
(MS) - Get Morgan Stanley Report
as advisor and financier as well as the New York law firm (and takeover specialist) Skadden Arps, believes Terra has run a lousy sale process, ignoring CF after its talks with Yara grew ever more serious in early January.
CF argues that any offer from Yara ought to be discounted for the length of time it may take for a deal between the Norwegians and the Iowans to close. That is, CF believes it could take as much as six months for Yara to achieve regulatory, shareholder and Parliamentary approvals (the Norwegian government owns a large chunk of Yara). Meanwhile, CF says it can close a deal in 30 days, since it's already obtained the requisite clearance from regulators and its owners.
Just days after Yara and Terra announced their deal in mid February, CF Chief Executive Stephen Wilson seemed to hint that his company might be getting back in the game during a conference call to discuss fourth-quarter earnings with analysts, according to some who were on the call.
Of course, CF also must wrestle with its own aggressive hostile suitor, the Canadian agriculture concern
Agrium
(AGU)
, which has filed suit against two of CF's board members, alleging various fiduciary breaches and conflicts of interest. Agrium has also nominated two dissident candidates to CF's board, which will likely incite a proxy battle at the next CF shareholder meeting. CF has yet to announce a date for that annual gathering, but it will likely occur in late spring.
Last week, at an industry conference in New York hosted by Morgan Stanley, CF's finance chief reiterated that the company's pursuit of Terra had nothing to do with its defense against Agrium, which launched its bid for CF only after CF began hunting Terra.
Still, one of the conditions of Agrium's proposed takeover of CF was that CF abandon its pursuit of Terra. If those two close a deal within 30 days, Agrium might be the one left out in the cold.
Now, with the threesome suddenly a foursome, ag-sector investors once again have some spreads to bet against.
Indeed, late in Tuesday's session, CF shares were trading at $105.98, down 1.5%, rebounding from sharper losses earlier in the session -- perhaps, Damas said, as investors began making bets that Agrium would soon need to re-up its own bid for CF, which stands at $45 a share cash plus one Agrium share.
"As the fertilizer world turns," said Damas.
Agrium's stock, meanwhile, closed at $66.87 Tuesday, up 1.6%.
-- Written by Scott Eden in New York
RELATED STORIES:
>>Terra's Quarter a Footnote to Yara Deal
>>Fertilizer War Over! CF Ends Pursuit of Terra
Follow TheStreet.com on
and become a fan on
Scott Eden has covered business -- both large and small -- for more than a decade. Prior to joining TheStreet.com, he worked as a features reporter for Dealmaker and Trader Monthly magazines. Before that, he wrote for the Chicago Reader, that city's weekly paper. Early in his career, he was a staff reporter at the Dow Jones News Service. His reporting has appeared in The Wall Street Journal, Men's Journal, the St. Petersburg (Fla.) Times, and the Believer magazine, among other publications. He's also the author of Touchdown Jesus (Simon & Schuster, 2005), a nonfiction book about Notre Dame football fans and the business and politics of big-time college sports. He has degrees from Notre Dame and Washington University in St. Louis.