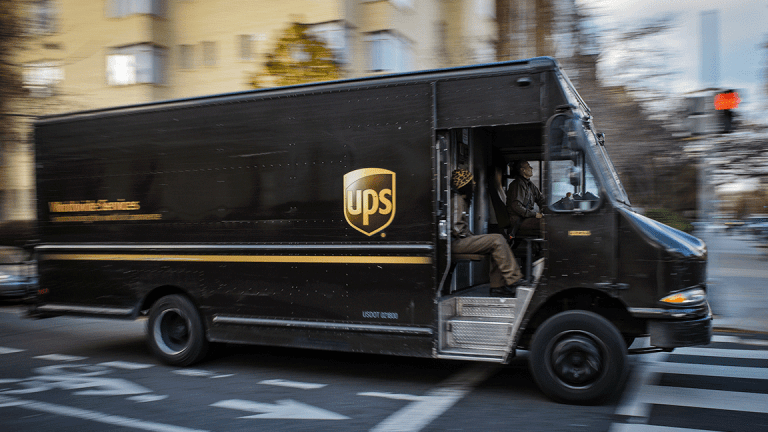 FedEx, UPS Fall as Morgan Stanley Says They Face Risks From Amazon Air
Morgan Stanley analyst says FedEx and UPS face risk from Amazon's jet shipping program build-out.
It's not only those racing white vans that are cutting off FedEx and UPS trucks to deliver your Amazon order, it soon will be the mega online retailer's jets, too. 
That's the word from Morgan Stanley analyst Ravi Shanker who on Tuesday, Dec. 4, released a note to investors about the risks faced by FedEx Corp. (FDX) - Get Report  and United Parcel Service Inc. (UPS) - Get Report as Amazon.com Inc. (AMZN) - Get Report builds its shipping empire to the sky and beyond. 
"We think the market is missing the risk Amazon Air poses to UPS/FDX growth," wrote Shanker, in the note that brought turbulence to the shipping giants' stock. FedEx was down nearly 7% and UPS tumbled 7.7% on Tuesday.
As Amazon plans to take delivery of 40 planes and build out a shipping hub that could handle 100 jets, the retailer will threaten the revenue potential of both FedEx and UPS, said Shanker, adding the two could take a hits of around 2% in "potential revenue lost" over 2018 and get knocked by more than 10% by 2025.
Shanker's analysis caused Morgan Stanley to lower UPS's price to $87 from $92 and FedEx to $230 from $240.
Domestic air makes up close to a fifth of revenue for the shipping companies. 
In addition, Amazon will probably save more money by building, rather than buying, its air program, which was announced about two years ago, said the analyst. By next year, Amazon may save up to $2 billion with the jet program.
Amazon shares were down about 1% on Tuesday.