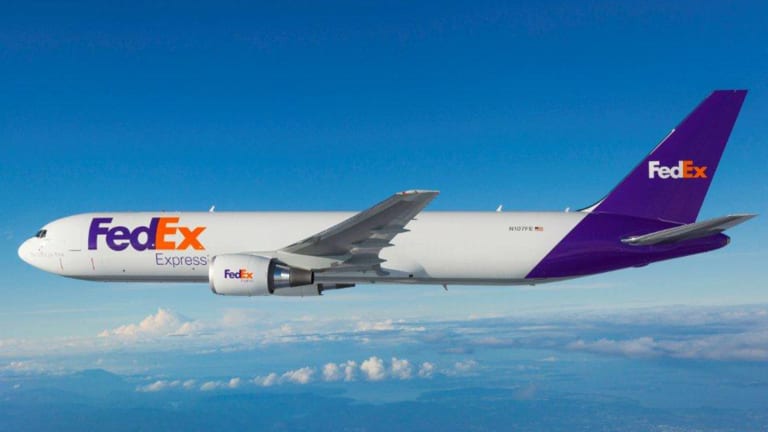 FedEx Remains Long-term Buy Despite Wednesday's Pummeling
Analysts expect the market to pause in the near term on weaker ground division margins, but many still see FedEx as the name to own in U.S. transports.
FedEx (FDX) - Get Reportclosed in the red Wednesday by about 3.3% as investors displayed some nerves over the near-term turbulence expected in the company's ground shipping division and the integration of its European expansion acquisition TNT Express.  
The jitters were born in the company's fiscal year 2017 second quarter earnings release Tuesday evening, in which FDX reported EPS that missed analysts' expectations by 10 cents.
But as independent research firm Wolfe Research pointed out Wednesday, FedEx is a long-story play, and that long story remains intact despite some bumpy roads over the next few quarters. 
Indeed, the short-term potential is limited for FedEx's stock considering the company has gained 30% this year and hit all-time highs earlier this month. Its plan to increase capacity for its ground shipping division is also likely to crimp cash flows in the coming quarters due to employee training costs and other startup expenses.
Still, if you were in this stock just ahead of the Trump rally in early November, you likely remain ahead, and some analysts expect a new administration will provide favorable shifts in tax and trade policies for the transportation industry, with FedEx being a main beneficiary.
BMO Capital Markets analysts were right to expect the earnings results to weigh on the stock, however: The delivery services giant reported adjusted earnings of $744 million, or $2.80 per share. Analysts surveyed by FactSet had expected the Memphis company to post earnings of $2.91.
And while revenues did climb 20% during the period to $14.93 billion, beating the $14.91 billion that analysts expected, the company's operating expenses also climbed 22% to $13.8 billion. 
Nevertheless, BMO sees FDX' strategic investments in its ground division and the TNT Express unit paying off for profits and cash flow over the medium term.
Credit Suisse analyst decreased their fiscal year 2017 earnings per share estimate for FedEx to $11.90 from $12.13 on the weaker ground division margins, but are raising their target price for the stock to $205 from $201 per share.
The firm sees greater relative upside in FDX shares compared to the balance of its coverage universe, which includes household names like United Parcel Service (UPS) - Get Report and J.B. Hunt Transport Services (JBHT) - Get Report.
Barclays analysts noted Wednesday that the company intends to add significant ground division network capacity, including major hub openings, but such expansion will add substantial costs and the market will likely be fickle in the meantime looking for validation of a long-term negative these on lower ground margins in the second quarter. 
"FedEx shares are likely to take a near-term pause as investors await the lapping of network investments," Barclays' Brandon R. Oglenski wrote in a research report.
That being said, if FedEx manages to hit the mark on its fiscal year 2017 guidance with anticipated EPS growth of 10-14% despite its soft second quarter results, Barclays thinks the company's shares will still represent value within a more expensive transport sector.