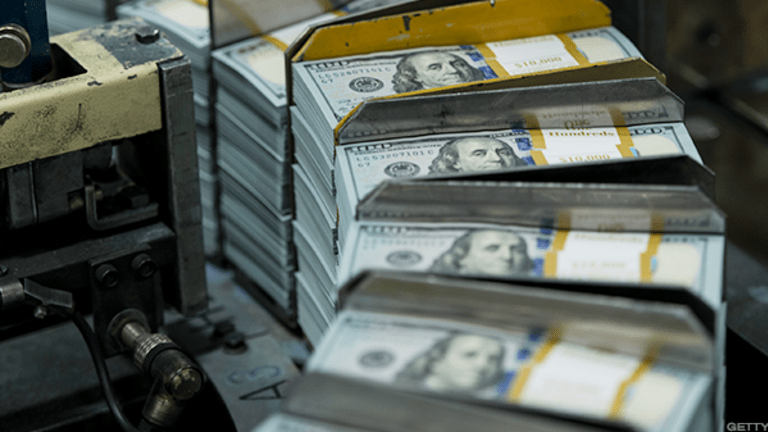 All Eyes on the Godfather of Central Banking as Fed Has Huge Meeting This Week
All eyes on the Federal Reserve this week. For several reasons, the latest FOMC meeting will be huge.
Whither interest rates?
Ultimately, that's the known unknown confounding Wall Street as Federal Reserve Vice Chairman Stanley Fischer prepares to leave next month and speculation continues about whether Chair Janet Yellen will be reappointed by President Donald Trump when her term expires in February.
Once Fischer leaves, the seven-member board of governors that runs the U.S. central bank will have just three members, including Yellen, unless a Trump appointee is confirmed. That means the monetary policy committee, which includes all the governors, will be down to just eight members, the majority of whom will be presidents of the Fed's regional banks.
Fischer's exit alone "shifts the balance of power from the Fed governors to the regional Fed presidents," explained Ryan Sweet, director of real-time economics at Moody's Analytics. "The other implication," he said, is that in 2018, "the only certainty for monetary policy is uncertainty, for now."
The central bank is likely to move ahead this month with plans to start paring a balance sheet that swelled to $4.5 trillion as the government worked to ease the impact of the 2008 financial crisis, and a December hike that would take interest rates to 1.25% to 1.5% remains on the table, Sweet said in a telephone interview.
But afterward? "It's very, very uncertain what the path of monetary policy is going to be," he said.
The vacancies give Trump a chance to pack the Fed's board with members who will support his policies, but it's an opportunity he has been slow to exploit so far, nominating only one governor, Randy Quarles, who would also serve as vice chair for banking supervision if confirmed by the Senate this month.
Fischer's exit "ensures the President can quickly gain control over the central bank," Jaret Seiberg of Cowen Washington Research Group said in a note to clients.
That bodes well for easing some of the post-crisis bank regulations that Trump has argued went too far and have hindered economic growth -- and might benefit companies from JPMorgan Chase & Co. (JPM) to Citigroup Inc. (C)
But his safest pick for keeping interest rates low would probably be Yellen, as Trump himself has noted, and she would be less likely to support the degree of deregulation that the real estate mogul wants.
"It seems like the Trump administration would like people on the Fed who are in favor of bank deregulation but also in favor of keeping rates low and policy accommodative," Michelle Meyer, U.S. economist with Bank of America Corp. (BAC) , said in a telephone interview. "It's very hard to find somebody who is pro-deregulation but also a dove."
Fischer's resignation follows the departure earlier this year of Governor Daniel Tarullo, who had led regulatory efforts during the Obama administration but was never formally appointed as vice chair for supervision.
"It has been a great privilege to serve on the Federal Reserve Board and, most especially, to work alongside Chair Yellen," the 73-year-old said in his resignation letter. "Informed by the lessons of the recent financial crisis, we have built upon earlier steps to make the financial system stronger and more resilient."
A former vice chairman of Citigroup and governor of the Bank of Israel, Fischer previously worked at the World Bank and the International Monetary Fund. He earned a master's degree from the London School of Economics and a doctorate from the Massachusetts Institute of Technology, where he was a professor for 22 years and is credited with teaching both former Fed chair Ben Bernanke and European Central Bank President Mario Draghi.
"He was the godfather of central banking," Brett Ryan, a Deutsche Bank AG (DB) economist, said in a telephone interview. "From that standpoint, the board is losing a force who's been in the policy arena for decades."
Fischer's term as vice chairman would have ended on June 12 and his tenure on the board of governors was to expire in January 2020.
"Stan's keen insights, grounded in a lifetime of exemplary scholarship and public service, contributed invaluably to our monetary policy deliberations," Yellen said in a statement. "I'm personally grateful for his friendship and his service. We will miss his wise counsel, good humor, and dry wit."
As for Yellen herself, she has committed to remaining as chair through the end of her term in February but declined to speculate on whether she would stay after that. When Congress pressed her in July on whether she would remain if Trump asked her, Yellen said only that she would talk with the president on the matter.
"The problem for her from the point of view of reappointment would be that she wants small reforms, not major changes, to regulation, and that clearly doesn't match up with what the Trump administration is trying to do," Ethan Harris, the head of global economics at Bank of America, said in late August.
Indeed, Yellen told an audience at the annual Jackson Hole, Wyo., economic symposium that regulatory changes made in the wake of the 2008 crisis have kept the U.S. financial system safer and that any alterations should be moderate.
The statement appeared to place her at odds with the president, though another contender for the role, former Goldman Sachs Group Inc. executive Gary Cohn, may have hurt his own chances by criticizing Trump's response to violence by white nationalists at a Charlottesville, Va., rally that left one person dead.
A staunch advocate of the Federal Reserve's independence from politics, the 71-year-old Yellen has also expressed no particular loyalty to Trump, who famously fired FBI Director James Comey after he failed to do so.
The bottom line, Meyer said, is that uncertainty about leadership at the Federal Reserve next year is now even higher. Had Fischer stayed through the end of his term as vice chair, that would have provided some consistency even if Yellen weren't reappointed.
After his resignation, she said, "we could be sitting in early next year without two of the top members of the Federal Reserve."
In the meantime, Fischer's departure adds an extra degree of uncertainty about the 25 basis-point hike in December, which would be the third this year and was already a topic of widespread speculation.
Fischer was a "slightly hawkish voice" on monetary policy, Deutsche Bank's Ryan said, so "Yellen may be losing an ally" in the debate over whether lackluster inflation should prompt the central bank to slow the pace of rate increases.
Citigroup is a holding in Jim Cramer's Action Alerts PLUS charitable trust portfolio. Want to be alerted before Cramer and the AAP team buy or sell the stock? Learn more now.
More of What's Trending on TheStreet: