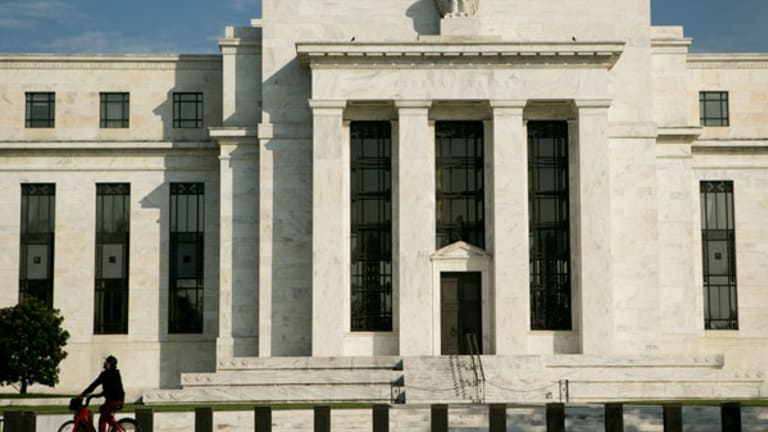 Fed Trends Could Bring Down Bank Stocks for 2013
This could be a great time for investors to take bank stock profits, according to KBW analyst Frederick Cannon.
NEW YORK (
) -- Investors will see saturation coverage of the Federal Reserve this week, and a lack of clear direction from the Fed could make this a great time to take profits on interest-sensitive bank stocks, according to KBW analyst Frederick Cannon.
"Interest rate-sensitive financials have fared well since the Fed began its discussions of tapering bond purchases earlier this year and bond yields began to increase," Cannon wrote in a note to clients Sunday. "The yield curve is now approaching record levels of steepness and unless the Fed signals a definitive approach to tapering and timing for an increase in short-term rates, bond yields are likely to be volatile during the fall."
Read: Microsoft Fails In Mocking Apple
So what does that mean to bank stock investors? It "suggests that interest rate-sensitive stocks are unlikely to be outperforming during the remainder of the year."
The Federal Open Market Committee meets on Tuesday and Wednesday, and the committee on Wednesday afternoon will issue its statement, which will include the long-awaited plan to lower the central bank's monthly bond purchases. Unless the committee decides to wait again because of
from recent economic reports.
All eyes will be on Federal Reserve Chairman Ben Bernanke, who will hold a press conference Wednesday afternoon.
The Fed has been making monthly purchases of $40 billion long-term mortgage-backed securities and $45 billion in long-term U.S. Treasury bonds since last September, in an effort to hold-down long-term interest rates. This "QE3" policy hasn't worked over the past several months, sine the market has pushed up long-term rates in anticipation of a tapering of the Fed's balance sheet expansion. The market rate on 10-year Treasury bonds has risen to 2.79% Monday morning from 1.70% at the end of April.
Interestingly, the withdrawal by Lawrence Summers from consideration to be President Obama's nominee to succeed Bernanke in January, had a very positive early effect on the bond market, sending the yield on the 10-year down 10 basis points in early trading.
Read: 5 Stocks Ready for Breakouts
Hand-in-hand with the increase in long-term interest rates is a massive decline in mortgage refinance applications, feeding an overall decline in mortgage loan applications and feeding concern that the U.S. housing recovery could stall. Then again, there are plenty of homes selling for cash. We won't know of any overall drop in home sales
.
Getting back to the bank stocks, higher long-term rates mean improved net interest margins for most banks over the long haul, but what most banks really need to significantly boost their net interest income is an increase in short-term interest rates.
The short-term federal funds rate has remained in a range of zero to 0.25% since late 2008, and the FOMC has said repeatedly it is unlikely to change this policy at least until the national unemployment rate drops below 6.5%.
While Summers was known to have more hawkish views on Federal Reserve monetary stimulus than Bernanke, Janet Yellen, the Vice Chairwoman of the Board of Governors of the Federal Reserve System, is known to have similar views to Bernanke, and is the highest-profile candidate to succeed the current Fed chairman.
Before a nominee for Fed chair goes to the Senate floor for a confirmation vote, the Senate Banking Committee must approve the president's choice, and any one member of the Banking Committee can place a hold on a nomination. With the clock ticking and plenty of potential market volatility, Obama needs his nominee to be attractive to both parties. There was plenty of opposition to Summers among Democratic members of the committee. Among Republican members, Senator Richard Shelby (R., Ala.) stands out for having voted against Yellen's nomination to be Fed Vice Chair in 2010.
So even Yellen -- clearly the less-controversial choice of what were the two highest-profile possible candidates -- might not sail through the nomination process.
Which Stocks Should Investors Avoid?
Of course, nobody can predict how the Fed's nominating process will proceed, what will happen on Wednesday after the FOMC meeting, or how the market will react for the rest of the year, especially since any Fed tapering of bond purchases could already be "baked in" to the market. But investors riding solid gains in bank stocks wishing to avoid short-term volatility might want to pay heed.
Read: 10 Best Cars On The Market
According to KBW, "the largest financial stocks have a median positive correlation with the 10-year treasury yield of 0.78." KBW put together a list of financial stocks with performance closely tied to the sharp increase in the yields on 10-year Treasury bonds this year. Here are the five most closely correlated:
Here are some big banks with strong year-to-date stock performance, with a correlation to the rising 10-year yield of over 0.80: :
-- Written by Philip van Doorn in Jupiter, Fla.
>Contact by
.
Philip W. van Doorn is a member of TheStreet's banking and finance team, commenting on industry and regulatory trends. He previously served as the senior analyst for TheStreet.com Ratings, responsible for assigning financial strength ratings to banks and savings and loan institutions. Mr. van Doorn previously served as a loan operations officer at Riverside National Bank in Fort Pierce, Fla., and as a credit analyst at the Federal Home Loan Bank of New York, where he monitored banks in New York, New Jersey and Puerto Rico. Mr. van Doorn has additional experience in the mutual fund and computer software industries. He holds a bachelor of science in business administration from Long Island University.