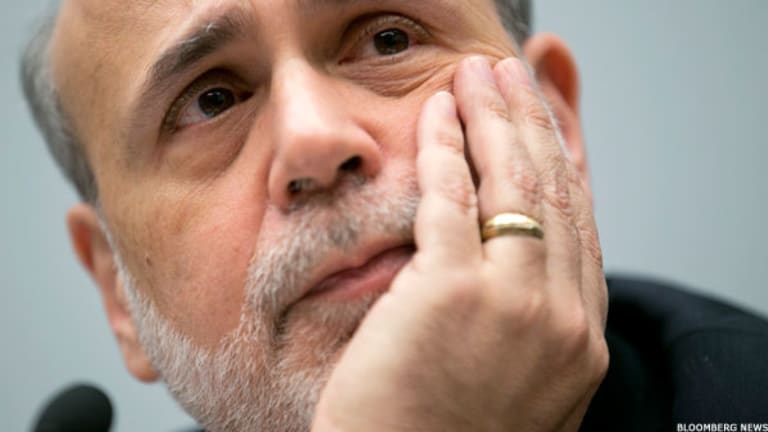 Fed Says LIBOR 'Understated,' Describes Wachovia Deposit Run at 2008 Meeting
The transcripts of the Federal Open Market Committee's emergency meetings in 2008 make for fun and fascinating reading.
NEW YORK (TheStreet) -- During their Sept. 29, 2008, emergency meeting, members of the Federal Open Market Committee sure had a lot on their plate, according to a transcript released Friday.
While much of the events discussed during the meeting are "history," there was a fateful comment related to the possible understatement of LIBOR in the midst of the crisis, which continues to be a major headache for the banking industry today.
Here's a quick rehash of events leading to that fateful day:
Fannie Mae (FNMA) and Freddie Mac (FMCC) -- which together continue to dominate the U.S. mortgage industry by purchasing most newly originated mortgage loans and are known as the government-sponsored enterprises, or GSEs -- were taken under government conservatorship on Sept 6, 2008, with the announcement made by former Federal Housing Finance Agency director James Lockhart and former Secretary of the Treasury Henry Paulson.
Lehman Brothers filed for bankruptcy on Sept. 15.
Bank of America (BAC) - Get Free Report on Sept. 15 announced an agreement to purchase Merrill Lynch -- the largest U.S. brokerage firm -- for $50 billion in stock. This turned out to be a much better deal for Bank of America than its purchase of Countrywide Financial, which was completed in July 2008 and led to years of very expensive litigation and putback settlements for BAC.
America International Group (AIG) - Get Free Report facing a liquidity crisis on Sept. 16, as counterparties demanded delivery of massive amounts of collateral for credit default swap agreements, was the lucky recipient of an $85 billion revolving credit facility, provided by the Federal Reserve Bank of New York.
Washington Mutual Bank failed on Sept 25. This was the nation's largest bank failure ever, with $307 billion in assets and $188 billion in deposits. The Federal Deposit Insurance Corp. -- led at the time by Sheila Bair -- quickly sold the wreckage to JPMorgan Chase (JPM) - Get Free Report for $1.9 billion. That was a beautiful deal for the FDIC because JPMorgan took on all of Washington Mutual's deposits, eliminating any possibility of losses to depositors, at a time when the basic deposit insurance coverage was still $100,000.
On Sept. 29, Citigroup (C) - Get Free Report announced a deal to acquire the troubled Wachovia for the paltry sum of $2.16 billion in stock. That deal was personally brokered by Bair, but was eventually trumped by Wells Fargo (WFC) - Get Free Report which more than doubled in size when it bought Wachovia for about $15 billion in stock on Dec. 31, 2008.
Also On Sept. 29, Congress struck down the bill introduced by the Treasury that eventually led to the $700 billion Troubled Assets Relief Program, or TARP. Stock investors showed their dismay, by sending the S&P 500 down 8.8% the same day. Congress quickly relented and passed the bill, with former President George. W. Bush signing the TARP legislation on Oct. 3, with the Dow Jones Industrial Average jumping 485 points and the S&P 500 recovering 5% that day.
But the FOMC didn't realize that the "Paulson financial rescue bill," as former Federal Reserve Chairman Ben Bernanke put it, was going to be rejected by Congress, or that the brutal market reaction to that rejection would lead to "good news" on Oct. 3, 2008.
Bernanke began the Sept. 29 meeting by discussing the increase of swap lines offered by the Fed's Foreign Currency Subcommittee to foreign central banks, the Wachovia situation, which required the invocation of "the systemic risk exception" to allow Citi to make its merger announcement, and the TARP bill.
William Dudley -- the former senior vice president of the Markets Group at the Federal Reserve Bank of New York, filling in for New York Fed President Tim Geithner, who was rather busy bailing out AIG -- said the large increase in swap lines offered to foreign central banks was in response to "dollar funding pressures in their home markets," and "should be considered as insurance in case market conditions continue to deteriorate and as reassurance to market participants that the world's major central banks are determined to respond in force to mitigate dollar funding pressures."

The swap lines were "doubled for the larger participants and tripled for the smaller participants," Dudley said. One fascinating comment from Dudley, in light of the ongoing investigations of manipulations of the London Interbank Overnight Rate by global banks, was the following:
First, we've seen a sharp rise in overnight dollar funding rates and in term LIBOR-OIS spreads. For example, on Friday, the three-month LIBOR-OIS spread was over 200 basis points, and in fact, LIBOR may actually understate the degree of funding pressure. The NYFR index, which is the U.S.-based alternative to LIBOR, has actually been much higher than LIBOR over the past week or two. So LIBOR actually may be understated.
Those italics are mine, and investors can expect to hear quite a bit more over the next year as regulatory investigations continue.
Dudley went on to discuss "anecdotal reports" of an international liquidity lock-up. He also described the great expansion of the Fed's Term Auction Facility (TAF) to $75 billion per 84-day auction from $25 billion, in order to help banks shore-up short-term liquidity through collateralized loans from the central bank.
In response to concerns expressed by Federal Reserve Bank of Chicago President Charles Evens over "what could go wrong for our balance sheet in a not-so-pleasant scenario," Dudley said, "Obviously, things are breaking, even with all the tools that we've rolled out. So I think that just suggests that more force needs to be applied. Clearly, confidence in the markets is extraordinarily poor and fragile, and that's another reason that an escalation in the authorizations is important-to reassure people that the central banks are prepared to be there, if necessary."
Bernanke at that point said that the Fed's balance sheet had "the benefit of having zero credit risk because the other central banks are our counterparties."
All FOMC members present at the Sept. 29 meeting voted "yes" to the expansion of the swap lines offered to foreign central banks.
The FOMC then discussed the Wachovia situation, and the exception to capital requirements being made for Citigroup and agreed upon by the Treasury and President Bush, so it could complete its proposed acquisition of Wachovia. Federal Reserve Bank of Richmond President Jeffery Lacker said that before the announced merger, Wachovia "is losing about $1 billion in deposits a day on average over the past couple of weeks."
Lacker added that Wachovia was "sort of caught up in the wake after WaMu," and that Wachovia "didn't think they could survive without a lot of support today."
Federal Reserve Bank of Dallas President Richard Fisher expressed concern that the Washington Mutual and Wachovia deals would serve to heighten systemic risk by increasing the concentration of banking assets and deposits to the largest U.S. banks. While noting that the emergency meeting was not the time for discussions on limiting the "too-big-to-fail" problem, Fisher said, "I'd just like at some point to have a conversation on that matter," while adding that he was "not objecting" to the Citigroup/Wachovia deal.
Bernanke agreed with Fisher, saying that once the crisis passed, "it's very important, as we look toward restructuring our financial regulatory system, to develop good resolution mechanisms and to think about the issues of concentration and too big to fail."
-- Written by Philip van Doorn
Philip W. van Doorn is a member of TheStreet's banking and finance team, commenting on industry and regulatory trends. He previously served as the senior analyst for TheStreet.com Ratings, responsible for assigning financial strength ratings to banks and savings and loan institutions. Mr. van Doorn previously served as a loan operations officer at Riverside National Bank in Fort Pierce, Fla., and as a credit analyst at the Federal Home Loan Bank of New York, where he monitored banks in New York, New Jersey and Puerto Rico. Mr. van Doorn has additional experience in the mutual fund and computer software industries. He holds a bachelor of science in business administration from Long Island University.